How And When To Stream Evil Season 2 On Paramount+
Stream the Season 2 premiere of Evil on Sunday, June 20, exclusively on Paramount+.
Posted on Jun 15, 2021 | 02:40pm
It's nearly time to dive back into the world of demons and angels. Or science and psychology, depending on what you believe. The CBS drama
Evil
is back and on the move with Season 2 bringing chilling new episodes exclusively to
Paramount+
.
Season 2 of
Evil
premieres Sunday, June 20, with subsequent episodes dropping on the platform every Sunday.
STREAM: Full Episodes Of Evil On Paramount+
Keep reading to find out where and how to stream Season 2 of
Evil
.
What is Evil Season 2 about?
Evil
is a psychological mystery that examines the origins of evil while dividing the line between science and religion. The series follows Kristen Bouchard (
Katja Herbers
), a skeptical psychologist who joins priest-in-training David Acosta (
Mike Colter
) and his partner and technology expert Ben Shakir (
Aasif Mandvi
).
Together, they investigate the Church's backlog of unexplained mysteries, where they evaluate individuals who believe they experienced or are currently experiencing miracles, demonic possessions, and hauntings. The end goal? Figure out if there is a logical explanation or if something truly divine (or demonic) is at work.
Season 2 picks up where Season 1's unforgettable cliffhanger left off, with the dynamic trio working to find the 60 demons (or psychopaths) hidden across the earth. Now it's a race against time to stop innocent people from being poisoned with evil, sometimes before they're even born.
Meanwhile, Kristen looks for answers to her burning questions and Leland Townsend (
Michael Emerson
) continues to wreak havoc, hoping to throw a wrench in everyone's plans.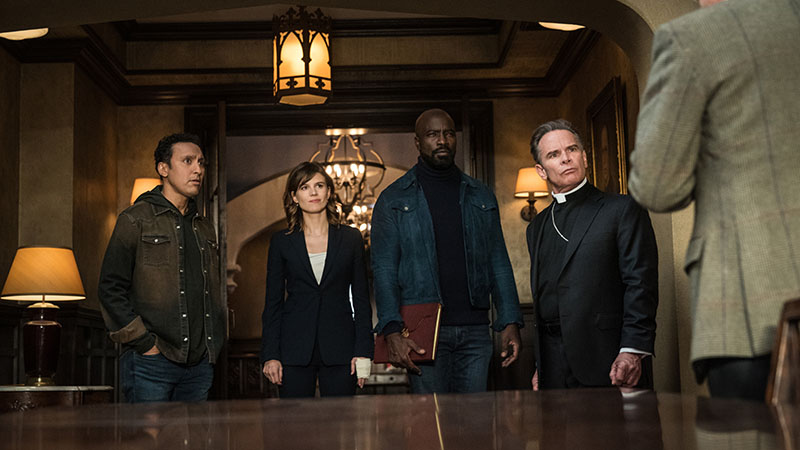 Who's in the cast of Evil Season 2?
The incredibly talented trio is back, with Katja Herbers, Mike Colter, and Aasif Mandvi reprising their roles as mother and psychologist Kristen Bouchard, priest-in-training David Acosta, and tech guru Ben Shakir, respectively. Michael Emerson also returns as the forensic psychologist—and possible demon (or psychopath)—Leland Townsend, ready to cause trouble.
Kristen's daughters, played by
Brooklyn Shuck
(Lynn),
Skylar Gray
(Lila),
Maddy Crocco
(Lexis), and
Dalya Knapp
(Laura) will also return for Season 2 after capturing the hearts of viewers in Season 1 with their endearing nature and amazing acting chops.
Season 1 regulars
Christine Lahti
(Sheryl) and
Kurt Fuller
(Dr. Boggs) will be returning for Season 2 as well.
READ: All The Guest Stars On Evil, So Far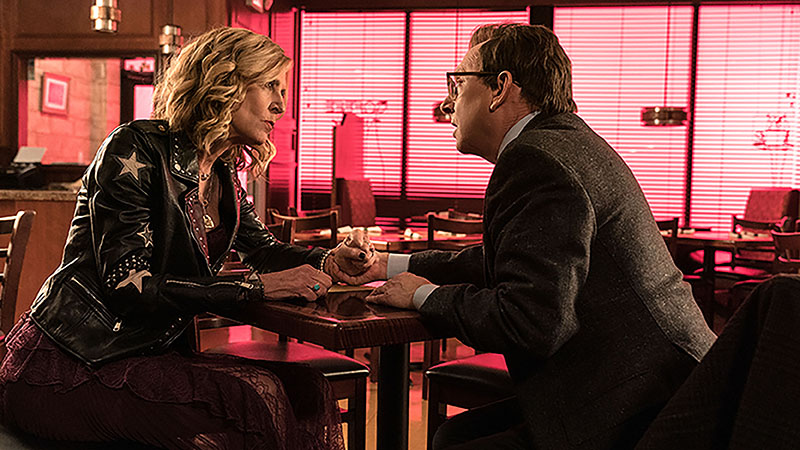 When are new episodes of Evil Season 2 available?
Evil
Season 2 premieres Sunday, June 20, with subsequent episodes debuting weekly on Sundays exclusively on
Paramount+
.
How can I watch or stream Evil Season 2 online?
It's easy! Just sign up for
Paramount+
, which is currently available online at
ParamountPlus.com
and on mobile devices via the
Paramount+
app for iOS and Android. The service is also available to stream across a wide number of platforms, including smart TVs, connected-TV devices, online, mobile, gaming consoles, and leading OTT providers.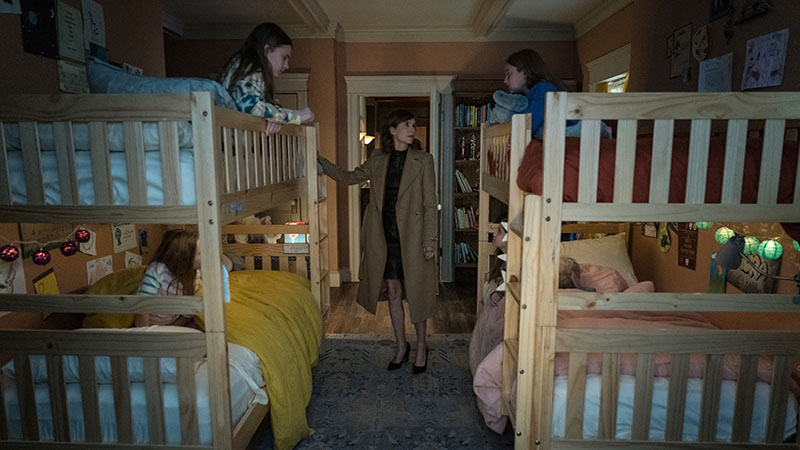 What else can I stream on Paramount+?
Paramount+
is the home of live sports, breaking news, and a mountain of entertainment!
Not only will
Paramount+
let you stream
Evil
, but drama fans also get an impressive lineup of other programs, including shows from the minds of
Evil
creators Robert and Michelle King, like
The Good Wife
,
The Good Fight
, and
Brain Dead
. You can also stream other top drama series like
Criminal Minds
,
Clarice
,
The Equalizer
,
FBI
, and more.
Plus,
Paramount+
has more than 24 exclusive original series currently available, with many more on the way including
Star Trek: Prodigy
, a new
Frasier
series, and
Halo
. Of course,
Paramount+
continues to carry the lineup of current
Paramount+
original series, including hits like
Star Trek: Discovery
,
Why Women Kill
, and
Star Trek: Picard
.
READ: Paramount+: Everything You Need To Know About The New Streaming Service
You'll also get CBS primetime shows like
NCIS
and
Young Sheldon
, and specials like the
48th Annual Daytime Emmy Awards.
Paramount+
also boasts a massive library of more than 30,000 episodes and movies from
CBS
,
BET
,
Comedy Central
,
MTV
,
Nickelodeon
,
Paramount Pictures
,
Smithsonian Channel
, and more.
Paramount+
is also the new streaming home to CBSN, CBS Sports HQ, and ET Live, each offering unique 24/7 coverage of the world.
SUBSCRIBE: Sign Up For Paramount+ Now
Stream the Season 2 premiere of
Evil
on Sunday, June 20 exclusively on
Paramount+
.