Episode Guide
Season 1
Episode Guide
Tails, Teeth and Snouts
S1 E1
Oct 04, 2009
Think a root canal is tough? Try performing one on a tiger! Join the veterinarians at the Smithsonian's National Zoo for the ultimate medical challenge-giving specialized care to animals representing five hundred unique anatomical systems.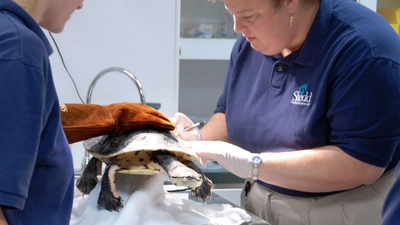 Claws, Paws and Fins
S1 E2
Jan 10, 2010
Enter the unpredictable ER environment behind the scenes of our nation's largest zoos. Every day brings new and baffling challenges, forcing vets into the roles of surgeons, dentists, caregivers, and innovators as they take on an almost endless variety of anatomies, personalities, and peculiarities.
Fangs, Flippers and Tusks
S1 E3
Dec 05, 2010
With nearly 28,000 patients representing almost 2,000 species, the vets of Chicago's Lincoln Park Zoo and Brookfield Zoo never know what animal ailments await them and each day brings new challenges. Join the doctors on their rounds as they treat a Silverback Gorilla suffering from heart disease, a dolphin with past lung infections, and a family of wily meerkats in need of a checkup. Using technology, teamwork, and their own creative ingenuity, the vets push the limits of science and forge a future for the world's most endangered species.