Comic-Con 2018: Stream Exclusive Video Of The Tell Me A Story Panel
Executive Producer Kevin Williamson and stars Paul Wesley and James Wolk tease the upcoming CBS All Access Original Series.
Posted on Jul 20, 2018 | 01:00pm
In the
CBS All Access
Original Series
Tell Me A Story
, beloved fairy tales
The Three Little Pigs
,
Little Red Riding Hood
, and
Hansel and Gretel
are given a dark, modern-day twist that only famed Executive Producer and Writer Kevin Williamson (
The Vampire Diaries
,
Scream
) could deliver.
And on Thursday, fans got their very first look at the upcoming show, as well as new insights from Williamson and stars
Paul Wesley and James Wolk
—whose characters factor into the
Three Little Pigs
side of the interwoven stories in Season 1.
READ: CBS All Access Announces New Psychological Thriller, Tell Me A Story
Check out the full, exclusive San Diego Comic-Con panel in the video above!
Much like Williamson's take on
Scream
, which subverted and deconstructed the horror genre,
Tell Me A Story
does the same thing for fairy tales however, "it may not be the fairy tale you're used to reading," the EP said.
The show also takes place in New York City, which adds another layer of subversion. As Williamson puts it, it's
Tell Me A Story
's present-day version of the proverbial "woods." "It's where everyone strays from the path."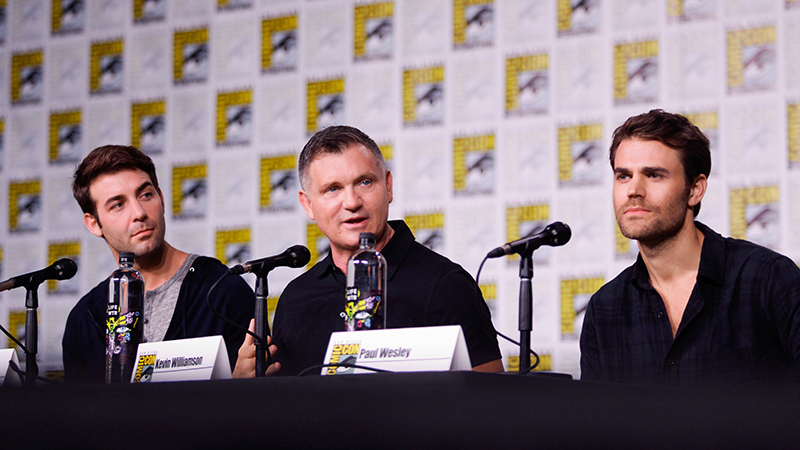 "You're gonna be surprised who you're rooting for," James added. "Sometimes you're gonna be rooting for the bad guy, and sometimes you're gonna be rooting for the hero."
Williamson continued, "It's a very emotional drama with some dark undertones, which, you know, is my happy place," but assured the crowd there would also be "fairy tale winks" and moments of levity as well. "It's a bit of a hybrid," he said.
Williamson also confirmed that Season 1 would tell a complete story for the three fairy tales in play, and that a potential second season would feature three new stories.
For Paul,
Tell Me A Story
is a bit of a
Vampire Diaries
reunion between him and Williamson. On the latter show, the actor played a teenage vampire. Now, "I get to be a [human] in my mid-30s again," he said with a laugh.
READ: Paul Wesley, Dania Ramirez, James Wolk, And Sam Jaeger Added To Tell Me A Story Cast
Additionally, his character, Eddie, who represents one of the little pigs, boasts some very distinctive ink.
"He has certain tattoos that the minute you see these tattoos—one in particular—you're gonna know what kind of guy this is," Paul said, noting that he liked them so much, sometimes he would just leave them on after he left set. "Sometimes I go home and rock 'em, and I'm pretty intimidating on the subway."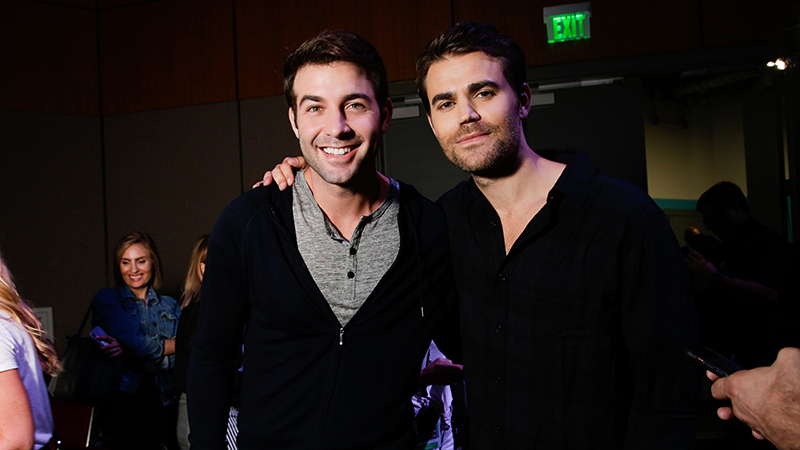 James, meanwhile, plays the idealistic and affable Jordan, a successful NYC restauranteur who is suddenly beset with a terrible tragedy that drastically changes his life's trajectory.
"As an actor, it's an honor to be given material that commands so much of you physically and mentally," James said, recalling that, on his first few days of shooting, he would wake up with splitting headaches because he was connecting so emotionally to Jordan.
"We're shooting some pretty fun, dark stuff," the actor concluded.
STREAM: Star Trek: Discovery, The Good Fight, And More, Exclusively On CBS All Access
Stay tuned for more cast announcements and information about
Tell Me A Story
on CBS, and stream the series premiere later this year on
CBS All Access
.