Back to Cast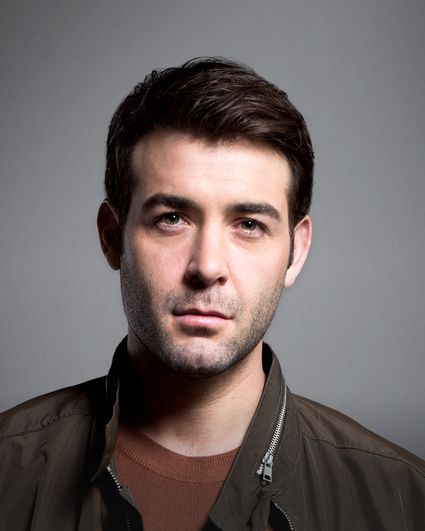 Biography
James Wolk, a native of Farmington Hills, Mich., graduated from the University of Michigan drama school in 2007, and soon after he won the prestigious role of Brad Cohen in CBS/Hallmark Hall of Fame's Front of the Class.

Currently, Wolk can be seen recurring on season two of Amazon's legal drama series Goliath, created by David E. Kelley and Jonathan Shapiro, and starring opposite Billy Bob Thornton.

On television, Wolk is perhaps best known for his starring role in the CBS summer series Zoo, which ran for three seasons and was based on the bestselling novel of the same name by acclaimed writer James Patterson. Prior to Zoo, Wolk nabbed the lead role of Robert/Bob Taylor in the critically acclaimed but short-lived FOX series Lonestar, created by Kyle Killen and directed by Marc Webb (pilot episode). He made waves in the Golden Globe-nominated USA miniseries Political Animals, created by Greg Berlanti, and notably recurred on the award-winning and critically acclaimed AMC series Mad Men, playing the mysterious Bob Benson. Additionally, he starred as Zach Cropper opposite Robin Williams and Sarah Michelle Gellar in the CBS comedy The Crazy Ones, executive produced by David E. Kelley. Other television credits include Billions, Happy Endings, and Shameless.

Also, Wolk appeared on stage in the Tony-nominated production Next Fall, written by Geoffrey Nauffts and directed by Sheryl Kaller, for its West Coast debut at the Geffen Playhouse.

On the big screen, Wolk made his film debut starring alongside Kristen Bell, Jamie Lee Curtis, Sigourney Weaver, and Kristin Chenoweth in Disney's You Again, directed by Andy Fickman. His other film credits include For A Good Time, Call… directed by Jamie Travis and starring opposite Ari Graynor, Justin Long, and Seth Rogen; There's Always Woodstock, written and directed by Rita Merson and starring Allison Miller, Jason Ritter, Katey Sagal, and Brittany Snow; and This Is Happening written and directed by Ryan Jaffe and starring Cloris Leachman, Judd Nelson, and Mickey Sumner. Also, Wolk notably co-starred in the 2015 critically acclaimed film The Stanford Prison Experiment, directed by Kyle Patrick Alvarez, which premiered at the 2015 Sundance Film Festival and was nominated for the Grand Jury Prize. The film featured a great ensemble cast including Billy Crudup, Michael Angarano, Tye Sheridan, Nelsan Ellis, and Olivia Thirlby, among others.

Currently, Wolk resides in Los Angeles.