How To Stream Star Trek: Prodigy On Paramount+
It's time to join hologram Janeway and the new characters of Star Trek: Prodigy on Thursday, Oct. 28.
Posted on Oct 27, 2021 | 04:00pm
Star Trek: Prodigy
is ready to beam onto
Paramount+
and take audiences where no one has gone before.
The newest addition to the Star Trek family premieres on Thursday, Oct. 28 with a one-hour episode, exclusively in the U.S. on Paramount+. The series will also be available to stream on Paramount+ in Australia, and coming soon to additional international territories.
What is Star Trek: Prodigy about?
The CG-animated series from CBS Eye Animation Productions and Nickelodeon Animation Studio follows a motley crew of young aliens who must figure out how to work together while navigating a greater galaxy, in search of a better future. These six young outcasts know nothing about the ship they have commandeered–a first in the history of the Star Trek franchise–but over the course of their adventures together, they will each be introduced to Starfleet and the ideals it represents.
In the one-hour series premiere, "Lost & Found," a group of lawless teens, exiled on a mining colony outside Federation space, discover a derelict Starfleet ship. Dal (Brett Gray), a 17-year-old of unknown species, must gather an unlikely crew for the newfound ship if they are going to escape Tars Lamora, which is ruled by the ruthless tyrant known as The Diviner (John Noble). He and his daughter Gwyn (Ella Purnell) have other plans for this ragtag team.
READ: Paramount+ Introduces The Voice Actors Of The Star Trek: Prodigy Crew
When are new episodes of Star Trek: Prodigy available?
Star Trek: Prodigy
premieres on Thursday, Oct. 28 with a one-hour episode, with subsequent episodes debuting weekly on Thursdays, exclusively on Paramount+.
How do I watch or stream Star Trek: Prodigy online?
It's easy! Just sign up for Paramount+, which is currently available online at ParamountPlus.com and on mobile devices via the Paramount+ app for iOS and Android. The service is also available to stream across a wide number of platforms, including smart TVs, connected-TV devices, online, mobile, gaming consoles, and leading OTT providers.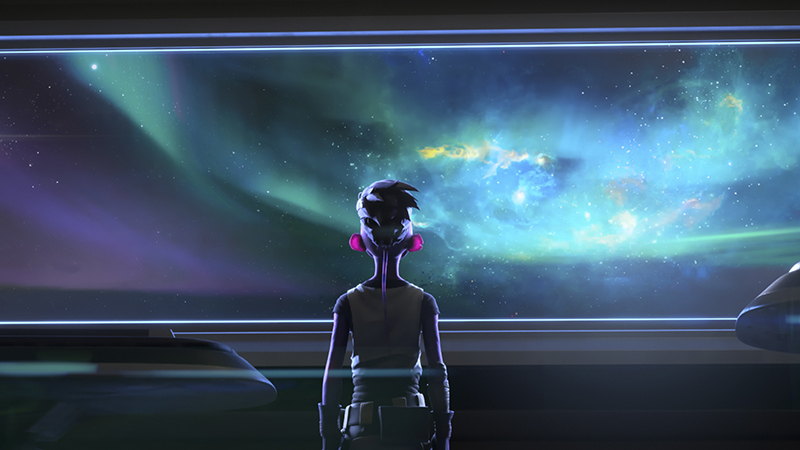 What else can I stream on Paramount+?
Paramount+
is the home of live sports, breaking news, and a mountain of entertainment!
Not only will Paramount+ let you stream
Star Trek: Prodigy,
but
Star Trek
fans also get an impressive lineup of other shows from the
Star Trek
Universe, including
Star Trek: Lower Decks, Star Trek: Discovery,
and
Star Trek: The Next Generation
. You can also stream other Paramount+ original series like
EVIL, Guilty Party, Why Women Kill
,
and so many more.
READ: Paramount+: Everything You Need To Know About The New Streaming Service
You will also get CBS primetime shows like
NCIS
and
Young Sheldon
, and specials like the
GRAMMY Awards
.
Paramount+ also boasts a massive library of more than 30,000 episodes and movies from
CBS
,
BET
,
Comedy Central
,
MTV
,
Nickelodeon
,
Paramount Pictures
,
Smithsonian Channel
, and more.
Paramount+ is also the new streaming home to
CBSN
,
CBS Sports HQ
, and ET Live, each offering unique 24/7 coverage of the world.
SUBSCRIBE: Sign Up For Paramount+ Now
Stream the series premiere of
Star Trek: Prodigy
on Thursday, October 28, exclusively in the U.S. on
Paramount+
.