Meet Patrick Kwok-Choon, Who Plays Lieutenant Rhys On The Star Trek: Discovery Bridge Crew
Get to know the U.S.S. Discovery tactical officer.
Posted on Dec 20, 2017 | 01:00pm
There are no small parts on the
U.S.S. Discovery
.
As we've come to know
Star Trek: Discovery
's main cast over the course of Season 1—everyone from first officer-turned-mutineer Michael Burnham (
Sonequa Martin-Green
) to the cautious Kelpien Saru (
Doug Jones
) to the mysterious Captain Lorca (
Jason Isaacs
)—you may have noticed a number of other Starfleet officers who comprise the bridge crew.
STREAM: Full Episodes Of Star Trek: Discovery On CBS All Access
Each day this week, we'll introduce you to a new member of the
Star Trek: Discovery
bridge. Today, we're chatting with Patrick Kwok-Choon, who plays Lieutenant Rhys. Come back to
CBS.com
daily to hear more from the brand-new
Discovery
crew!
Actor name:
Patrick Kwok-Choon
Character name/job title:
Lieutenant Rhys/Tactical Officer
Favorite Star Trek character of all time?
Data
Favorite Star Trek series?
Star Trek: Voyager
Favorite moment from set?
Crew Appreciation Day! It's a ritual that began on set this season. Every day before we set up the first shot, the cast and crew gathers together on the bridge of the
Discovery
. A member of the crew is selected to wear the honorary "Crew Appreciation Day" vest, which is pretty much a reflective construction safety vest with an enormous amount of pins, badges, and other accoutrement added by previous honorees. It's a chance to celebrate what each individual brings to the table to produce our amazing show.
Which prop from Star Trek: Discovery do you wish you could keep?
Definitely the badge on my uniform. Jeff from props collects it every evening after we finish shooting. I always kid and tell him one day it might "accidentally" get lost.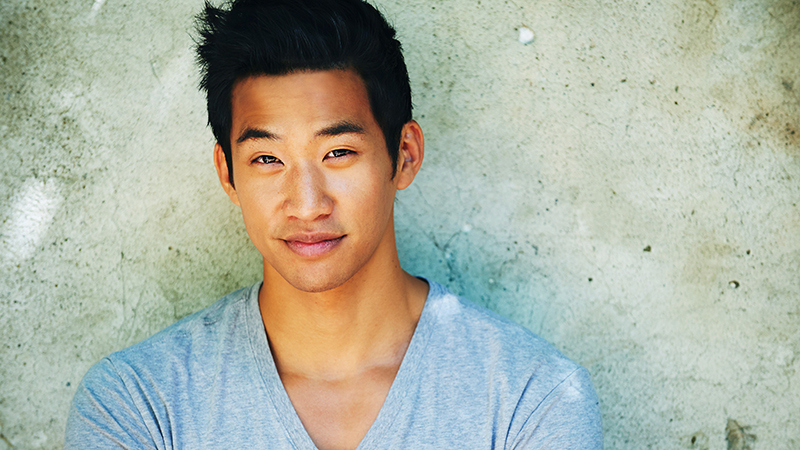 How hard was it to keep your role a secret before the show was announced?
Incredibly hard! Especially to my friends back home. We all grew up die-hard
Trek
fans. But I knew the reveal would be worth it. The second I appeared onscreen, my inbox was flooded with messages. They love that I'm part of
Star Trek
history. I really feel so privileged to be a part of it all.
What are three items you can't live without?
My dog Maya, my Vitamix blender, and my onesie.
What's your New Year's resolution?
To strive to be more present in all activities and interactions.
Who's your favorite Star Trek captain?
Captain Philippa Georgiou. Positive representation of people of color is important to me.
Michelle Yeoh
is so talented, has a heart of gold, and is a real inspiration to watch on screen.
What's the best piece of advice you ever got?
Don't be a "good student." Stop trying to "get it right." Stand firmly in your "energy" and it will bring you greatness.
What would you call your autobiography?
Eat Act Fight
Stream the entire first season of
Star Trek: Discovery
, exclusively on
CBS All Access
.