Kirsten Vangsness And Matthew Gray Gubler Reflect On What They Love About Criminal Minds
After 15 seasons, the BAU team says goodbye but not without some fond memories.
Posted on Feb 20, 2020 | 11:00am
There's a kind of magic that has to happen for a show to not only make it 15 seasons but also have a fanbase as dedicated and invested as the one around
Criminal Minds
. Since 2005, viewers have loved watching the BAU team track down some of the most conniving and demented killers.
The BAU family—consisting of special agents David Rossi (
Joe Mantegna
), Emily Prentiss (
Paget Brewster
), Dr. Spencer Reid (
Matthew Gray Gubler
), Jennifer "JJ" Jareau (
A.J. Cook
), Dr. Tara Lewis (
Aisha Tyler
), and Luke Alvez (
Adam Rodriguez
), along with technical analyst Penelope Garcia (
Kirsten Vangsness
) and operations agent Matt Simmons (
Daniel Henney
)—are a large part of why viewers have come back for more, season after season.
On this, Kirsten Vangsness and Matthew Gray Gubler couldn't agree more. As the series wrapped up, the two sat down to discuss what they love most about their characters, why
Criminal Minds
has endured for so long, and what they will miss the most as the show comes to an end.
WATCH: Season 15 Of Criminal Minds On CBS All Access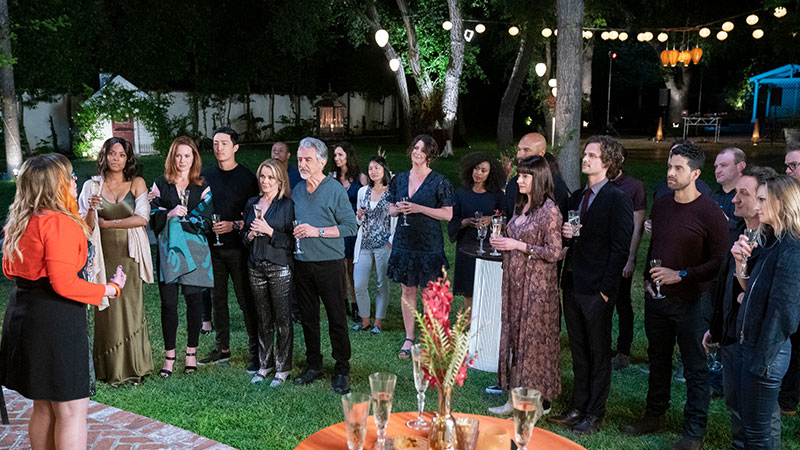 What has it meant to you both to play these characters, Penelope Garcia and Dr. Spencer Reid?
Kirsten Vangsness:
It's an honor and life-changing and heart-expanding. I do not take it lightly. I am the guardian of Penelope Garcia and no one can ever take that away from me and it's a big flippin' deal. It's the best.
Matthew Gray Gubler:
It's been the honor of a lifetime to get to portray a character that I really look up to and sort of idolize. It's been very cool. I feel very fortunate to have been a small part of a show that's brought a lot of excitement and entertainment to people's lives over the years and throughout the world.
Kirsten, how do you think Penelope has impacted female viewers, as a technical analyst and a strong member of the BAU team?
Kirsten:
Just that there are multiple people girls who, [after going to] college, are like, "Oh, I watched
Criminal Minds
and I wanted to be like Garcia." That takes my breath away.
Not only that, but I know... a behavioral analysis guy who works at the FBI... and he said, "All the technical analysts, the women, they... started to watch the show and then suddenly they have a colorful pen or put something in their hair. Like, 'We can be weird!'" So I think in that way, she did something.
I'm also really proud that I'm part of that tradition, like Pauley Perrette, and other people who did this, too... that made it okay to be a nerd, to be a weirdo.
Just the ability to be smart and not have to make any excuses about [being feminine and sexual] and just rock who she is. Also, Garcia never tried to "dress so I look skinny" or something. She would be cool in something she wants to wear. I think that was one of the things I love about her. Garcia's not just for the male gaze.
Matthew, how do you think Dr. Reid has impacted the TV world as such a unique character?
Matthew:
That's very sweet of you to say. You know, when I got the job 15 years ago I kind of had one goal, and again this was so long ago that maybe people can't even remember the landscape of TV nerds. I mean, I've loved all these nerds that I've watched throughout the years but I wanted in Spencer Reid to hopefully create a character that made being smart not just kind of funny and weird, but hopefully made being smart seem kind of cool.
So I'd like to think that maybe in a small way I've kind of made people think that going to school, or learning, or being continually thirsty for wisdom doesn't make you a "nerd." It makes you interesting. Hopefully.
Do you both feel satisfied with how your characters wrap up their stories in the finale?
Kirsten:
Yeah, I do. It's very bittersweet. Erica [Messer,
Criminal Minds
showrunner] knew she wanted Garcia to leave. She was the tiniest part of the first episode. Nobody ever thought she was going to stay and then she was the thing you saw the most of. So she should be the one to leave because she's sort of the eye of the audience. So in that way, yes.
It was sad. Hard and sad. Because Garcia's so loyal, the idea of her leaving is like "Gasp, oh my God." But it totally makes sense.
Matthew:
I do. I feel like we have the best writers that have ever worked in Hollywood working on our show. I love what they've done with my character over the years. The finale's great. I love this last season.
I've been very fortunate to have a character that's gone through a lot of really interesting stuff. Whether it's going to prison for three months or facing the tragedy of having a mother with Alzheimer's. I've had a really fun life story to play and I couldn't be happier with how it's gone.
[Especially in the finale,] Reid is kind of continually the damsel in distress on
Criminal Minds
. And I love that. I take that as a great compliment.
Why do you think Criminal Minds has had such a dedicated following for so many years?
Kirsten:
I think it is a really specific cocktail. First and foremost, it's the stuff that you don't see. You don't see how I climb under the table and say my lines to [the actors] while [they] do a scene because that way [they'll] know what I did. Or me and Shemar [Moore] rehearsing lines on the phone, you know, calling each other and pretending we were those people.
Or me and the girls, on a day we get off work early, coming over to my house and getting in the hot tub and talking. It's all that stuff. Each group of us, and I was there the whole time so I can say "each group of us," had this very specific chemistry that we curated and we all took care of each other.
It was all based on so much support. Even when a guest would come in, plenty of people I knew who came in with little parts would say, "Oh my God, that was the most fun time I've ever had on a set." Because it was everybody working together. The crew, and the writers, all that. I think you could feel that happening underneath.
And then, everybody loves a mystery. Why people do the things they do. People get really fascinated by that. All of us, all of our chemistry as people and then the characters' chemistry, it just made it very compelling to watch.
Matthew:
I think it's the writing and I think it's the chemistry of the cast. It's always been a cast of lovely and warmhearted people and I know that translates through the screen.
It's the feeling of family that Ed Bernero and Erica Messer, the two showrunners throughout the years, have always fostered. They created this loving environment. Whether people know it or not, I know that that sort of translates through the screen and makes people at home feel like they're part of our family. Which they are.
Do you have a favorite episode or moment from the series?
Kirsten:
It's so hard. People always ask me that and I feel like I should go back and watch the whole thing so I can say "This one!" My favorite moments would be, like I said, the times when I'm under a table reading lines. Or when we're all shooting a scene.
There was one time we were all at the roundtable and there was this weird noise that was coming out of the computer and none of us could keep a straight face. So we just had to act our hearts out to just try to be very still and serious. And I just remember all of us having to cry, and then "action," cry, laugh, and then "action." So that was a great moment.
There would be these Fridays where I'd have to do like eleven scenes of just exposition and I would work and work and work and a lot of times I worked by myself. And I'd learn all my lines and be prepared and ready... and then we get on set and I loved being able to pop those out in one take. The crew would be so happy because we'd get to go home early on a Friday. That just joys me endlessly.
I would say the first time that I started to actually settle down and realize, "Oh my God, this might just be an endless stream of good days, if I can just relax and just enjoy it in the moment," would be when Penelope got shot. Every episode before then I'd think: "Oh, I'm in another episode. Oh, I guess they're keeping me. Oh, I'm still here!" That made me feel like she was really a part of the group. Which I know sounds insane because she
had
been a part of the group. At first, I wasn't sure if I was. I felt like a bit of an interloper. So that really made me feel like she's important.
Matthew:
I have a lot. I love the pilot. I thought the pilot was so expertly done. I loved an episode I directed called "The Lesson" about a puppeteer that turned a human being into a marionette. I'm really proud of how that came out because I don't think it's ever been done, ever, onscreen anywhere.
I love it all. I love every episode with Aubrey Plaza. I love that relationship. I love our team on the jet unwinding after every episode and just being human. Too many moments to list for sure.
Do you have a favorite killer from over the years?
Kirsten:
Tim Curry. I mean, he played a terrible one but... that actually happened because I was at the gym and I was working out and I heard this unforgettable voice say, "I worship at your throne." And I thought, "Who sounds like Tim Curry?" I looked down and it
was
Tim Curry! And I said, "I'm Kirsten." He said, "I'm Tim Curry. I know who you are. I worship at your throne." And I was like, "What?!"
I went to work the next day and was like, "Um, does anyone know that Tim Curry watches the show?" So that was a good one.
And C. Thomas Howell. That was an amazing one. We've had so many greats. Aubrey Plaza. We've had some really great bad guys on our show. I'm forgetting like 20 of them right now.
Matthew:
Great question, we've had some really interesting ones. I'm of course biased to the ones I directed. I personally love Adam Rain. He was the killer in the marionette episode played by Brad Dourif. I loved him.
I loved "Mosley Lane," with the couple played by Beth Grant and Bud Cort. Those are probably my three favorites.
Kirsten, what was it like to co-write the finale?
Kirsten:
It was the fifth one that I had co-written with Erica so we've always written together. We've got a real nice shorthand in the way we do things. We're very close friends, so, I jokingly always say that two-thirds of our time writing is really us braiding each other's hair and just talking about life.
She's just very dear and very sensitive. She always wants to have the "why" behind the thing. And she's a genius with story structure, I mean, just a genius. And I am not. I can bring the weird. I can write a good emotional scene and I can tell you why something has to be in a particular place, but between the two of us, I think we make a really good team.
We both wanted the show to be fun to shoot, fun to watch. It was a blast to shoot. We wanted the audience to pull away from [the finale] as opposed to the show pulling away from you. That made you want to go back and watch the show from the beginning. Because you're not wrapping up a character, you're wrapping up a whole show. We were very aware of the pressure.
We wanted to give a lot of Easter eggs for superfans and people that have watched for a long time. Things they wouldn't have dreamed up because we didn't dream it up yet. Or things that you were kind of waiting to happen.
It would be disingenuous to ignore the reasons why we were all on air for as long as we were. So many different characters... Hotch (Aaron Hotchner) and Gideon (Jason Gideon) and Morgan (Derek Morgan) were so important to the series, we had to figure out a way to put them in it, somehow. This idea of bringing the sort of magical realism obviously lent itself to other people on the show that we couldn't usually get on the show.
In my opinion,
Criminal Minds
is always at its best when it's not just going "pure evil." Everybody has the ability to behave in an abysmal manner, we are all human, we all have a whole spectrum, so when you take someone really terrible like Foyet and you put them in a scene where they're sort of helping another character sort through their demons, even though he's still behaving evilly... I think that's when
Criminal Minds
really shines.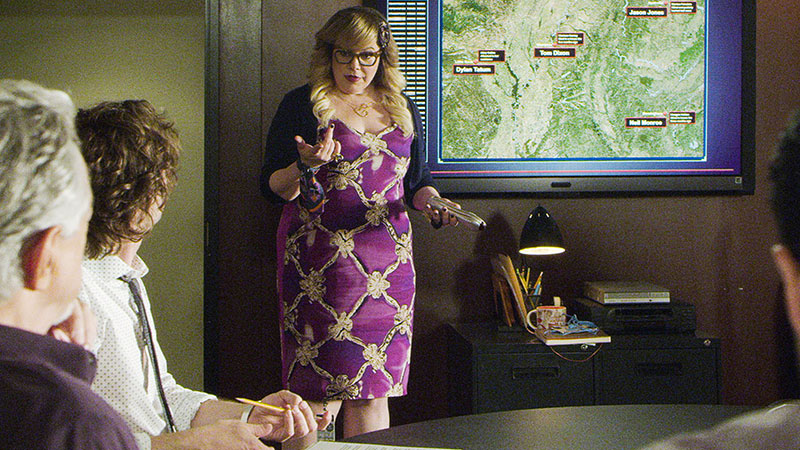 What will you miss the most?
Kirsten:
I would say the team, but I bet you I will look at my phone and it'll say I have 36 text messages and it's because we have a text chain that never ends.
Matthew:
It's too much. It's too much. I'm currently trying to figure out how to unsubscribe. Every ten minutes. [
Laughs
.] I'm joking.
Kirsten:
We're all talking to each other wildly. We see each other. We actually all just had dinner two weeks ago. Right after the premiere. It was very bizarre to watch the whole restaurant be like, "Oh my God. The team is eating Italian food."
I'm gonna miss [Penelope]. I love her so much. It's such an honor to be her guardian, and although we're neighbors, we're not the same person. She's so smart, and cool, and confident, and kind. I'm gonna miss sitting in that office and giving the answers.
Matthew:
You know, I'll miss the crew and the cast and the team. I'm not gonna miss a lot because I'm taking it all with me in my heart. So everyone's there and always with me, it feels like. Working with everybody for so long we've all kind of become part of each other.
So luckily, I'm not going to miss them. They're always with me.
Last thoughts?
Kirsten:
That whole last season we were, all of us, very aware that we should take in the moments. The worst would have been if we'd been doing it and then afterward thought, "I didn't know how great I had it." We all knew how great we had it. All of us knew how great we had it the whole time. I know how great I had it so you can't be sad about it because you are so lucky you got to do it.
Matthew:
So proud to have been a part of it. So happy for the wonderful ride that it was and continues to be.
READ: Why Fans Of Criminal Minds Should Make Evil Their Next Binge Watch
Watch the final season of
Criminal Minds
on
CBS All Access
.