How To Stream Tooning Out The News On CBS All Access
Real news. Cartoon coverage. Stream segments Tuesday through Friday culminating in full episodes weekly.
Posted on Apr 3, 2020 | 02:45pm
News is always breaking, and we've got your fix:
Tooning Out the News
.
The animated variety series is available exclusively for
CBS All Access
subscribers, with new segments daily Tuesdays through Fridays, culminating in a weekly full episode. Get ready for news parodies alongside enlightened interviews with real-world guests, newsmakers, and analysts!
STREAM: Clips And Previews From Tooning Out The News
And don't worry, production has resumed with staff and crew working remotely. Cartoon anchors are required to wash their hands between each segment.
Who's on Tooning Out the News?
Leading our hard-charging team? Of course, it's got to be legendary anchor James Smartwood—and his perfectly coiffed mane. (Really, it couldn't be any better if it were drawn on him.) He'll be joined by his (literally and figuratively) animated colleagues, along with a crack news team and pundits holding down five regular segments.
And they'll be talking to real people.
Really
. Confirmed guests include Dan Abrams, Alan Dershowitz, Donny Deutsch, Thomas Friedman, Nicholas Kristof, Paul Krugman, Rep. Barbara Lee, Olivia Nuzzi, Rep. Donna Shalala, and Rep. Eric Swalwell.
When are new episodes of Tooning Out the News available to stream?
You'll be able to enjoy new segments of
Tooning Out the News
Tuesday through Friday, culminating in a weekly full episode on
CBS All Access
.
What are the regular segments on Tooning Out the News?
It all starts with
"Big News"
(
America's Most Trusted Source of Conventional Wisdom
), where James Smartwood hosts this satire of ego-centric cable news anchors who only offer the most conventional takes.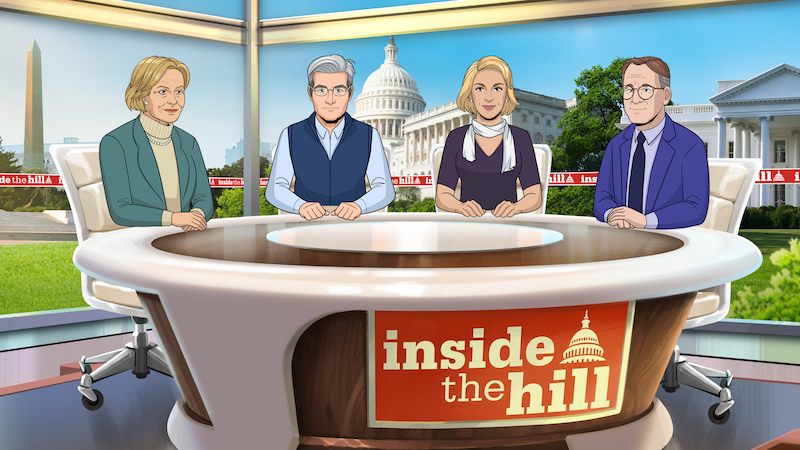 Of course, any informed politico needs to go
"Inside the Hill"
(
Where America Turns to Hear Rich People Agree with Each Other)
, as co-hosts Richard Ballard and Sarah Sabo discuss the latest political headlines with Washington's elite.
WATCH: "Inside the Hill" Preview With Walter Isaacson
Then,
"Hot Take"
(
The Biggest, Baddest, Bad Faith Arguments on Television
) serves up a politically diverse and wildly ill-informed panel to weigh in on the news of the day.
Next up on
"Virtue Signal"
(
There's No Cause This White Lady Can't Make About Herself
), Kylie Weaver hosts a satire of liberal cable news anchors who pat themselves on the back for taking up every social and political cause.
Last but not least,
"Smart Talk Tonight"
(
Important discussions, discussed importantly. Come on in, the water's smart.
) features Kenneth Parsons and Chloe Kline conducting in-depth, in-studio, one-on-one interviews with real-life newsmakers.
Who's behind Tooning Out the News?
The series from CBS Television Studios is executive produced by Stephen Colbert and Chris Licht of CBS's
The Late Show with Stephen Colbert
and RJ Fried and Tim Luecke from Showtime's
Our Cartoon President.


How can I watch or stream Tooning Out the News online?​
You can watch
Tooning Out the News—
and other great
original series
and
classic shows
and
movies
—on
CBS All Access
, which is available on iOS devices (including iPhones, iPads, Apple TV), Android devices (including phones, tablets, Android TV), TVs and connected devices (including LG Smart TV, Samsung Smart TV, Vizio Smart TV, Chromecast, FireTV, Roku), gaming consoles (including Xbox and PlayStation 4), smart home devices (including Amazon Alexa and Google Home) and many more!
Or, simply visit
CBS.com
.
What else can I stream on CBS All Access?
Not only will
CBS All Access
let you stream every segment and full episode of
Tooning Out the News
, but you also get access to a slew of CBS All Access original series like
The Good Fight
,
No Activity
,
Tell Me A Story
,
The Twilight Zone
,
Why Women Kill
,
Interrogation,
and the forthcoming
The Stand
,
The Untitled Richard Linklater Project, The Harper House
, and
The Man Who Fell to Earth,
with additional series soon to be announced.
CBS All Access is also the exclusive domestic home to
Star Trek: Discovery
,
Star Trek: Lower Decks,
and
Star Trek: Picard
, featuring
Sir Patrick Stewart
reprising his iconic role as Jean-Luc Picard.
Of course, CBS All Access gives you thousands of episodes from CBS shows on-demand. That includes full episodes from late-night shows like
The Late Show with Stephen Colbert
and
The Late Late Show with James Corden
, along with current and earlier seasons of your favorites like
Criminal Minds
,
Evil,
60 Minutes
, and many more.
Whatever your preference,
CBS All Access
has you covered for $5.99/month with limited commercials, or you can go commercial-free for $9.99/month.
SUBSCRIBE: Get CBS All Access Now And Don't Miss Any Of The Important News
Stream new segments of
Tooning Out the News
daily from Tuesday through Friday and full episodes weekly exclusively on
CBS All Access
.