Tell Me A Story EP Kevin Williamson Spins Fairy Tales Into Foreboding Adventures
The CBS All Access psychological thriller premieres on Wednesday, Oct. 31.
Posted on Aug 5, 2018 | 05:00pm
Tell Me A Story
might put a modern spin on childhood fairy tales, but there's nothing innocent about the forthcoming
CBS All Access
drama.
Based on the three familiar stories—
The Three Little Pigs
,
Little Red Riding Hood
, and
Hansel And Gretel
—
Tell Me A Story
is set in New York City and the modern-day update is for more mature audiences than your classic fairy tales.
WATCH: Tell Me A Story Official Trailer
Though it may have some horrific moments, according to
Executive Producer Kevin Williamson
(
Scream
,
The Vampire Diaries
),
Tell Me A Story
(premiering on Wednesday, Oct. 31 on
CBS All Access
), is ultimately a character study about emotions and human relationships.
"It's a wonderful relationship drama, it's funny," he said. "You have to realize where the fairy tale exists and where we subvert it."
Williamson delved further into his theory at the 2018 Television Critic Association in Beverly Hills,
along with series stars
Billy Magnussen ("Nick"), Dania Ramirez ("Hannah"), Danielle Campbell ("Kayla"), Dorian Missick ("Sam"), and Davi Santos ("Gabe").
Tell Me A Story Is A Wild, Emotional Ride
"Welcome to the jungle!" quipped Danielle, describing
Tell Me A Story
.
How right she is!
"It's a fun, fast-paced, twisty show," offered Williamson about his latest drama before discussing what initially drew him to the material.
"I had taken some time off, I'd left network television," he said of his time after producing
The Vampire Diaries
, which ended last year. "Then [
Tell Me A Story
] presented itself."
"What I like about the show, there's nothing else on TV like it," he continued. "I think it's a very emotional show at its core, which is what I was looking to do."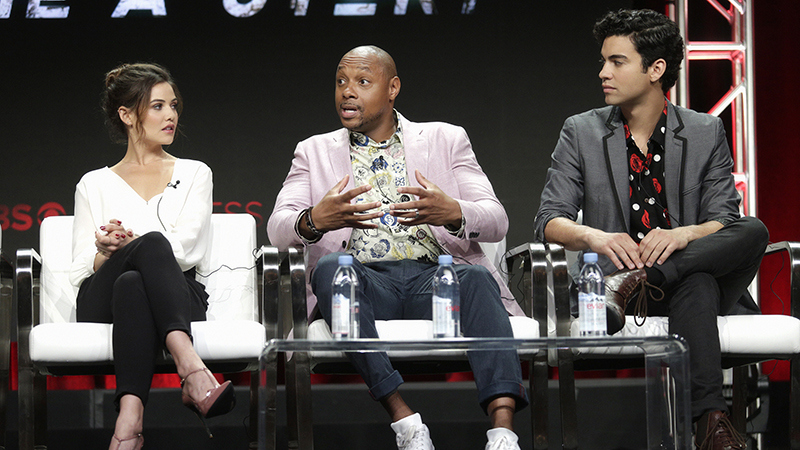 Life Gets In The Way
One of the relationships explored within
Tell Me A Story
features
Kim Cattrall
, who plays Danielle Campbell's grandmother in the retelling of
Little Red Riding Hood
, and the duo's story comes with a distinctly ominous twist.
"It's a story of family and how this young girl has strayed from the path and how she rights herself," said Williamson. "It's a story about how two broken people come together to fix each other."
Meanwhile,
Hansel And Gretel
is redefined to tell a story about two adult orphans—a brother and sister—living in New York and, turns out, their relationship isn't so healthy, either.
"
Hansel And Gretel
was written during the famine," Williamson says of the original tale, describing the way his reimagined characters also stumble upon some "candy."
("Candy" that comes with consequences, that is,)
"We get to have sex and murder people very gruesomely," winked Dania, who plays Hannah (Gretel), an Army vet who's dealing with scars both inside and out.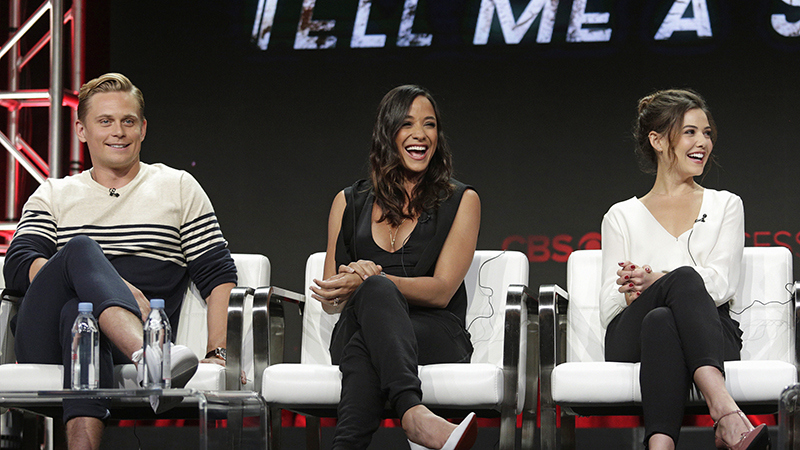 There's A Little Fairy Tale In Real Life
Tensions may run high in
Tell Me A Story
, but at the end of the day, Williamson just wants to show how these timeless fables continue to resonate, saying, "I think when you watch the show, you'll see the characters dealing with what's going on today.
"I hope people find it relevant," he continued. "The writers have done a wonderful job writing about real people in New York City."
Stream the series premiere of
Tell Me A Story
, Wednesday, Oct. 31, exclusively on
CBS All Access
.