"The Ready Room" Breaks Down Star Trek: Picard Episode 7, "Nepenthe"
Host Wil Wheaton examines Star Trek: Picard's seventh episode, "Nepenthe," with Jonathan Frakes and Brent Spiner.
Posted on Mar 5, 2020 | 07:00am
Check off your stardate calendar, because it's time for an all-new "The Ready Room" debriefing you on the latest episode of
Star Trek: Picard
!
STREAM: Episode 7 Of Star Trek: Picard, "Nepenthe"
If you're new to "The Ready Room," you can catch the first six installments on
CBS.com
,
Facebook (@StarTrekCBS)
,
IGTV (@StarTrekCBS)
, and
YouTube (CBS All Access)
. New videos debut every Thursday in the hours following the latest episode of
Star Trek: Picard
at 10 AM ET / 7 AM PT.
READ: "The Ready Room" Breaks Down Star Trek: Picard Episode 6, "The Impossible Box"
This week on "The Ready Room," Wil Wheaton (
Star Trek: The Next Generation
) is joined by his TNG co-stars Jonathan Frakes and Brent Spiner, who reprise their characters, William Riker and Lieutenant Commander Data, in
Picard
. The trio has a wide-ranging conversation covering everything from Frakes' directing duties on
Picard
to
Isa Briones
' ability to channel Data.
Read ahead with caution, as there are spoilers!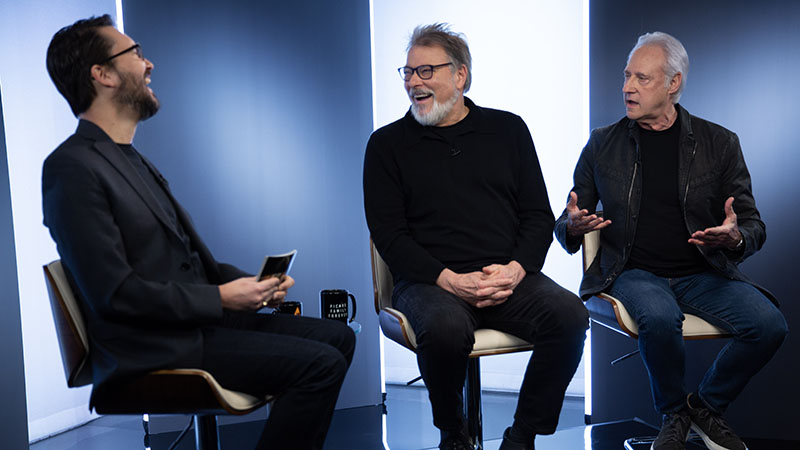 From The Next Generation to Star Trek: Picard
For both Spiner and Frakes, returning to their
Next Generation
characters on
Star Trek: Picard
wasn't something they expected to happen. Though Frakes—who has directed a few episodes of
Star Trek: Discovery
—pitched the
Picard
creative team to direct on the new series, he says that Riker's return wasn't originally part of the plan.
"About halfway through the season, someone whispered to me, 'We'd like you also to come back and play Riker,'" he says. "And I got incredibly nervous because I had just directed Patrick in two episodes and he was on fire, never been better."
Frakes adds that Marina Sirtis, who returns as Deanna Troi, had just starred in a West End play, upping his concern that, by comparison, his acting chops wouldn't be up to snuff.
Spiner recalls that he was almost certain he
wouldn't
appear on
Picard
, based on intel from
Patrick Stewart
himself.
"We had dinner with Patrick. [Frakes wasn't] there, but the rest of us were. [Wheaton wasn't] there, either; well, maybe it was just me and Patrick," Spiner jokes. "Everyone else from the cast was there, [Michael] Dorn and Marina [Sirtis] and Gates [McFadden] and Levar [Burton]. Patrick took us all to dinner to tell us about the show. He told us that night, 'It is called
Picard
and you will not be in it.' That it was a new story, that it was not
Next Generation;
it was a new tale that took place."
But later on, much to Spiner's surprise, the producers called him up and asked him to play Data.
"Given who was asking me to do that—Alex Kurtzman and Akiva Goldsman and Michael Chabon, the pedigree was just beyond belief—who was I to say no?" Spiner says. "Also, it felt like the fans kind of deserved it in a way. If they had heard that I was asked to come and do that and I said 'no,' I don't think that would have gone down very well."
Spiner continues that finding Data again, 18 years since he last playing him, didn't give him much trouble.
"I think it took longer to get into the makeup than it did to get into character," he explains. "It was like putting on an old comfortable pair of shoes, really. And to be sitting across from Patrick, looking at each other, looking at these characters, it was like nothing had changed."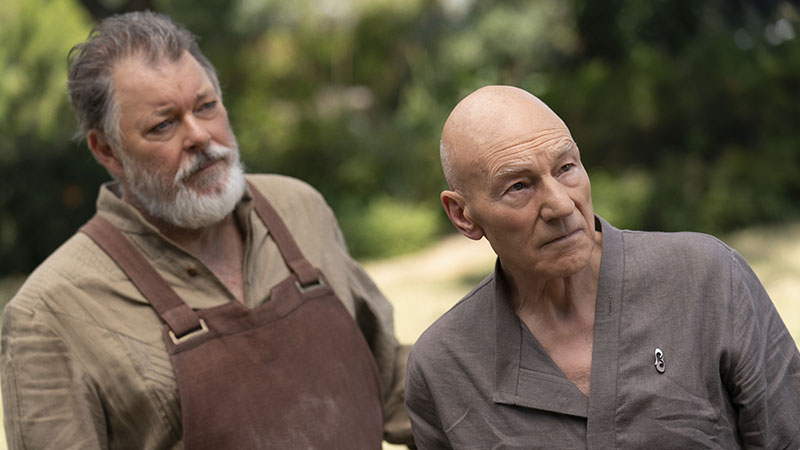 On Nepenthe
In "Nepenthe," Picard and Soji (Isa Briones) land on the planet of Nepenthe, where Riker and Troi live with their daughter, Kestra. Frakes says he and Sirtis didn't have to spend too much time trying to capture the emotion of the situation.
"We actually loved the idea that we lived out in the woods and she had a garden and I was making pizza," he explains. "We loved that we weren't in our spacesuits, we loved that we had a wonderful, brilliant, funny daughter. It was just great to be back with her and with Patrick. It was quite memorable."
The episode also emphasizes how much Jean-Luc Picard has changed since
The Next Generation
days, Frakes reiterates.
"Just the fact that Picard shows up in our home and confesses to Troi and Riker, 'I'm over my head, I'm in over my head and I need your help.' Picard would never have said that in our show."
Soji's time on Nepenthe allows her to work towards coming to terms with being a synth. At one point, she tilts her head in a way strikingly reminiscent of Data, but Spiner says Briones was able to capture that similarity completely on her own.
"She watched a lot of
Next Gen
, but that was her decision on her own, without me. She watched the show and she's a wonderful actress. They all are, they're all really, really talented. It's a great cast."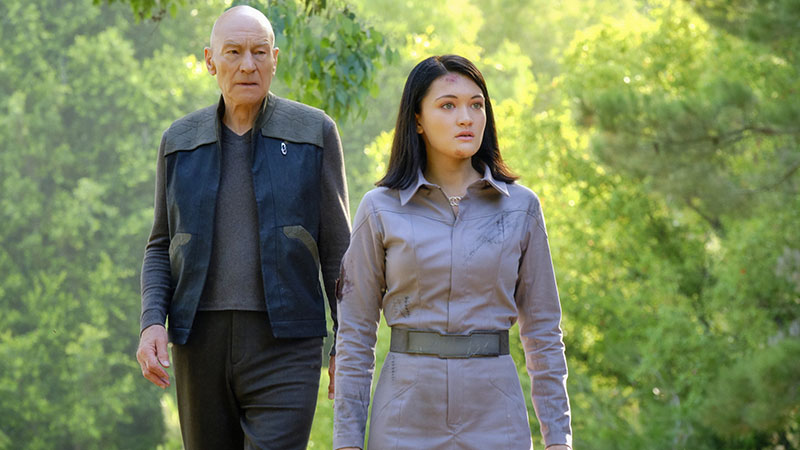 The fan phenomenon
Frakes and Spiner also discuss
Picard
's positive reception from fans and the endurance of the
Star Trek
family
.
"What I've read, the feedback from the fans almost entirely has been just so affectionate and so like they've been given a gift," Spiner says. "And it feels that way to me, too."
Frakes, who's worked with both the
Discovery
and
Picard
casts, points out that these actors are now a part of something much bigger than they may realize.
"Didn't you find that [the
Picard
actors] wanted to know about what it was going to be like?" he asks Spiner. "Same thing happened on
Discovery
. The
Discovery
cast reminds me a lot of our cast, as well. Everybody was so excited to be on both shows, to be a part of this, but not really sure what it meant. Not that I was ever sure what it was going to mean, either."
"No, but it really is the most wonderful fraternity of people," Spiner replies. "If you're from... every show, every one of the shows, we all know each other, we're all friends. I've said it before, I think
Star Trek
is the great American epic and to be part of that American cultural phenomenon is something else."
To wrap up the latest installment of "The Ready Room," viewers get an exclusive sneak peek at the next episode of
Star Trek: Picard
entitled "Broken Pieces," which is available to view Thursday, Mar. 12, exclusively in the U.S. on
CBS All Access
.
Come back next week for an all-new installment of "The Ready Room," Thursdays at 10 AM ET / 7 AM PT.
And, of course, don't miss all-new episodes of
Star Trek: Picard
, available to stream on Thursdays, exclusively in the U.S. on
CBS All Access
.