Star Trek: Lower Decks Cast And Creator Talk Characters And Favorite Moments From Season 1
For this year's virtual SDCC 2020, Comic-Con@Home, Mike McMahan and cast share details ahead of the series premiere of Star Trek: Lower Decks on Thursday, Aug. 6, exclusively in the U.S. on CBS All Access.
Posted on Jul 23, 2020 | 03:30pm
The all-new animated comedy series
Star Trek: Lower Decks
is arriving into orbit (and at warp speed) and we've got some exciting insight from the creator and cast of this bold new series.
Ahead of the series' premiere on Thursday, Aug. 6, and for the fans who tuned in via Comic-Con@Home, Creator, Showrunner, and Executive Producer Mike McMahan sat down with the voice cast of the upcoming Star Trek animated comedy to give a sneak preview of their characters and roles on the
U.S.S. Cerritos
.
WATCH: Star Trek: Lower Decks First Look
Tawny Newsome (Ensign Beckett Mariner), Jack Quaid (Ensign Brad Boimler), Eugene Cordero (Ensign Rutherford), Noël Wells (Ensign Tendi), Dawnn Lewis (Captain Carol Freeman), Jerry O'Connell (Commander Jack Ransom), Fred Tatasciore (Lieutenant Shaxs), and Gillian Vigman (Dr. T'Ana) were all on hand to share more about their characters and discuss their favorite moments from the upcoming season.
Newsome described her character, who works on the lower decks of the
Cerritos
with the other ensigns, as somewhat similar to herself.
"She doesn't always play by the rules, even though she could because she's really good at things," she said. "It's kind of like when you're the class clown because you are ahead of the lesson in school, type of a thing."
WATCH: The 2020 SDCC Comic-Con@Home Star Trek: Picard Panel
In fact, Mariner's trouble-making nature results in one of Dawnn Lewis' favorite moments of Season 1, according to the actress.
"Mariner, who is always such a screw-up, always trying to undermine me and see what she can get away with—I am constantly, as Captain Freeman, trying to come up with ways to get her back in line," Lewis explained. "And I realized, the most fun episode for me was that episode where I came up with this plan: You know what? Instead of continuing to cut her off at the knees, promote her! That's the last thing she wants to do, is work!"
Jack Quaid, on the other hand, claims Brad Boimler's personality is almost completely opposite from the mischievous Mariner.
"Ensign Brad Boimler is the ultimate Starfleet nerd," Quaid said. "He's a complete fanboy for all the captains and the first officers, basically anyone that's on the bridge. He wants to be like them so bad that he is obsessed with rank and ranking up and he figures the best way to do that is to go as by-the-book as possible. He follows every Starfleet rule to a T."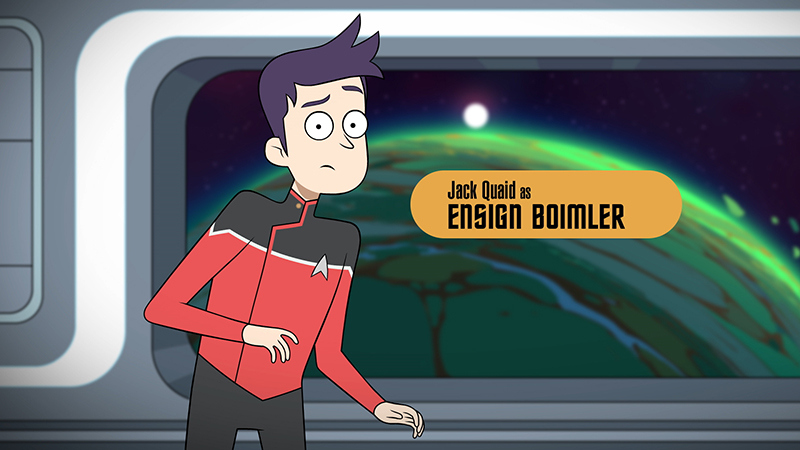 Jerry O'Connell and Quaid shared a few teasers for fans to look forward to. They let slip that Jack Ransom gets in a "gory" fight and Quaid admitted the highlight of Season 1, for him, were the instances involving the Holodeck.
WATCH: The Official Trailer For Star Trek: Lower Decks
Watch the full Comic-Con@Home panel above for even more insight from the cast of
Star Trek: Lower Decks
.
Stream the series premiere of
Star Trek: Lower Decks
on Thursday, Aug. 6, exclusively in the U.S. on
CBS All Access
.