Star Trek: Lower Decks Voice Cast And Animated Characters Revealed At SDCC 2019
Plus, Season 1 of the all-new animated comedy will premiere on CBS All Access in 2020.
Posted on Jul 20, 2019 | 12:20pm
On Saturday, July 20 at San Diego Comic-Con®, fans were treated to a first look at the animated comedy series
Star Trek: Lower Decks
, which was picked up for a
two-season order
back in October 2018.
WATCH: Full 2019 San Diego Comic-Con® Panel For Star Trek: Discovery, Star Trek: Short Treks, And Star Trek: Lower Decks
The half-hour animated series will follow the support crew on one of the Starfleet's least important ships in the year 2380.
Star Trek: Lower Decks
comes from the wicked wit of Emmy Award winner Mike McMahan (
Rick And Morty
), who will serve as Creator and Executive Producer.
During the Hall H
Star Trek
universe panel moderated by new animated series cast member Jerry O'Connell, McMahan revealed the voice cast and offered a first look at character animations; plus, the panel was also joined onstage by surprise guests and cast members Tawny Newsome and Jack Quaid, in addition to Executive Producers Alex Kurtzman and Heather Kadin.
READ:
CBS All Access Announces New Animated Comedy, Star Trek: Lower Decks
The series' 10-episode long first season will premiere in 2020, exclusively on
CBS All Access
.
Here's a look at the Starfleet crew who will reside in the "lower decks" of the
U.S.S. Cerritos
, which includes...
Ensign Beckett Mariner, voiced by Tawny Newsome: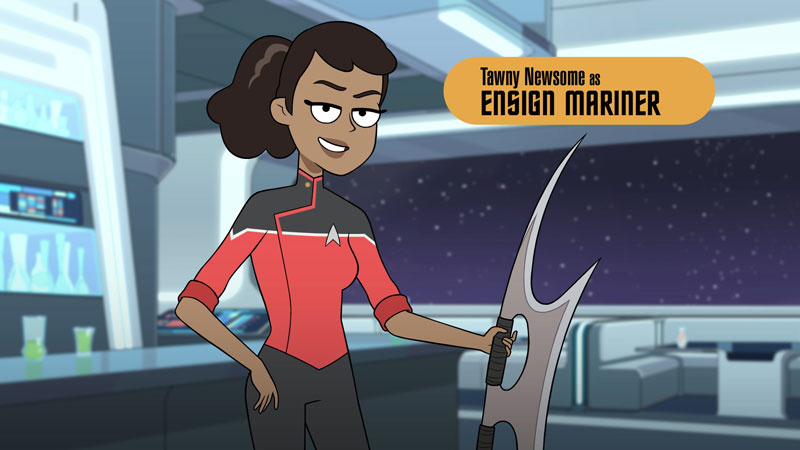 Ensign Brad Boimler, voiced by Jack Quaid:
Ensign Tendi, voiced by Noël Wells:
Ensign Rutherford, voiced by Eugene Cordero:
Characters that comprise the
U.S.S. Cerritos
' bridge crew include Captain Carol Freeman, voiced by Dawnn Lewis; Commander Jack Ransom, voiced by Jerry O'Connell; Lieutenant Shaxs, voiced by Fred Tatasciore; and Doctor T' Ana, voiced by Gillian Vigman:
In addition to all the above animations, McMahan also unveiled an exciting first look at the holodeck of the
U.S.S. Cerritos
:
Stay tuned for more information about
Star Trek: Lower Decks
before the animated series premieres in 2020, exclusively on
CBS All Access
.