Comic-Con 2018: Stream Exclusive Video Of Star Trek: Discovery Panel
Cast and crew tease legacy characters, Hugh Culber's return, Star Trek Easter eggs, and more.
Posted on Jul 21, 2018 | 04:00pm
Since the end of Season 1,
Star Trek: Discovery
fans have been hotly anticipating their first look at what's next for the
U.S.S. Discovery
and her intrepid crew.
Now, at San Diego Comic-Con, they were treated to the very first trailer for Season 2, including Anson Mount's debut as the beloved Captain Christopher Pike, as well as a tease of everyone's favorite Vulcan, Mr. Spock.
WATCH: Star Trek: Discovery - Season Two Premiere - First-Look Trailer
Moderated by comedian and Season 2 newcomer Tig Notaro (who plays Chief Engineer Reno), the esteemed panel included Executive Producers Alex Kurtzman and Heather Kadin, as well as stars
Sonequa Martin-Green
("Michael Burnham"),
Doug Jones
("Saru"),
Shazad Latif
("Ash Tyler"),
Mary Wiseman
("Sylvia Tilly"),
Anthony Rapp
("Paul Stamets"),
Wilson Cruz
("Dr. Hugh Culber"),
Mary Chieffo
("L'Rell") and
Anson Mount
("Christopher Pike").
Be sure to stream the full, exclusive
Star Trek: Discovery
panel in the video above, and check out some highlights below...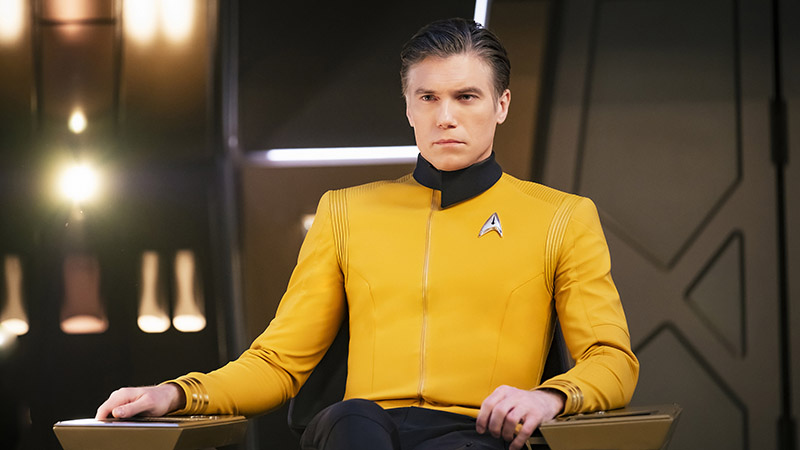 Season 2 Reveals
In addition to the new trailer, Kurtzman and crew confirmed several exciting reveals for Season 2. Perhaps most notably the EP started off by saying, "I can tell you that, yes, you will be seeing Spock this season."
Anson, too, had an exciting casting announcement: Along with Spock and Pike, Season 2 will introduce the original Number One, first portrayed by Majel Barrett-Roddenberry in the unaired 1965
Star Trek
pilot, "The Cage." In
Discovery
, the role will be played by Rebecca Romijn.
"We also get to visit Saru's home planet this year," Doug said of his character, noting that the Kelpien's prey-species upbringing will be further addressed in Season 2.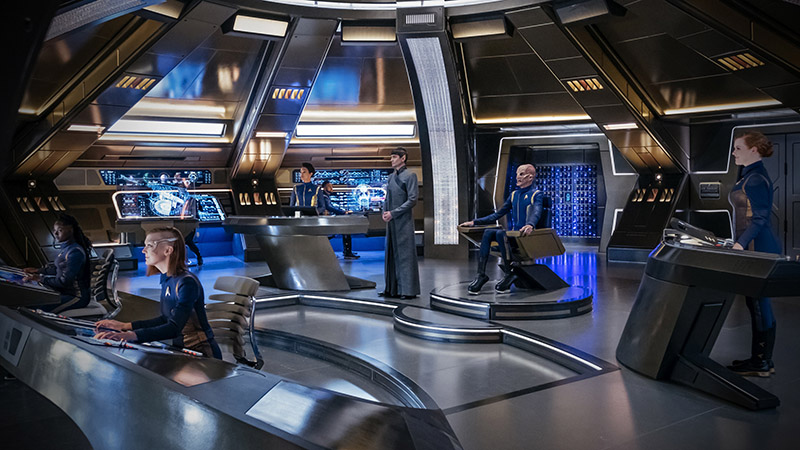 Short Treks
While Season 2 of
Star Trek: Discovery
won't be debuting until 2019 on
CBS All Access
, Kurtzman said that a series of four 10- to 15-minute
Star Trek: Short Treks
are due out later this year to tide fans over.
You can read all about them here!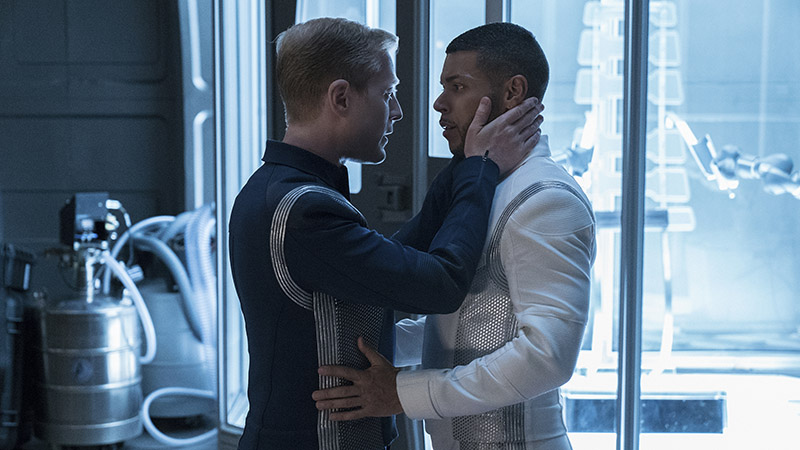 Hugh Culber's Return
One of the more shocking moments from Season 1 was when the Klingon Voq, acting through Tyler, snapped Culber's neck, killing him.
Of course, the mere fact that Wilson Cruz was even at Comic-Con seemed to suggest that Culber's journey isn't over yet.
"Yeah, I'm not here just to say hello," the actor said with a laugh. "We talked about this early on, after Tyler and I had a moment in sickbay. But we knew that was a chapter in a very long epic story... This was just a bump in the road.
"So, I'll be back," Wilson confirmed, adding that he's eager to continue the love story between Culber and Culber's partner, Stamets. "I'm not telling you how yet, but we're still reveling in the fact that this gay love has not only saved the world, but all of these universes."
"Gay love usually helps everything," Tig added, wryly.
Speaking of love...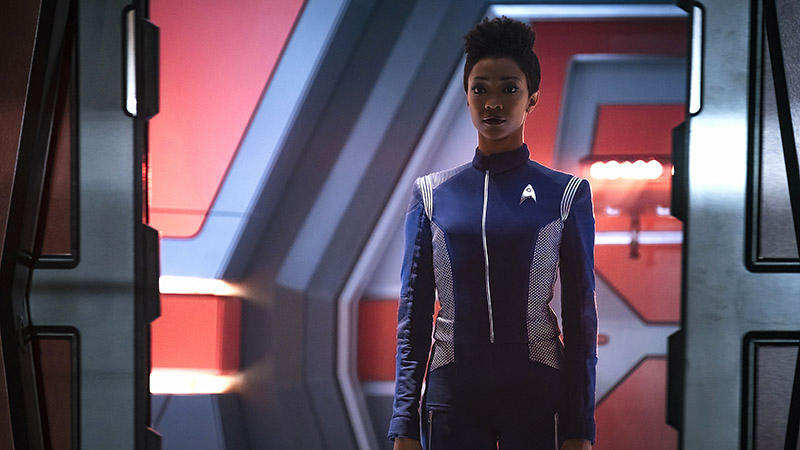 Feeling The Love
Sonequa touted that she's seen an incredible outpouring of support from
Star Trek
fans since Season 1 of
Discovery
ended.
"It's been outstanding. We deeply believe in what we're doing; we know what a big deal it is," she said. "We have so much love for our iteration and what we're doing... Being able to tell these interesting, dynamic, painful stories... it's what you dream for as an actor."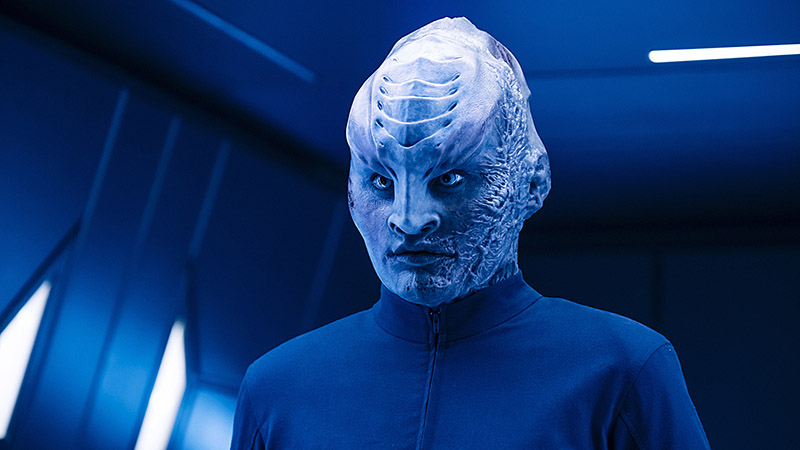 The Klingon Chancellor
The last time viewers saw L'Rell, she had just seized control of the Klingon Empire. So, what's next for the House Mo'Kai Klingon?
"She has this awesome detonator to help her," Mary Chieffo said, "and, yes, she's trying to be the best chancellor she can be in this patriarchal Klingon empire," adding that her character will have a new "chancellor aesthetic" this season. "She's doing her best to uphold T'Kuvma's mission."
And while much of L'Rell's past was shrouded in mystery in Season 1, some of those secrets she's been harboring will come to light in Season 2.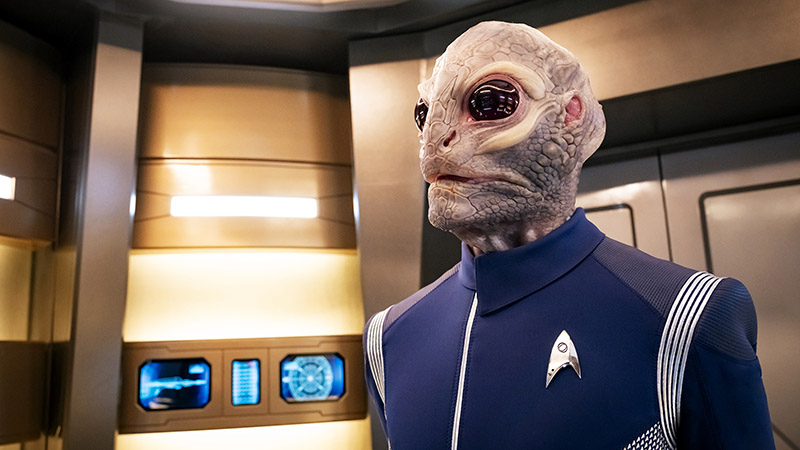 Commitment To Canon
Kurtzman also spoke a bit about
Star Trek: Discovery
hewing closer and closer to canon as it goes on. "You will get those answers next season, guaranteed," he said of more references to the original series. "You're just not going to get them the way you expect them."
Does that mean can fans expect to see more Easter eggs as well?
"Yes, there definitely will be," Kurtzman continued. "Obviously, we're syncing up with canon this year, so there will be a few."
Added Anthony, "There's fun stuff about redshirts this year."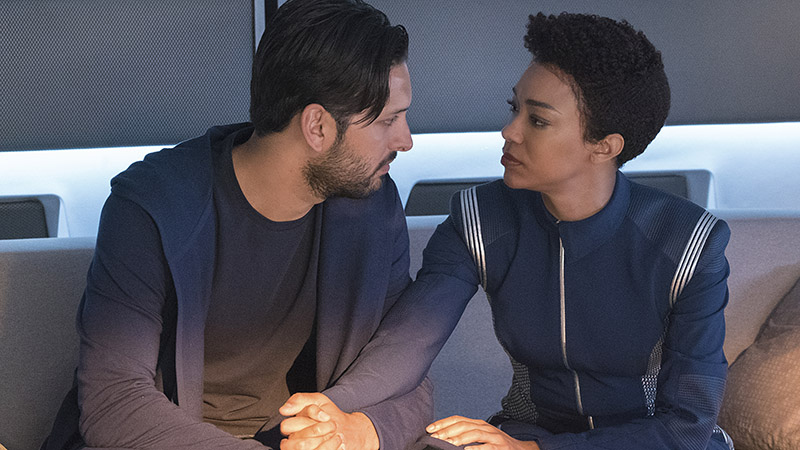 Love Square
In terms of romance, Tyler and Burnham ended things on a somewhat open-ended note, as the onetime Klingon defected from Starfleet to join L'Rell, who herself was a former lover of Voq's. So, the question remains, is that love triangle (or
square
, if you count
Tyler/Voq
as two individuals) still in play?
"Yeah, he wants to see Burnham again," Shazad said, "but he's far away at the moment, so he's got to find a way. He's struggling to find his way in the universe."
As for Tyler and L'Rell, they, too, have some unresolved issues to work through.
"There are certain conversations between Tyler and L'Rell that need to happen, and they do [in Season 2]," Mary Chieffo said.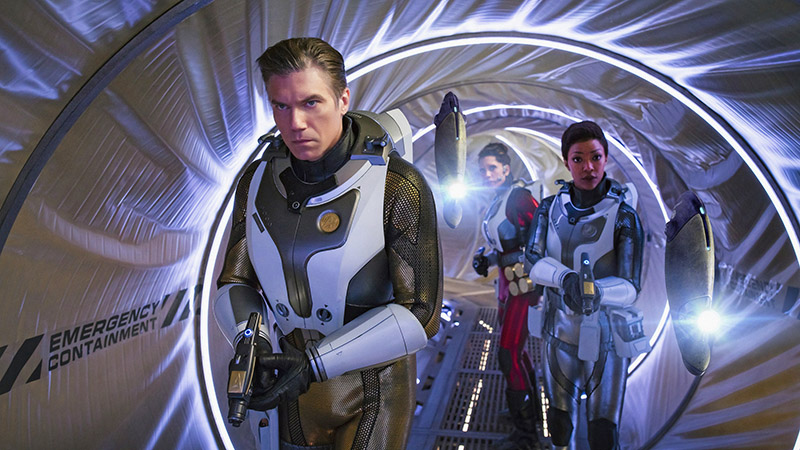 Final Thoughts
When asked how
Star Trek
has changed the way the cast and crew see the world now, Wilson gave a wonderful answer:
"I feel like this show, this franchise, helped me define the kind of dreamlike world that I want to live in," he said. "It helped me define what I hope for the world to be. If all things were true and possible that we could create a world in which our differences were not separating us but celebrating us."
Added Sonequa (whilst quoting a particular
Star Trek
captain), "You have to rise. You have to physically, emotionally do that and
make it so
... It's laid the responsibility on me to be the story I'm telling."
Stream the entire first season of
Star Trek: Discovery
, exclusively on
CBS All Access
.