How Star Trek: Discovery's Mirror Universe Fashion Draws From Classic Trek
The series' cast and crew discuss what went into designing the new Mirror Universe wardrobe.
Posted on Jan 10, 2018 | 10:00am
Warning: SPOILERS from Episode 10, Season 1 of Star Trek: Discovery follow...
In the latest episode of
Star Trek: Discovery
, "
Despite Yourself
," the
Discovery
and her crew found themselves stranded in a parallel universe dominated by a fascistic, human-only organization known as the Terran Empire.
STREAM: Episode 10, Season 1 Of Star Trek: Discovery On CBS All Access
This alternate reality, dubbed the Mirror Universe, was first introduced in the classic
Star Trek
episode "
Mirror, Mirror
," and featured the
Enterprise
crew in ostentatious warrior garb, as opposed to the more modest, utilitarian uniforms of Starfleet.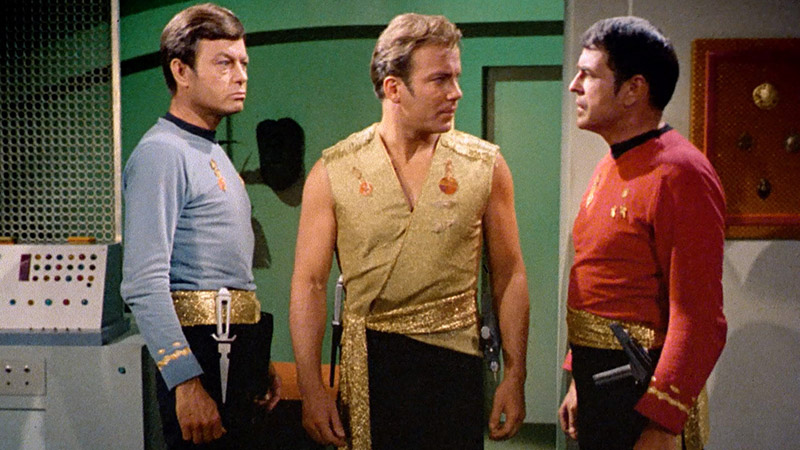 And as Executive Producer Aaron Harberts is quick to point out in a new behind-the-scenes video detailing the Mirror Universe wardrobe created for
Star Trek: Discovery
, the Terran fashion is not only bold, but very gold!
"We knew we wanted to incorporate gold as sort of a nod to those gold lamé sashes they used in TOS," Aaron says. "So, we started from there, and Gersha Phillips, our incredible costume designer, just started to create these gold breastplates and gold accents that really built on that language." Watch more in the video above!
STREAM: Full Episodes Of Star Trek: Discovery On CBS All Access
Phillips, along with Props Master Mario Moreira, confirm that they drew inspiration from "Mirror, Mirror"'s costume designs while creating their own outfits and regalia—including the aforementioned sashes.
"This was sort of my version of trying to do the sash-belt, but giving it a slightly more modern twist," Phillips says, gesturing to the asymmetrical obi piece and belt on top. "Also, the metallic influences are from [the original
Star Trek
] as well."
As for the various medals and pins that adorn the characters' uniforms, Mario explains that those aren't just for show. "We actually created a whole commendation list for each one of those badges," he says. "Each one of them has a name; each one of them has an award or validation [they've] gotten from it.
"One of them is Master of Poisons, [one of them is for] fifty kills, one of them is for a hundred kills..."
Phillips concludes with a laugh, "All kinds of different badassery, I would say."
READ: How To Watch Star Trek: Discovery On CBS All Access
Stream the entire first season of
Star Trek: Discovery
, exclusively on
CBS All Access
.