The Cast And Creators Of Evil Tease What May Be Lurking In Season 2
After the Season 1 finale on Jan. 30, Evil will be spreading.
Posted on Jan 12, 2020 | 12:15pm
During the first season of
Evil
, created by
The Good Fight
's Robert and Michelle King, the show has pulled back the curtain on a variety of the world's darkest corners.
From murderers to exorcisms,
Evil
walks the line between the supernatural and the scientific with technology playing an important role in the show's exploration of how evil infiltrates the real and virtual world around us.
On Sunday, Jan. 12, during a panel at the Television Critics Association Winter 2020 event in Pasadena, California, Robert King revealed the role of technology would continue to expand in the season to come, saying, "It felt to us that Michael Emerson's character [
Leland Townsend
] is really into this idea of technology as a way to tempt. So is there a way to use technology to invade people's homes? Next season will be a deeper dive—we've done technology in the
Good Wife
/
Good Fight
world—but there's something that spills over into almost a supernatural sense of invasion."
STREAM: Catch Up On Full Episodes Of Evil Before The Season 1 Finale On Jan. 30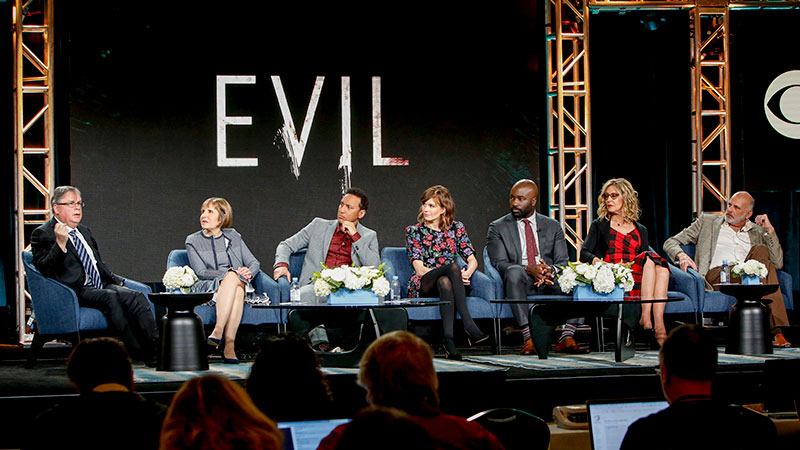 "We don't have to go looking for techno-weirdness," explained Michelle King. "It just comes banging on our door."
Robert elaborated by mentioning the use of augmented reality throughout Season 1 of
the psychological drama, which he called "the dividing line between the supernatural and everyday evil."
The Kings were joined by cast members
Katja Herbers
(Kristen Bouchard),
Mike Colter
(David Acosta),
Aasif Mandvi
(Ben Shakir),
Christine Lahti
(Sheryl), and
Kurt Fuller
(Dr. Boggs) to discuss the path of
Evil
, thus far, tease a little of what fans can expect when the show returns for Season 2.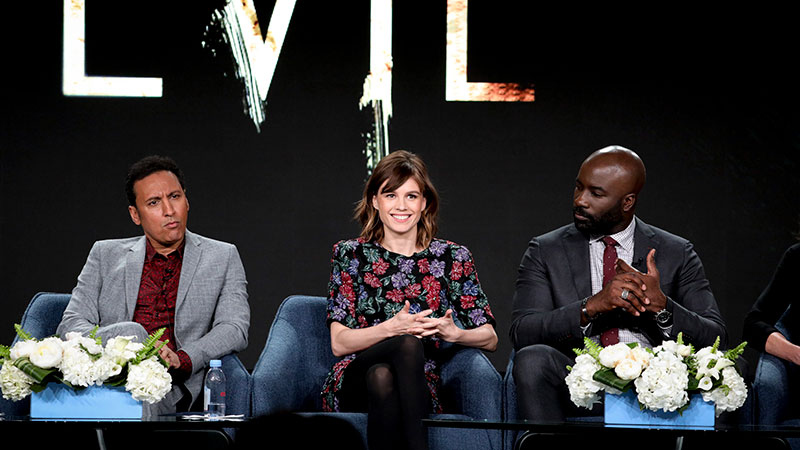 For Lahti, her character has gone from supportive grandmother to Leland's semi-secret love interest to a woman with a questionable moral compass. When asked about Sheryl's future, Lahti said, "I love the choices that the Kings are having me make. I love the direction I'm going in."
"Ben's milieu is his own certainty in terms of what he knows and what he can quantify," Mandvi said of his character's role as the hardened skeptic. "There have been a few challenges to that, but I think he's still in that place where he believes he can solve the thing. He's almost the opposite of Leland, where Leland wants to sow chaos and Ben wants to find order."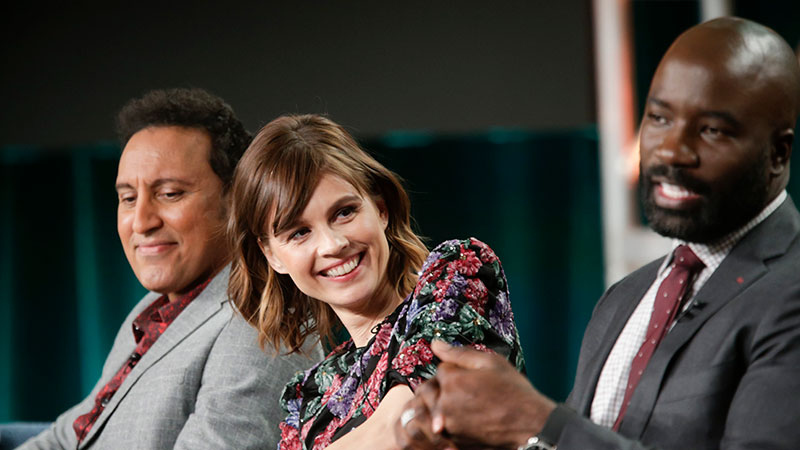 Fuller's Dr. Boggs began the season in a place similar to Ben, hearing about Kristen's new job and being skeptical of her placing so much stock chasing in the supernatural.
"As the season has gone on I started to see the value in the belief of the supernatural," Fuller said. "It doesn't matter if it's real or not if it has therapeutic value."
As for Dr. Boggs' patient, Kristen, Herbers said, "As the season progresses, I become a little bit more in the middle of Mike and Aasif's characters. I allow doubt, but there are things I can't explain and it becomes pretty scary."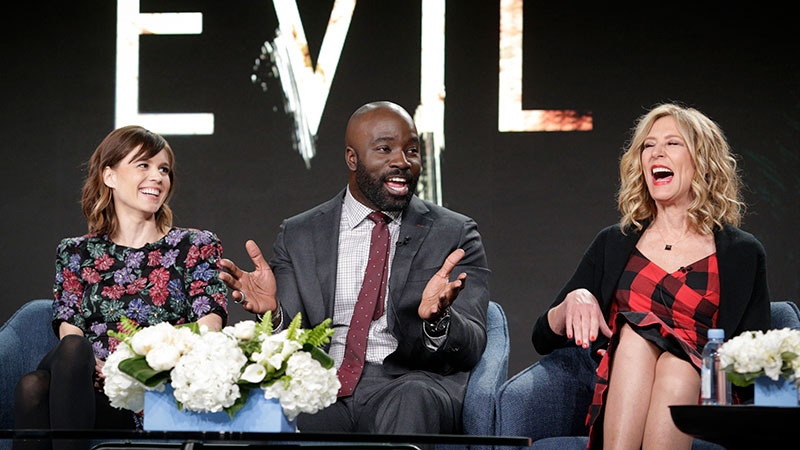 Whether the characters agree on what's real and what's not, they can all take solace in the undeniable fact that the situations they find themselves in can be pretty terrifying.
Talking specifically about the episode
"Rose390"
in which David tries to connect with a young boy whose parents believe him to be possessed, Colter said, "I was just as disturbed as anyone when I read the script but just as excited in an artistic way. As actors, we want to think about things that we would never have happen in life. If people don't get this episode, I don't know that they're ever gonna get the show." Colter emphasized how that episode, in particular, was the beginning of a very strong arc that posed a lot of questions for the viewer.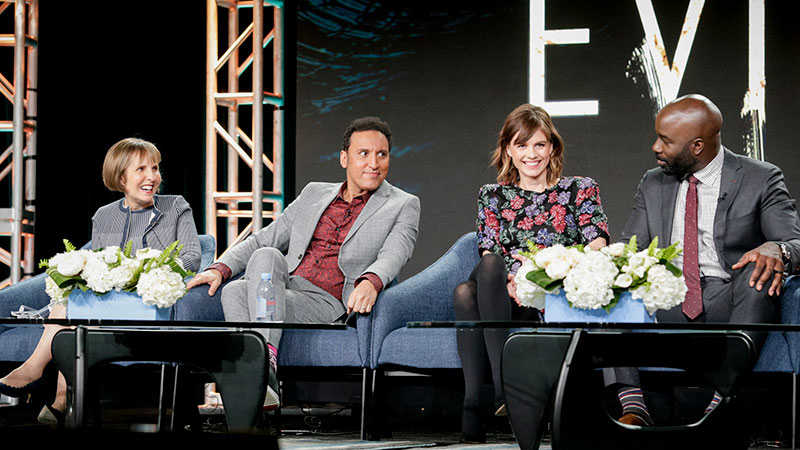 Of course,
Evil
hasn't
only
been about the questions of "is there/isn't there," regarding the supernatural, but also a little bit of "will they/won't they," when it comes to Kristen and David's complicated relationship.
Robert King chimed in to say, "Their sexual attraction is intellectual, too, which is interesting," making sure to emphasize that their potential of romance wasn't necessarily going to be a primary storyline, but something they felt was exciting to explore.
"[Michelle and I] have a checkered history about love triangles," admitted Robert. "It's kind of the whipped cream on top of everything we do. We wanted to start out with this idea because Katja and Mike have this great chemistry, but we didn't want you to hate the husband whenever he came back."
Still, Herbers added, "It's all the more profound there's such an intellectual attraction as well."
Whatever Season 2 might hold for Kristen, David, Ben, and the other characters, it's clear the cast is ready "to do more
Evil
," as Herbers put it.
Until then? "I'm still waiting to get a call for a guest spot on
The Good Fight
," she joked.
Don't miss the season finale of
Evil
on Thursday, Jan. 30 at 10/9c on CBS and
CBS All Access
.