New CBS Drama Evil Confronts Questions That Lurk Between Supernatural And Psychological
The chilling drama tackles everyday villainy when it premieres Thursday, Sept. 26 at 10/9c.
Posted on Aug 1, 2019 | 12:05pm
When a seemingly everyday situation gives you an uneasy feeling deep inside, will finding an explanation leave you more assured—or even more unsettled?
The new CBS psychological mystery
Evil
is ready to explore these questions—and a haunting line between science and religion—when it premieres on Thursday, Sept. 26 at 10/9c on CBS and
CBS All Access
.
READ: Here's Your First Look At The New 2019-2020 CBS Fall Primetime Schedule
Executive Producers Michelle and Robert King (
The Good Fight
,
The Good Wife
) have long held family debates about the meaning of life, which have also delved into villainy like we see all too often today, ranging from smaller transgressions to more sinister acts.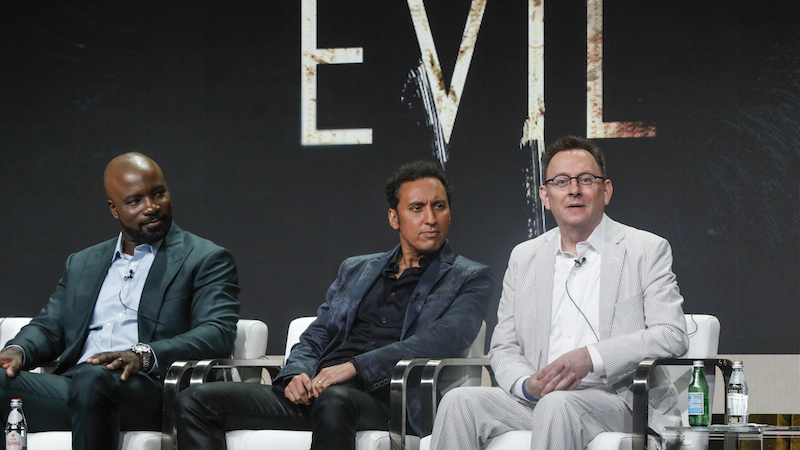 "Where does that come from?" Robert asks. "Is it idling more toward the supernatural?"
"I see it more as psychological," says Michelle.
"You're looking at life and you see evil, often not with a capital 'E' but with a small 'e,'" Robert continues. "What is genetically based villainy, and what is something bigger, even supernatural?"
Evil
makes a unique contribution to the science vs. faith genre, not by firmly
settling
such questions, but by
setting
them in a contemporary way. "We wanted to be a little grittier about it," he adds. "Just the moment is different and it's worth addressing."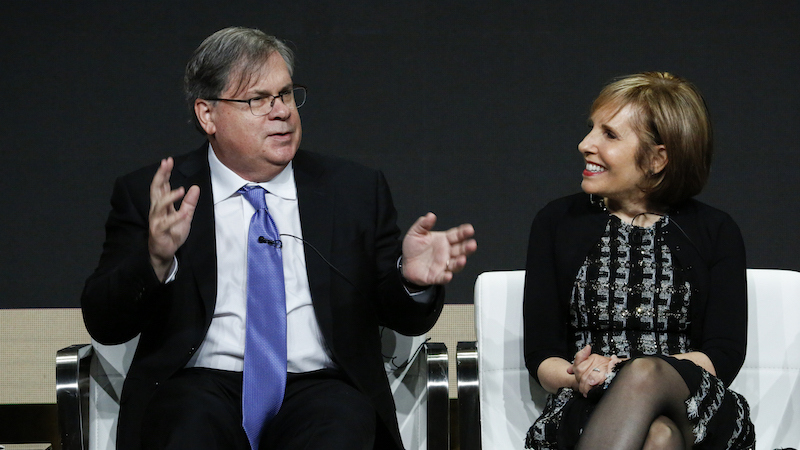 The series focuses on a skeptical female psychologist named Kristen Bouchard (played by
Katja Herbers
), who joins priest-in-training David Acosta (
Mike Colter
), and carpenter Ben Shakir (
Aasif Mandvi
) to investigate the Church's backlog of unexplained mysteries.
As they navigate supposed miracles, demonic possessions, and hauntings, their work may be complicated by a sinister-seeming character named Leland Townsend (
Michael Emerson
). Their job is to assess if there is a logical explanation or if something truly supernatural is at work.
Joined by series stars Colter, Mandvi, and Emerson, the Kings spoke at length about their new series during a Television Critics Association presentation in Beverly Hills.
Asked about the development of the series and how it departs from the producing power couple's past and current work with the network, Michelle explains that, "We've been writing it for the last year and researching it for the last 30. You're looking at the result of a conversation we have not stopped having."
Diving into the sometimes haunting nature of the material they're working with and how it sticks with them, each of the actors has a unique take.
"It's fun in the course of your workday to explore the fringe areas of consciousness and daily life, and see what's in there," says Emerson.
"What I love about the material is that it's a constant debate we can explore .... we're trying to figure out what the truth is," adds Colter. "I don't have a lot of nightmares, but I hope you guys do!"
"I'm terrified all the time by everything," Mandvi quips.
Of course, it's easy to be terrified when there's so much ambiguity in the show's underlying questions. Instead of solving whether evil is supernatural or psychological, the new series will keep things open-ended as it explores.
"The more you take it out of either-or, the better," notes Robert King.
Watch the series premiere of
Evil
on Thursday, Sept. 26 at 10/9c on CBS and
CBS All Access
.