Back to Cast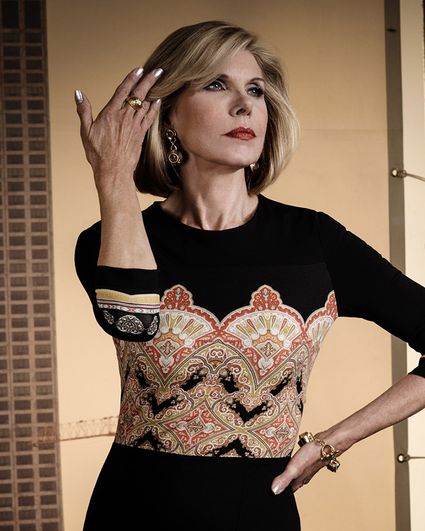 Diane Lockhart
Christine Baranski
Biography
­Christine Baranski, who received a 2011 Emmy Award nomination for Outstanding Supporting Actress in a Drama Series for her work on "The Good Wife," continues to achieve acclaim for her performances across a range of mediums, including film, television and theater. The two-time Tony, Emmy, Screen A­ctors Guild and American Comedy Award winner's feature film credits include "Mama Mia," "Chicago," "How the Grinch Stole Christmas," "Bowfinger," "Bulworth," "Cruel Intentions," "Jeffrey," "Reversal of Fortune," "Legal Eagles," "Welcome to Mooseport," "The Ref," "Lovesick," "Addams Family Values," "Life With Mikey," "9 ½ Weeks" and "The Birdcage," for which she received a Screen Actors Guild Award.

After graduating from Juilliard, she began earning roles in regional productions and Off-Broadway. She received her big break being cast in Tom Stoppard's hit Broadway comedy, "The Real Thing," directed by Mike Nichols and starring Glenn Close and Jeremy Irons. Within the same year, she was married, gave birth to her first child and won a Tony Award and Drama Desk Award.

Baranski went on to earn a second Tony Award and Drama Desk Award for her performance in Neil Simon's "Rumors," and a Drama Desk Award for "Lips Together Teeth Apart."

In addition to the Emmy Award for the television comedy "Cybill," on CBS, Baranski received an American Comedy Award for Outstanding Supporting Actress in a Comedy, as well as a Screen Actors Guild Award for Outstanding Lead Actress in a Comedy. She also received six additional Emmy nominations, one of which was for her role on "The Good Wife," and two Golden Globe Award nominations. Her television film credits include "Eloise at the Plaza," "Eloise at Christmastime" and "Playing for Time" with Vanessa Redgrave.

A native of Buffalo, N.Y., Baranski has two children and lives with her husband in Connecticut. Her birth date is May 2.