​Walton Goggins Rediscovers Life On The Other Side Of Tragedy In New Comedy The Unicorn
Alongside his costars and the show's Executive Producers, Goggins explains more about the earnest new CBS comedy, which premieres on Thursday, Sept. 29 at 8:30/7:30c, following Young Sheldon.
Posted on Aug 1, 2019 | 01:20pm
When times are tough, there's nothing like a sense of community to help get you through.
That's exactly what the team behind the new comedy
The Unicorn
, which premieres Thursday, Sept. 26 at 8:30/7:30c on CBS and
CBS All Access
, was aiming for when they set out to tell a story inspired by a real-life friend who suffered the loss of a spouse.
In
The Unicorn
, it's the family and friends of main character Wade (
Walton Goggins
), who rally around him and encourage the father of two to get back to living his life following the tragic death of his wife.
READ: Here's Your First Look At The New 2019-2020 CBS Fall Primetime Schedule
During a panel at the 2019 Summer Television Critics Association event, Executive Producers Mike Schiff and Bill Martin were joined on stage at the Beverly Hilton Hotel in Los Angeles by series stars Walton Goggins,
Rob Corddry
,
Michaela Watkins
,
Maya Lynne Robinson
, and
Omar Benson Miller
to talk about the new series and celebrate the sincerity of such a relatable story.
"Life is not tragic or funny, it's both. It's sincere," said Schiff.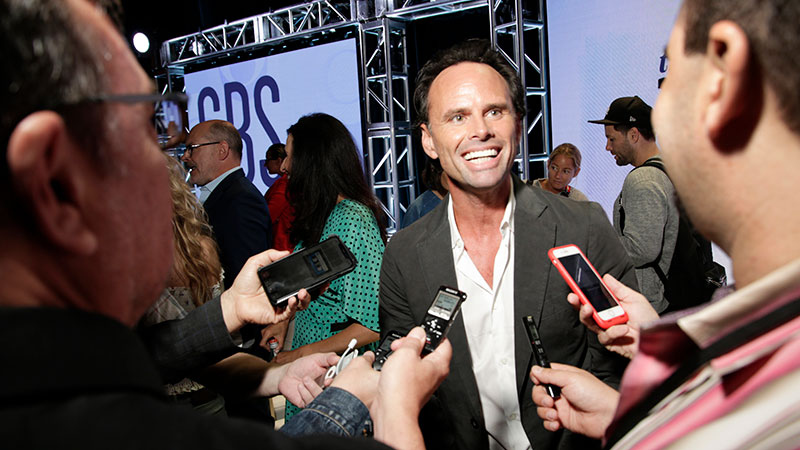 Goggins agreed, saying that the sincerity of the show is what drew him to the role in the first place. "I'm in a place in my life where kindness and sentimentality and being earnest are important to me, and this show spoke to that... It touched me in a way that was deep and meaningful."
The Unicorn
, said Goggins, is about "life on the other side of tragedy," a relatable theme that the star feels personally connected to.
"All of us have had tragedies in their life, and I am absolutely no exception to that," he told the room. "To be quite honest with you, I went through a lot of the things this character is going through. I was able to move on because of the community around me and the friends that held me up and thought I was worth bringing back."
In the show, his community is represented by married couples Forrest (Corddry) and Delia (Watkins), plus Ben (Miller) and Michelle (Robinson), who are essential to Wade's ability to start moving on.
But moving forward doesn't just mean diving back into the dating pool.
"It's about [Wade] basically giving himself permission to live again... It's about him, in all aspects of his life, turning back into his life," Schiff explained. "So, dating is a part of his life, but he's also a father, he's also a friend."
"He has to start living again; he's really stuck. Everybody is kind of in this holding pattern, I think that's what's hard to watch," added Watkins about the supporting characters refusal to stand by and watch Wade keep feeding his kids brownies for dinner.
She joked, "I think if there weren't daughters involved, maybe we would let him Virginia Woolf himself for another year."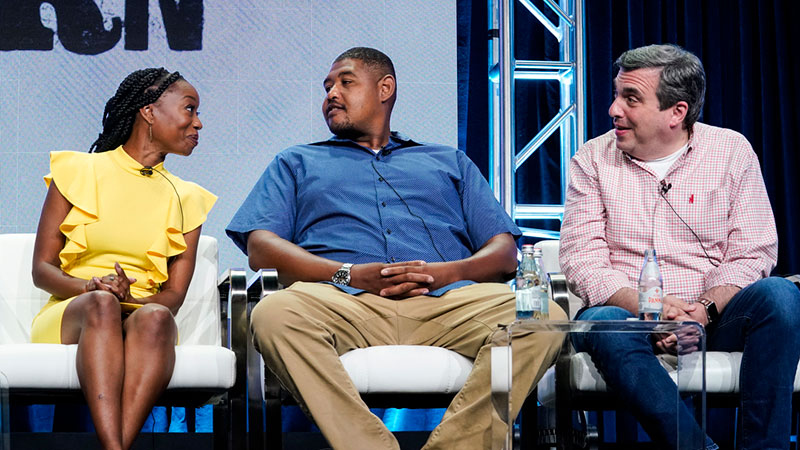 "We want for him what we have," Robinson said of the other characters' relationship with Wade. "It's not [coming] from [a place of] fear, it's from faith."
The tight-knit community represented on-screen extends behind the camera, as well, with the cast expressing how at home they feel with one another. "It was so lived in, immediately," Watkins said of the near-immediate bond.
"I wouldn't shut up about it," Corddry confirmed. "It was kind of the perfect chemistry."
It's a sincere enjoyment of each other's company that anchors the show and those bonds are what the cast and crew hope will connect with the audience, as well.
"This show is about moving on, but it's about community more than it is about anything else," Goggins explained.
The actor wrapped the discussion with a distillation of what he considered the core premise of
The Unicorn
: "Whatever it is in your life that you're going through... if you hold on long enough, everything will be okay."
Don't miss the series premiere of
The Unicorn
on Thursday, Sept. 26 at 8:30/7:30c on CBS and
CBS All Access
.