The Critics Have Weighed In On Season 1 Of The Twilight Zone
In case you need a recommendation, here's what the reviewers have to say about Season 1 of The Twilight Zone.
Posted on Apr 8, 2019 | 10:55am
The first two episodes of
The Twilight Zone
have arrived, transporting audiences to that middle ground between light and shadow, but if you have yet to take the plunge into the eerie unknown, these reviews for Season 1 may be all the motivation you need to jump in.
STREAM: Full Episodes Of The Twilight Zone On CBS All Access
Season 1 kicked off on Apr. 1 with two episodes, "The Comedian" and "Nightmare at 30,000 Feet," inviting viewers to step outside of their comfort zones.
Whether it's a comedian who makes a dark bargain to get laughs or an air traveler cursed with knowing unknowable details of his flight, here are just a few more reasons to take a trip to
The Twilight Zone
.
READ: Can You Find All The Easter Eggs In The Twilight Zone Season 1?
"
Twilight Zone
is thoughtful, personal, and aggressive in its mission to expand our perspectives... A more than worthy follow-up." - Ben Travers,
Indiewire
"Proves itself a worthy successor to the original while updating its familiar formula for the modern world we live in." - Dave Nemetz,
TV Line
"This reimagined
Twilight Zone
features some of today's most intriguing actors and swerves from fun to disturbing and back and is just as provocative as the original." - Mark Perigard,
Boston Herald
"..it's deliriously good." - Vinnie Mancuso,
Collider
"It is quintessential
Twilight Zone
through and through, and the first of the revivals to really live up to the feel of the original." - Tim Surrette,
TV Guide.com
"That this series has already figured out that it can be political simply by virtue of the stories it tells, the points of view it adopts, and the actors it employs is further proof that magic can happen in
The Twilight Zone
." - Matt Zoller Seitz,
Vulture
"...exciting and vibrant, loaded with a cavalcade of stellar actors in colorful, memorable roles...The new
Twilight Zone
is a must see." - Chris Evangelista,
Slashfilm
"Peele's update is fresh, smart, entertaining and inspired." - Judy Berman,
Time
"Jordan Peele's
Twilight Zone
is an homage to Rod Serling's, and if it's regressive in its style, it's progressive in its diverse casting and sharp focus on civil rights issues... A poised and technically perfect return to the unsettling truth-telling of the original series." - Meghan O'Keefe,
Decider
"This Trip Advisor doesn't hesitate to recommend another journey to
The Twilight Zone
." - Richard Roeper,
Chicago Sun-Times
"Jordan Peele's reboot will make Rod Serling proud." - Verne Gay,
Newsday
"Jordan Peele's
Twilight Zone
revival is astoundingly good." - Gavia Baker-Whitelaw,
The Daily Dot
"Monumental... This is the kind of anthological event television that viewers have been bereft of in recent memory." - Michael Roffman,
Consequence of Sound
"...a lot of spooky fun... delightfully scary... classic chills..." - Kurt Loder,
Reason
"
The Twilight Zone
flawlessly translates the spirit of the original series." - Alexis Nedd,
Mashable
"Jordan Peele's
The Twilight Zone
is a spine-tingler..." - Melanie McFarland,
Salon
"Jordan Peele's
The Twilight Zone
is worth the return trip." - Danette Chavez,
AV Club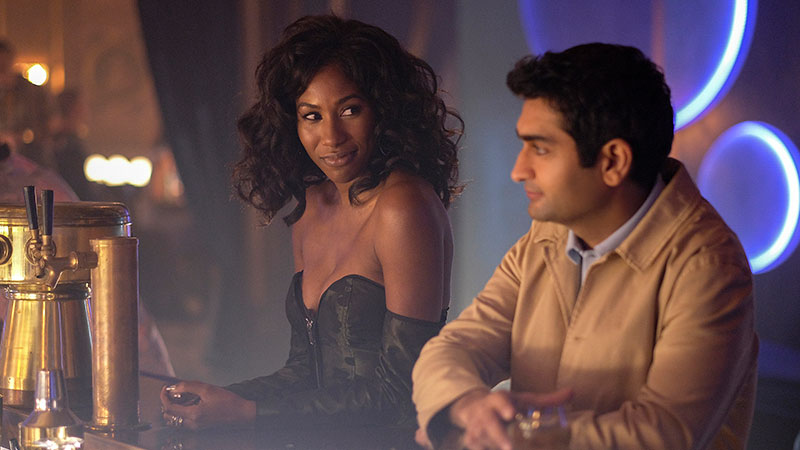 "...mesmerizing and unforgettable." - Brian Tallerico,
RogerEbert.com
"The new season of The Twilight Zone is not just a worthy successor to its namesake, it makes its own case for its own existence." - Tom Philip,
GQ.com
"Jordan Peele has...found that Serling groove that has so often eluded reboots of the show in the past." - Scott Collura,
IGN
Stream
The Twilight Zone
, available exclusively on
CBS All Access
.
And now,
stream every episode in black and white
.