Back to Cast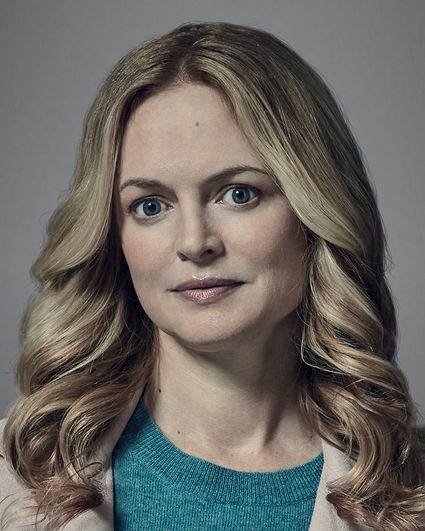 Rita Blakemoor
Heather Graham
Biography
Heather Graham discovered her passion for acting at an early age and caught the attention of filmmakers with her breakout role in Gus Van Sant's Drugstore Cowboy, for which she received an Independent Spirit Award nomination. Graham went on to score unforgettable roles in the 1997 classic Boogie Nights, for which she received the MTV Movie Award for Best Breakthrough Performance, 1999's Austin Powers: The Spy Who Shagged Me and starred opposite Bradley Cooper and Zach Galifinakis in 2009's The Hangover.

Most recently, Graham, opposite Jodi Balfour, could be seen in the independent drama-comedy The Rest of Us, which premiered to rave reviews at the 2019 Toronto International Film Festival.

Up next, Graham stars in the conspiracy/thriller Wander, opposite Aaron Eckhart and Kathryn Winnick, as well as the female-led comedy Desperados, alongside Nasim Pedrad and Anna Camp.

Previously, Graham starred in Half Magic, a film she wrote and directed, which released in theaters and on VOD February 2018. The raunchy, female-driven comedy follows three women set out on a hilarious search for self-fulfillment while overcoming the roadblocks in their personal and professional lives. Last year she also starred in Sky Atlantic's double-life comedy series Bliss, which aired on Britbox.

In 2017, Graham starred opposite Edie Falco in NBC's Law & Order True Crime: The Menendez Murders. The eight-episode anthology series was based on the famed murder case of brothers Lyle and Erik Menendez in the early 1990s. Previously, she guest starred in TBS' hit show, Angie Tribeca, produced by Rashida Jones and Steve Carell.

Her past films include Dwight Little's The Last Rampage, based on the true story of murderer Gary Tison's attempted escape from prison to Mexico, and Emanuele Della Valle's noir drama Wetlands, opposite Adewale Akinnuoye-Agbaje.

Animation credits include voicing the Lionsgate film, Norm of the North, alongside Ken Jeong and Rob Schneider. She starred alongside Ellen Burstyn in Lifetime's Flowers in The Attic, and its sequel, Petals on the Wind. The films, based on the famous novels by V.C. Andrews were instant hits, garnering the network one of its highest rated original movie performances of recent years. Graham reprised her role in the third installment, If There Be Thorns, which premiered in April 2015.

In April 2014, Graham joined the cast of Showtime's Californication for its seventh season. Graham played a woman from Hank's (David Duchnovy) past whose arrival upended his life.

In May 2013, Graham reprised her role as Jade in the hit comedy The Hangover 3, released on May 20, 2013. She also co-starred in Ramin Bahrani's At Any Price, which debuted at the Toronto and Venice Film Festivals, and released nationwide on April 26, 2013. Graham's character finds herself caught between her lover, Dennis Quaid, and his son, played by Zac Efron, while coming to terms with her small-town life.

Graham has starred in About Cherry (2012) Judy Moody and the Not Bummer Summer, and 5 Days of War (2011). She also starred with a stellar ensemble in Emilio Estevez's Bobby, about the assassination of Robert F. Kennedy, which premiered at the 2006 AFI Film Festival.

Throughout her career, Graham has worked with some of the industry's most respected actors and directors. Her performances include that of a doe-eyed girl in Swingers, with Jon Favreau and Vince Vaughn; an ambitious young actress in Frank Oz's Bowfinger with Steve Martin and Eddie Murphy; and the tragic Mary Kelly in Albert and Allen Hughes' From Hell opposite Johnny Depp, as well as roles in The Guru with Marisa Tomei; Hope Springs opposite Colin Firth; Committed with Luke Wilson; Ed Burns' ensemble Sidewalks of New York; James Toback's Two Girls and a Guy with Robert Downey Jr.; Lost in Space with Gary Oldman and William Hurt; and Six Degrees of Separation starring Will Smith.

Graham executive produced and starred in the feature film Cake, a romantic comedy also starring Sandra Oh and Cheryl Hines. In 2004-2005, she received rave reviews for her guest starring stint on NBC's critically acclaimed series Scrubs. On stage, Graham made her theatrical debut off-Broadway in Playwrights Horizons' Recent Tragic Events.