How And When To Watch The 2021 Masters Tournament On Paramount+ From April 8-11
Stream live golf from the Masters in Augusta, including more than 100 hours of additional live streaming video.
Posted on Apr 2, 2021 | 10:00am
Golf's best return to Augusta National Golf Club as the
2021 Masters Tournament
returns to springtime on CBS! In addition to all of the network's weekend broadcast coverage,
Paramount+
will be streaming Masters Live (with multiple feeds) and additional featured programming from Thursday, Apr. 8 through Sunday, Apr. 11.
SUBSCRIBE: Sign Up For Paramount+ To Stream The Masters
That means you'll be able to follow along live from Amen Corner; Holes 15 and 16; or a feed following six handpicked groups each day. Plus, Paramount+ will also have daily highlights and tees off a full week of
Masters on the Range
starting April 5.
With 66 years on CBS, the Masters is the longest-running sporting event broadcast on one network. Jim Nantz returns to host the Masters for CBS for the 34rd time and Sir Nick Faldo returns as the lead analyst in the 18th tower. Their iconic broadcast coverage is supplemented with more than 100 hours of additional live streaming video.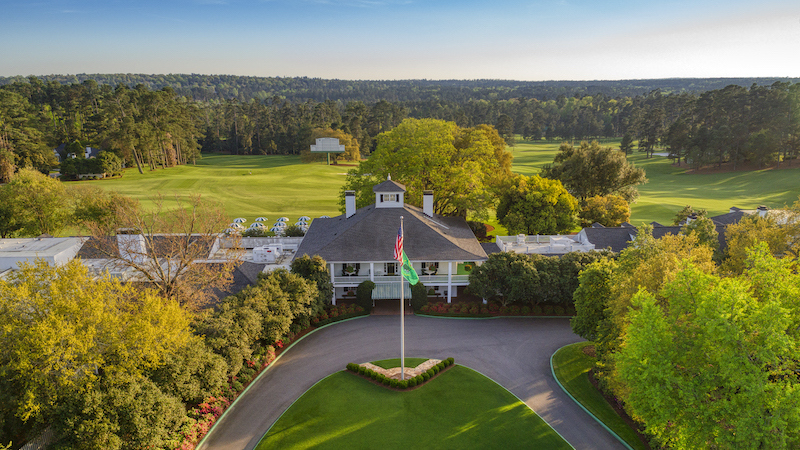 What's included with the 2021 Masters Live lineup of channels on Paramount+?
FEATURED GROUPS: Don't miss any of the top storylines from Augusta as we follow six groups picked at the start of each day. With two pairs of announcers (Shane Bacon with Billy Kratzert and Brian Crowell with Colt Knost), we've got you covered from 9:15am ET to 7:30pm ET on Thursday and Friday, and from 10:15am ET to 7:00pm ET on Saturday and Sunday.
AMEN CORNER: Grant Boone and Mark Immelman return as announcers for the 11th, 12th, and 13th holes during all rounds.
HOLES 15 & 16: Luke Elvy and Ned Michaels return to provide commentary and analysis during all rounds.
MASTERS ON THE RANGE - Enjoy interviews with players, analysis of the field, and breakdowns from the Tournament Practice area. Kelly Tilghman, Brian Crowell, Michael Breed, Mark Immelman, and Billy Kratzert will provide commentary throughout the week: Monday 12-2pm, Tue/Wed 9-11am, Thu/Fri 8:30-10:30am, and Sat/Sun 11am-1pm (all times Eastern).
Plus, you can expect plenty of daily highlights at
The Masters
page on Paramount+.
When is the 2021 Masters Tournament and what's the full broadcast schedule being streamed on Paramount+?
The 2021 Masters Tournament coverage, broadcast live on CBS and streamed on Paramount+, is anchored by the third round on Saturday, Apr. 10 from 3pm ET to 7pm ET and the final round on Sunday, Apr. 11 from 2pm ET to 7pm ET. Additionally, highlights of early-round play will be broadcast on Thursday, Apr. 8, and Friday, Apr. 9 from 11:35pm ET to 11:50pm ET.
In addition, Paramount+ subscribers can enjoy the live stream of five Masters specials that are airing on the network:
-
We Need To Talk
(Saturday, April 10,12:30-1:30pm ET): With panelists Amanda Balionis, Dottie Pepper, Tina Cervasio, and Aditi Kinkhabwala, the show features Masters-related content, including early-round analysis and a recap of the Augusta National Women's Amateur.
- The Masters: Jack and Arnie!
(Saturday, April 10, 1:30-2:00pm ET): A special look at two of the game's most beloved and legendary champions, including their history together and separately, at the Masters.
-
The Masters: The Second Nine on Sunday
(Saturday, April 10, 2:00-3:00pm ET): The one-hour special presents a look at some of the most iconic final-round moments at the Masters with a behind-the-scenes look at the players and shots that have helped define some of the game's most legendary figures on golf's greatest stage.
-
The Masters: The Magnificent 12th
(Sunday, April 11, 12:30-1:00pm ET): Hear from the players themselves as they reveal their strategies and re-live memorable moments at "Golden Bell," one of the most pivotal and famous holes in golf.
-
Jim Nantz Remembers Augusta: Mark O'Meara at the Masters
(Sunday, April 12, 1:00-2:00pm ET): Jim Nantz sits down with Mark O'Meara to document his journey from a Southern California junior champion to a two-time major winner, including his famous 1998 victory at the Masters.
Also, remember you can keep up with the
full coverage from CBS Sports
and round-the-clock coverage from
CBS Sports HQ
.
How can I watch or stream the 2021 Masters Tournament live online?
It's easy! Just sign up for Paramount+, which is currently available online at
ParamountPlus.com
and on mobile devices via the Paramount+ app for iOS and Android. The service is also available to stream across a wide number of platforms, including smart TVs, connected-TV devices, online, mobile, gaming consoles, and leading OTT providers.
More sports coverage is available on
CBSSports.com
, the CBS Sports app, and
CBS Sports HQ
, the 24/7 streaming sports news network available to Paramount+ subscribers.
What else can I stream on Paramount+?
Paramount+ is the home of live sports, breaking news, and a mountain of entertainment!
Not only will
Paramount+
let you stream the 2021 Masters Tournament, but sports fans also get an impressive lineup of other live events. Our sports roster features more professional golf (including the PGA Tour and the PGA Championship),
NFL on CBS
, college football (including
SEC on CBS)
, college basketball (including the
NCAA Tournament
), elite soccer (including
UEFA Champions League
and
National Women's Soccer League
), and
Hockey East.
Paramount+ has more than 24 exclusive original series currently available, with many more on the way, including
Star Trek: Prodigy
, a new
Frasier
series, and
Halo
. Of course, Paramount+ continues to carry the lineup of CBS All Access Originals Series, including hits like
The Good Fight
,
Star Trek: Discovery
,
Star Trek: Picard
,
Why Women Kill
, and
No Activity
. You can see an expansive listing with descriptions in
the official announcement
.
READ: Paramount+: Everything You Need To Know About The New Streaming Service
Of course, you'll get CBS primetime shows like
NCIS
and
Young Sheldon
and live specials like the
63rd Annual GRAMMY® Awards
.
Paramount+ boasts a massive library of more than 30,000 episodes and movies from
CBS
,
BET
,
Comedy Central
,
MTV
,
Nickelodeon
,
Paramount Pictures
,
Smithsonian Channel
, and more.
Paramount+ is also the new streaming home to
CBSN
, CBS Sports HQ, and ET Live, each offering unique 24/7 coverage of the world.
How much does Paramount+ cost?
You can select from two pricing tiers for Paramount+ in the U.S. The premium tier ($9.99) is available with the full depth and breadth of live sports, around-the-clock news programming, and world-class entertainment spanning Paramount+ originals to an expansive suite of current and library shows and movies.
The offering includes CBS' live linear feed and commercial-free on-demand viewing, with 4K, HDR and Dolby Vision, mobile downloads, and cross-platform dynamic play functionality.
During the Masters, an existing limited commercial plan ($5.99) is still available for new users. Starting in June, an ad-supported tier ($4.99) will launch with the best in sports, news, and entertainment. At that time, the current $5.99 plan will no longer be available for new users, but existing users will maintain grandfathered access.
Both Paramount+ tiers feature a seamless user interface, enhanced curation and discovery, personalized homepages, content categories, and central hubs for ViacomCBS' brands. Additionally, each subscription option includes parental control capabilities and up to six individual profiles.
Sign up for Paramount+ now
to enjoy all the action... including the 2021 Masters Tournament!