Here's Why You Need To Binge The Good Fight Now
If you haven't witnessed this riveting legal drama yet, here are all the reasons why you should.
Posted on Jun 21, 2018 | 10:00am
There's a lot of great TV out there—so much so, that when you're thinking about what to binge-watch next, selecting a new show can be a daunting decision.
Well, allow us to make the choice an easy one!
Legal dramedy
The Good Fight
, which is available to stream exclusively on
CBS All Access
, is rife with
excuses
reasons to hit the sofa and not get up for, oh, an entire weekend.
STREAM: Full Episodes Of The Good Fight, Exclusively On CBS All Access
Here's why
The Good Fight
should be the next series you binge-watch.
The Good Fight picks up where The Good Wife left off.
When creators Robert and Michelle King wrapped
The Good Wife
in 2016, they definitely weren't done telling stories about the world of Chicago law.
That's why, a year later, they got
Christine Baranski
, who portrayed powerhouse litigator and statement-necklace queen Diane Lockhart on
The Good Wife
, to reprise her role and lead a talented cast on the show's follow-up,
The Good Fight
.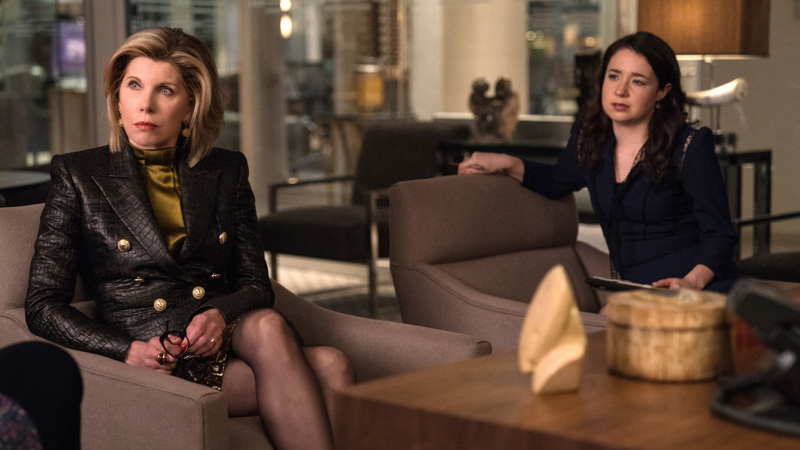 In the
Season 1
premiere, we meet back up with Diane, who has recently decided she's ready to leave the law and retire; however, just as she's about to buy her dream house in France, she discovers her personal empire has come tumbling down after her savings are lost in a Madoff-esque Ponzi scheme.
Forced to delay retirement and build back her nest egg, she rebuilds her career and reputation at an African-American-majority firm, which also happens to be the workplace of rising-star attorney Lucca Quinn (
Cush Jumbo
, a guest star from Season 7 of
The Good Wife
).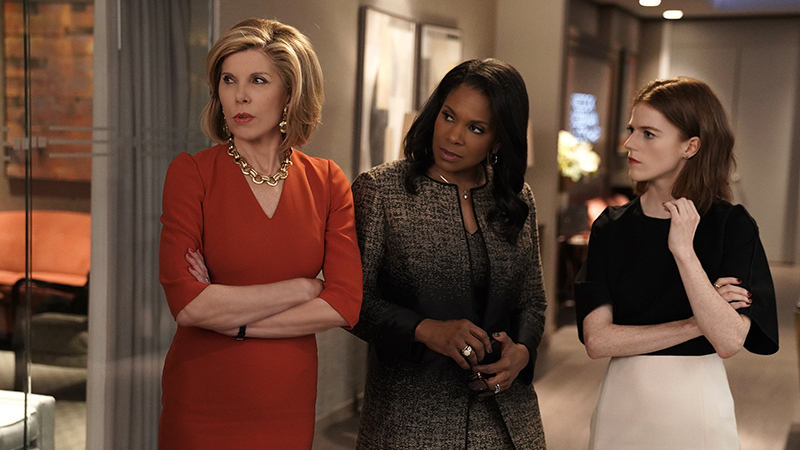 Women get the job done.
The Good Fight
cast is filled with a mighty group of
astute, confident, and complex women
who command the room and aren't afraid to get what they want, personally and professionally.
Of course, there's Diane and then Lucca, a stubbornly brilliant lawyer who doesn't mince words with her clients
or
her colleagues; Maia Rindell (
Rose Leslie
), Diane's goddaughter and recent law-school grad; Marissa Gold (
Sarah Steele
), a quick-witted investigator-in-training; and, in Season 2, the firm's newest edition, Liz Reddick-Lawrence (
Audra McDonald
), a formidable former AUSA who also happens to be the ex-wife of boss Adrian Boseman (
Delroy Lindo
).
It's not afraid to tackle the tough issues.
While Season 1 spends ample time exploring police brutality in Chicago, Season 2 significantly ups the ante with storylines addressing President Trump's alleged pee-pee tape, the #MeToo movement, lawful citizenship and deportation, workplace sexual harassment, and more.
Yes, plenty of TV shows might thematically address of-the-moment, real-world issues, but
The Good Fight
takes things a step—actually, a leap—further. Robert and Michelle King weave trending topics currently populating your Twitter feed and mold them into compelling plot devices.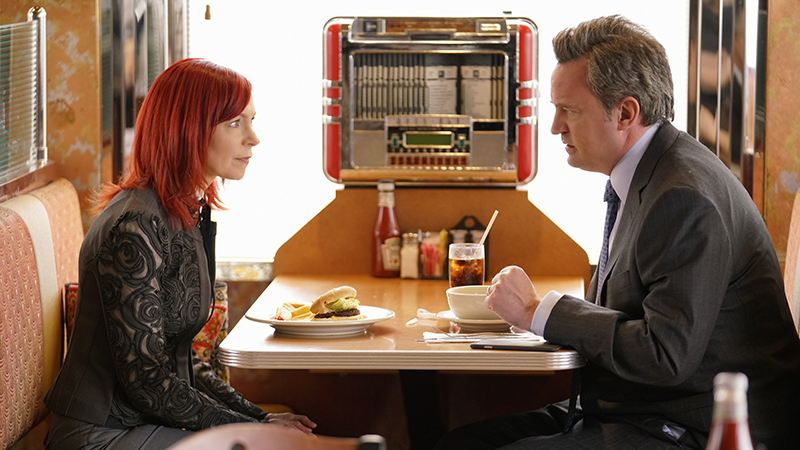 The guest stars are out of control.
The Good Fight
welcomes back tons of familiar faces from
The Good Wife
and beyond.
Over the course of two seasons, expect guest appearances from returning fan favorites like Carrie Preston as
loveably eccentric lawyer Elsbeth Tascioni
, Matthew Perry as the squirrely Chicago politician Mike Kresteva, and more.
Here are some more familiar faces that pop up throughout the series:
- Jerry Adler as Howard Lyman, a sweetly inept former Lockhart/Gardner partner, who has inexplicably become a judge—much to Diane's shock
- Dylan Baker as Colin Sweeney, an accused wife murderer and morally ambiguous CEO whose taboo sexual appetites would make even Christian Grey blush
- John Benjamin Hickey as Neil Gross, the hoodie-wearing tech antagonist responsible for creating Chumhum,
The Good Fight
's search engine of choice
- Jason Biggs as Dylan Stack, a digital-rights lawyer who famously involved Lockhart/Gardner in a complex Bitcoin case on
The Good Wife
And that's only the beginning!
In addition to
The Good Wife
semi-regulars,
The Good Fight
also introduces comedy mainstay Jane Lynch as Madeline Starkey, a seemingly unassuming FBI agent who could actually write a book on "gotcha" tactics, as well as John Cameron Mitchell, who plays wormy alt-right antagonist Felix Staples, and Andrea Martin as the batty and over-involved (but ultimately well-meaning) mother to Lucca's main love interest, Collin Morrello (
Justin Bartha
).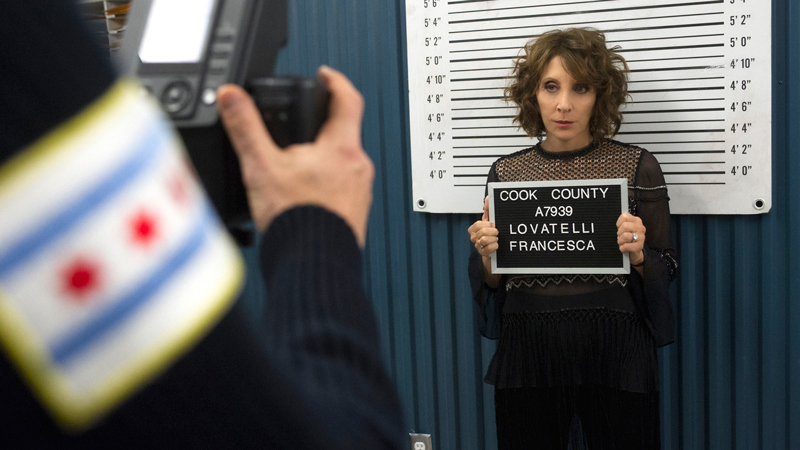 The fashion is always on point.
Thanks to
Costume Designer Dan Lawson's brilliant eye
, every character on
The Good Fight
is consistently dressed to impress.
For starters, Cush Jumbo always dons sharp, dress-for-the-job-you-want dresses that communicate her no-nonsense disposition. With a wardrobe this crisp, there's no doubt that her character, Lucca, is gunning for the partner track.
Meanwhile,
Delroy Lindo
, who plays name partner Adrian Boseman, boasts dapper yet colorful vests and ties—a nod to his both professional competence
and
willingness to take chances.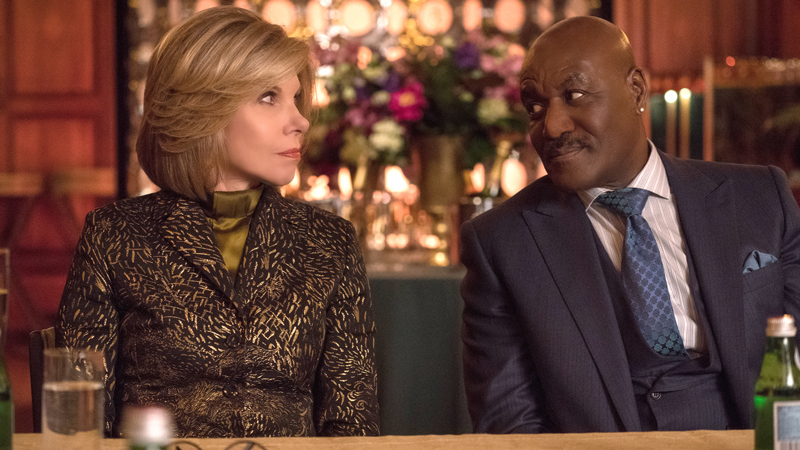 Another clotheshorse is Christine Baranski, who cemented her fashion sensibilities on
The Good Wife
with a series of standout statement necklaces and broaches, signifying her character's refusal to give up
against all odds
.
On
The Good Fight
, however, she turns her style up to 11, thanks to some artfully constructed, multicolored blazers and creatively paired fabrics and patterns—a subtle nod to her character's growing inner-turmoil.
It's dramatic—but also absurdly funny.
Showrunners Robert and Michelle King have always had a thing for absurdist humor, but things really go off the rails in Season 2 of
The Good Fight
.
No spoilers here, but let's just say that Jane Lynch's FBI office window doubles as a bull's eye for birds. Plus, keep your eyes peeled for a
Schoolhouse Rock
-inspired lesson on the Constitution and presidential impeachment.
There's still time for a little romance.
The Good Fight
may spend a lot of time in the courtroom, but it also takes the time to explore its characters' personal lives—like the much-beloved on-again, off-again relationship between
Diane and Kurt (Gary Cole)
, which originally unfolded on
The Good Wife
.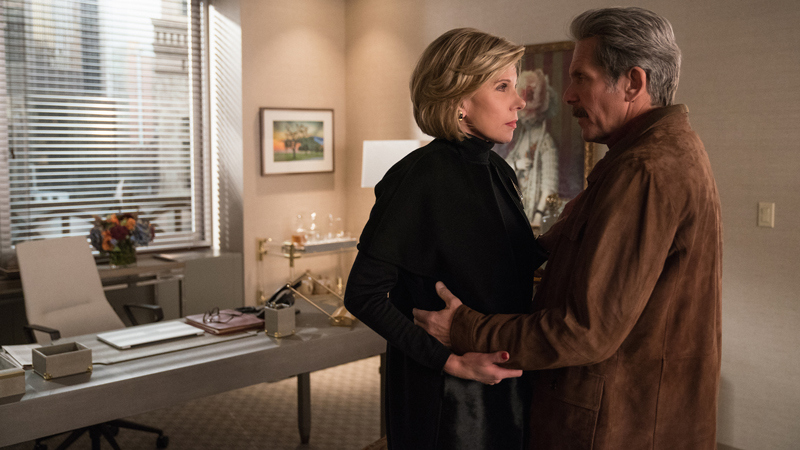 Fans love these two so much in fact, they've given the couple a special hashtag, #McHart, that combines their names (McVeigh and Lockhart). As they should! As you can see in
this video chronicling their relationship
, Kurt and Diane are an opposites-attract love story for the ages.
(Kurt is a staunch conservative outdoorsman who is always trying to get Diane out of the city, and Diane is an indoorsy, ultra-liberal idealist who values her independence over all else.)
WATCH: Here's Why Opposites Attract For The Good Fight Couple Diane And Kurt
Elsewhere in the series, Maia fights to save her crumbling long-term relationship with live-in girlfriend Amy (played by Heléne Yorke), and, try as she might, Lucca can't ignore the crackling chemistry she shares with Colin Morrello (
Justin Bartha
), a feisty AUSA.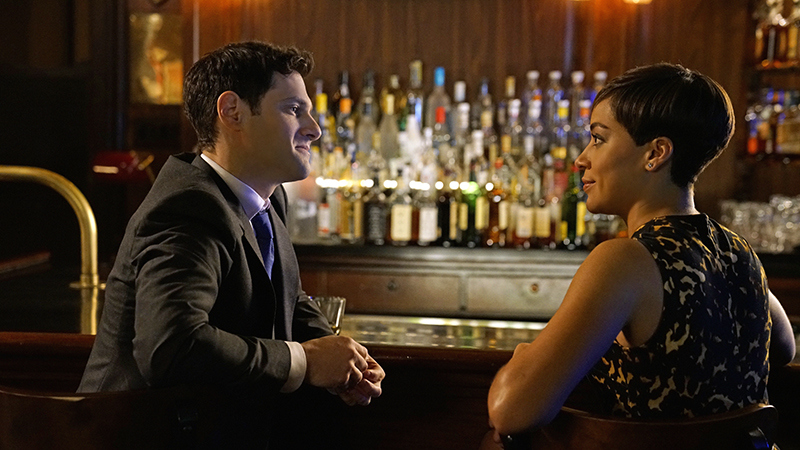 Well, now that we've briefed you on all the many reasons to watch
The Good Fight
, there's really only one thing left to do: Find the nearest couch, pop a bag of popcorn, and plant your heinie down for a proper binge-fest.
We'll leave you to it!
Seasons 1 and 2 of
The Good Fight
are now streaming, exclusively on
CBS All Access
.