Nyambi Nyambi's Drawings Take Center Stage On The Good Fight
The actor, who plays Jay Dipersia on the CBS All Access legal drama, shows off his work in the Season 2 penultimate episode, "Day 485."
Posted on May 21, 2018 | 04:00pm
It's no secret that
The Good Fight
cast is multitalented:
Audra McDonald
(Liz Reddick-Lawrence) is a Tony-award winning Broadway superstar;
Cush Jumbo
(Lucca Quinn) is a
playwright
; and
Nyambi Nyambi
, who plays Investigator Jay Dipersia, is a super-talented artist.
Nyambi's work takes center stage in the latest episode of
The Good Fight, "Day 485,"
when, after being pulled over for a routine traffic violation, Jay learns that he is not a true American citizen and must fight to stay in the country—or be deported back to his native Nigeria.
In the episode, his investigative counterpart, Marissa Gold (
Sarah Steele
) suggests submitting Jay's artwork for consideration under the Einstein Visa, which is reserved for people who are highly acclaimed in their field.
Much of the artwork used in the episode is actually Nyambi's, including sketches of a lion, Nyambi's father, a collage of hands, and Jay's colleagues Lucca Quinn, Diane Lockhart (
Christine Baranski
), Julius Cain (
Michael Boatman
), and Adrian Boseman (
Delroy Lindo
).
Below, Nyambi expands on how his artwork came to be featured in the episode, who and what inspires him as an artist, and his idea for a
The Good Fight
-
Star Trek: Discovery
crossover comic.
STREAM: Episodes Of The Good Fight Exclusively On CBS All Access
When did you first discover your love of drawing?
Nyambi Nyambi:
As a kid I had always been drawing as a hobby, gifting [drawings] away as a thank you to the people I cared about. I recently rediscovered my love of drawing from the comic-book artists I've befriended over the years who instilled confidence in me to push my art beyond what I thought possible.
What comics did you read as a kid, and which ones do you gravitate towards as an adult?
Nyambi:
The comics I grew up reading as a kid were comic strips in newspapers and magazines:
Blondie
,
Calvin & Hobbes
,
The Far Side
,
The Amazing Spider-Man
,
Peanuts
,
Garfield
,
Dennis The Menace
,
Hi & Lois
,
Boondocks
, etc.
I didn't start reading comic books or graphic novels until I was in college when I discovered the existence of the local comic-book store, and that Wednesday was the ultimate day in comics. My favorite comics starting out were Frank Miller's
Batman: Year One & The Dark Knight Strikes Again
. Since then I've been devouring comics books and graphic novels to no end.
My favorite comics to read now are Brian K. Vaughan & Fiona Staples'
Saga
, Kelly Sue Deconnick and Val De Landro's
Bitch Planet
; I still read
The Walking Dead
, anything
Teenage Mutant Ninja Turtles
or
Masters of the Universe
, the work of Jeff Lemire, David F. Walker, etc.
I especially love indie comics and, even more so, I love recommendations.
How did the conversation start with displaying your art in The Good Fight?
Nyambi:
I met with the writers so that we could all get to know one another and it came up that I draw. I showed them a drawing I did of Steve Jobs for a class and a series of hands I was drawing for an assignment.
So when it came time for this episode, they asked me for my portfolio. I told them, "Oops, I usually give my stuff away, but anything you need I'll draw it." So for several weeks I was drawing every day, feeling what it was to be a comic-book artist, which was exhausting but so much fun that a comic-book idea sprang from it. Perhaps a
TGF
comic? Or perhaps a crossover comic with
Star Trek: Discovery
? Hmmm.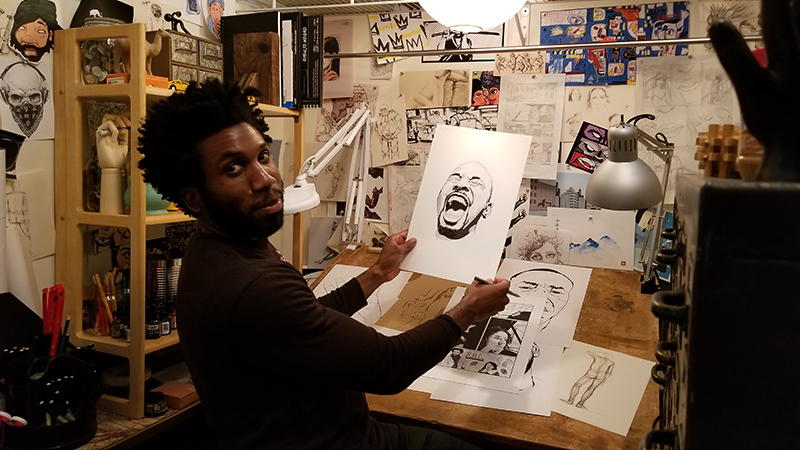 Where do you find inspiration for your drawings?
Nyambi:
My inspiration comes from the connection I feel with the subject, finding the narrative that best captures the story that moved me to take ink to paper. My most recent influences as an artist have been Brian Stelfreeze, Shawn Martinbrough, Sanford Greene, Chris Visions, Darick Robertson, Jason Shawn Alexander, Kim Jung Gi, Dan Fraga, Neal Adams, and Cat Staggs. The advice they have given me has been invaluable.
On your personal website, you write that you're on the Board of Almasi Collaborative Arts Theater Group in Zimbabwae with American artists and Zimbabwean writers, a Bridge Program cultivating arts in Zimbabwe. How did you get involved with this organization, and how does your drawing play a role in the work you do with them?
Nyambi:
The drawing is separate from the group.
One of my closest friends, Danai Gurira, started
Almasi
with the dream of developing the African voice through acting and writing. [It's] a dream I share. So, it was a no-brainer that I play a part in seeing Danai's vision through to a reality we could be proud of. I've learned so much from the artists we've mentored and as they continue to grow and push the boundaries of art, they challenge us all to do the same.
To see more of Nyambi's drawings, watch
The Good Fight
Season 2 episode
"Day 485,"
exclusively on
CBS All Access
.
Watch the Season 2 Finale of
The Good Fight
on Sunday, May 27, exclusively on
CBS All Access
.