Translate The Code: Learn The Lingo Of The New CBS Military Drama
Don't sound like a boot! Pick up these terms and you'll be ready for a wet-down.
Posted on Mar 12, 2019 | 02:30pm
Sometimes it can seem like the military has its own language. Sometimes it can seem like courts have their own language, too!
When you watch the riveting new drama
The Code,
which airs Mondays at 9/8c ​on CBS and
CBS All Access
, you enter the world of elite JAG (Judge Advocate General) attorneys with the U.S. Marines.
If any of their authentic lingo is new to you—or if you just need a quick refresher—we've got you covered with this handy glossary.
READ: The Code: These Fearless Marines Won't Back Down In The Field Or In The Courtroom​
While most of this will be in alphabetical order, we'll start with one you
really
should know!
UCMJ
- Uniform Code of Military Justice (a.k.a. "The Code," where we get the series name)
"If you commit a crime against a fellow Marine, you will be prosecuted under the UCMJ."
Here are some other important terms from
The Code
...
Boot
- Somebody new to the unit, or somebody fresh out of, or still in, boot camp
Bronze Star
- Awarded for either heroic achievement, heroic service, meritorious achievement, or meritorious service in a combat zone
Butterbar
- Second Lieutenant, derogatory towards new officers fresh out of OCS (more on that later!)
CACO
- Casualty Assistance Calls Officer
"After the Marine was killed on base, the CACO assigned to help his spouse was able to ensure a proper funeral."
Cashiering
- Dishonorable Discharge
CO
- Commanding Officer
COB
- Close of Business (end of the day's working hours)
Devil Dogs
- Marines
Hotwash
- After-action evaluations of performance in an exercise
ID-10-T (ID-ten-T)
- Idiot
IOC
- Infantry Officer Course
JA
- Judge Advocates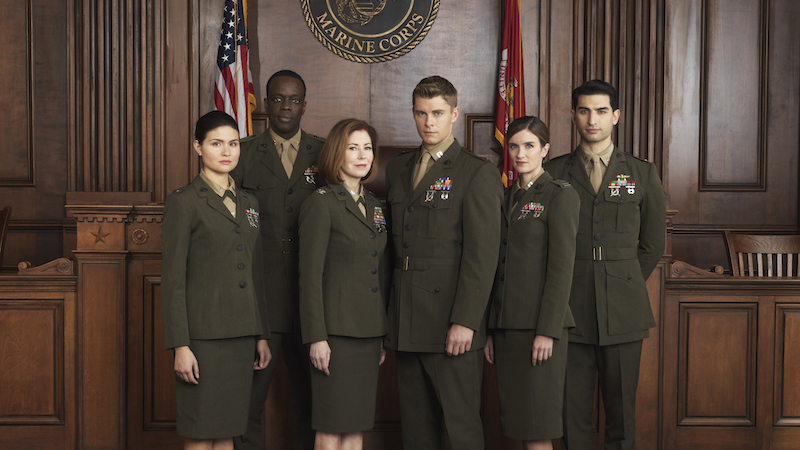 KIA
- Killed in action
MARSOC
- Marine Special Operations Command
Molly Marine
- The first statue of a woman in a service uniform (1943); also an award for notable achievement for active duty women Marines
MRTC
- Marine Raider Training Center
MP
- Military Police
NCIS
- United States Naval Criminal Investigative Service; also, the hit show
NCIS
which airs Tuesdays at 8/7c on CBS and
CBS All Access
NJP
- Non Judicial Punishment; minor offense (ex: late for duty)
OCS
- Officer Candidate School
Oscar Mike
- Operationally Mobile or "on mission" (i.e., out in the field)
PFC
- Private First Class
POG
- Any Marine who isn't infantry (used in a derogatory way)
PT
- Physical Training
UA
- Unauthorized Absence
Wet-down
- Serving drinks in honor of one's promotion
Now that you know the lingo, watch all new episodes of
The Code
on Mondays at 9/8c on CBS and
CBS All Access
.