How To Watch The In Between, Joey King's New Movie Streaming On Paramount+
The supernatural love story, premiering Feb. 11, also stars Kyle Allen, Kim Dickens, John Ortiz, and Celeste O'Connor.
Posted on Feb 4, 2022 | 11:20am
Just in time for Valentine's Day 2022, a powerful love story is coming to Paramount+... and the trailer alone is giving us goosebumps!
The In Between
stars Joey King as Tessa, a teenage girl whose life changes when she has a chance encounter with Skylar (played by Kyle Allen), a senior from a neighboring town. Their romance must transcend more than just tragedy—but our understanding of this very realm.
SUBSCRIBE NOW: Sign Up For Paramount+ To Watch The In Between
When does The In Between premiere?
The new movie premieres on Friday, Feb. 11, exclusively for Paramount+ subscribers in the U.S.
Who stars in The In Between?
The feature film stars Joey King (
The Kissing Booth
), Kyle Allen (
West Side Story
), Kim Dickens (
Gone Girl
), John Ortiz (
Silver Linings Playbook
), and Celeste O'Connor (
Ghostbusters: Afterlife
).
It's directed by Arie Posin (
The Face of Love
) and based on an idea by Marc Klein (
Serendipity
), who penned the script. The movie is produced by Robbie Brenner (
Dallas Buyers Club
), Andrew Deane (
The Double
), and Joey King. Executive Producers are Marc Klein and Jamie King.
What is The In Between about?
The In Between
is a supernatural love story that centers on a teenage girl, Tessa, who, after bouncing around in foster homes for most of her childhood, doesn't believe she deserves her own love story.
Everything changes after she has a chance encounter with Skylar, a senior from a neighboring town who's a true romantic. As her heart begins to open, tragedy strikes when a car accident takes Skylar's life, while Tessa survives.
As Tessa searches for answers in the aftermath of the accident, she soon believes Skylar is attempting to reconnect with her from the afterworld. With the help of her best friend and a newfound belief that love never dies, Tessa attempts to contact Skylar one last time, in order to give their love story the epic ending it deserves.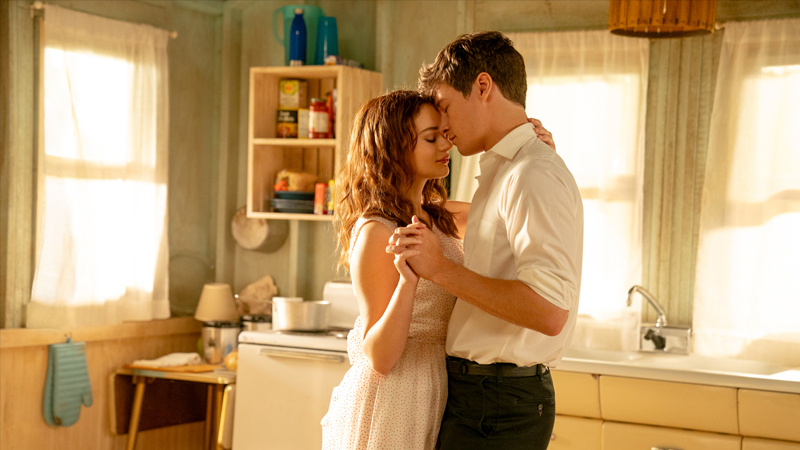 How can I watch or stream the The In Between?
It's quick and easy to sign up for
Paramount+
! Select your streaming device from the list below for instructions on how to get started.
•Computer or mobile web
•iPhone or iPad
•Android phone or tablet
•Apple TV (4th generation or later)
•Android TV
•Fire TV
•Portal TV
•Roku
•LG TV
•Samsung TV
•Vizio TV
•Xbox
•PlayStation 4
•Xfinity Flex
What else can I stream on Paramount+?
Paramount+ is home to a mountain of entertainment! Not only will
Paramount+
let you watch
The In Between
, you can stream over 30,000 episodes and movies from
CBS
,
BET
,
Comedy Central
,
MTV
,
Nickelodeon
,
Smithsonian Channel
, and
Paramount Pictures
—including exclusive originals plus live sports and news.
The Paramount+ Originals collection features exclusive shows and movies you'll only catch here, like
Star Trek: Prodigy, The Challenge: All Stars, The Good Fight, Evil, Rugrats, iCarly, Why Women Kill, 60 Minutes+
, and returning seasons of
Star Trek: Picard
.
Of course, you'll get CBS primetime shows like
NCIS
and
Young Sheldon
and live specials like the
GRAMMY® Awards
.
Plus, you can count on Paramount+ for the most iconic movies and the latest in live sports and news with your local CBS station, CBS News Streaming Network, CBS Sports HQ, and ET Live, each offering unique 24/7 coverage of the world.
How much does Paramount+ cost?
Just use the code BETWEEN and new subscribers get a 1-month free Paramount+ subscription! (See below for details on how the code works.)
In general,
Paramount+
currently has two plans to choose from:
Essential
Stream with limited commercial interruptions for $4.99/month or save 16% off your monthly price with an annual plan* for $49.99/year (the Essential plan does NOT include your local live CBS station).
Premium
Watch with no ads for just $9.99/month or save 16% off your monthly price with an annual plan* for $99.99/year (the Premium plan DOES include your local live CBS station). Please note that live TV streams have commercials, and a few shows include brief promotional interruptions to keep you in the loop on new and upcoming
Paramount+
programming.
*Savings calculated by the total yearly cost of the Essential or Premium monthly plans.
When using the code BETWEEN: Offer expires 3/31/22 11:59 PM PT. After free month period, SUBSCRIPTION AUTOMATICALLY RENEWS ON A MONTHLY OR ANNUAL BASIS AND YOUR CREDIT CARD AUTOMATICALLY CHARGED EITHER (I) US $4.99 OR $9.99/MONTH (+TAX) AS APPLICABLE; OR (II) $49.99 OR $99.99/YEAR (+TAX) AS APPLICABLE, AT START OF EACH BILLING PERIOD UNLESS YOU CANCEL. Cancel any time on account page or at 888-274-5343, effective at end of the billing cycle. No refunds for partial months. Other restrictions may apply.
Sign up for Paramount+ now
to enjoy this mountain of entertainment... including
The In Between
!