Murphy Brown's Diane English And Candice Bergen Say Time Was Right To Bring Back Series
Series premieres on Thursday, Sept. 27 at 9:30/8:30c on CBS and CBS All Access.
Posted on Aug 5, 2018 | 01:00pm
While riding over to the 2018 CBS TCA presentation,
Murphy Brown
Executive Producer Diane English conducted a phone interview with her hometown newspaper back in Buffalo, New York.
English recalled the conversation to an eager TCA audience, saying, "[The interviewer] reminded me that the finale [of
Murphy Brown
] we did in 1998 was called 'Never Say Goodbye,' which I guess is true."
Nearly 20 years after the critically acclaimed comedy said farewell, a much-anticipated revival will premiere on Thursday, Sept. 27 at 9:30/8:30c on CBS and CBS All Access—and the world is waiting to see what life is like now for the crack team of Murphy Brown (
Candice Bergen
), Frank Fontana (
Joe Regalbuto
), Corky Sherwood (
Faith Ford
), and Miles Silverberg (
Grant Shaud
).
READ: Murphy Brown Plans To Tackle The Tough Headlines This Fall
So, what's different about Murphy & Co. today than when we last saw them?
"Well, we're older," said Bergen, laughing.
Added English, "When we left these characters in 1998, there was no internet [and] there was no social media. So, to take these characters and put them in the world of 24-hour cable news is very, very rich for us."
How does the rest of the original cast feel about returning to Primetime TV?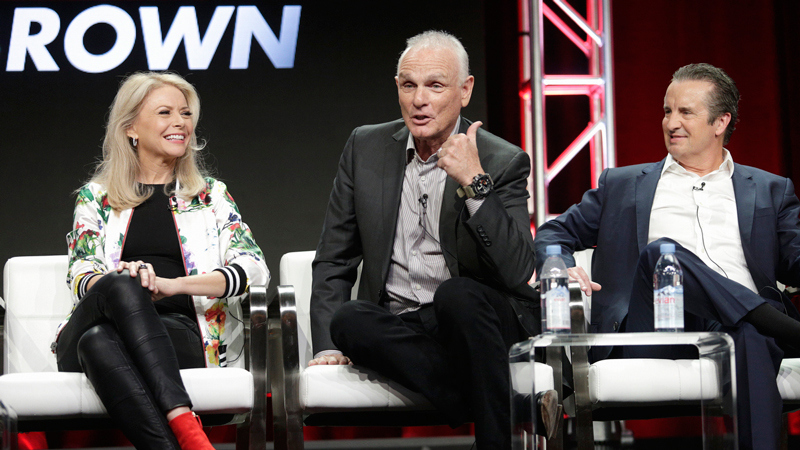 "I didn't even dream about the show coming back because you don't really sit around on a daily basis and dream about the impossible," said Grant Shaud, who will reprise his role as Miles Silverberg.
Joe Regalbuto (Frank Fontana) experienced a similar pinch-me moment after English emailed him nearly a year ago to see if he'd be interested in getting the gang back together for a second go-around.
"Doing
Murphy Brown
the first time was a life-changing experience," admitted Regalbuto. "So, to be having a chance to speak to our audience again, to get these characters revved up again... Wow."
Bergen agreed, adding, "
Murphy
was so important to all of us and so to be back there, we're just grateful."
Watch the series premiere of
Murphy Brown
on Thursday, Sept. 27 at 9:30/8:30c on CBS and CBS All Access.