Back to Cast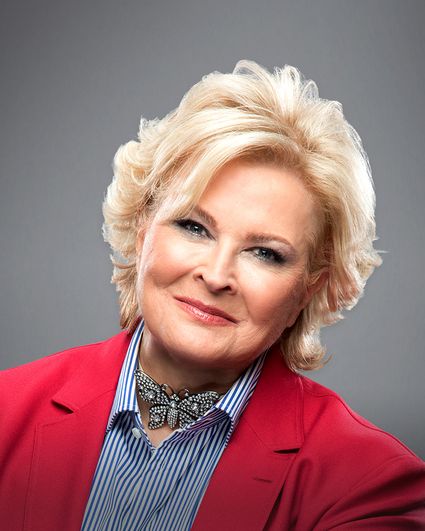 Murphy Brown
Candice Bergen
Biography
From 1988-1998, Candice Bergen shined as the feisty eponymous broadcast news legend in the groundbreaking, critically acclaimed CBS comedy series Murphy Brown, for which she received five Emmy Awards and two Golden Globe Awards.

Bergen has starred in a wide array of feature films and received extraordinary acclaim in projects such as Starting Over, for which she received an Academy Award nomination for Best Supporting Actress, Getting Straight and Mike Nichols' Carnal Knowledge.

Combining her acting career with an insatiable desire to see the world, Bergen traveled to Taiwan to star opposite Steve McQueen and Sir Richard Attenborough in Robert Wise's The Sand Pebbles, to Greece to appear in The Day The Fish Came Out and to France to star with Yves Montand in Claude LeLouch's Vivre Pour Vivre.

Her additional film credits include the role of Margaret Bourke-White in Richard Attenborough's Gandhi; co-starring with Jacqueline Bisset in the George Cukor-directed Rich And Famous; opposite Burt Reynolds in Stick; Sweet Home Alabama with Reese Witherspoon; Miss Congeniality with Sandra Bullock; Bride Wars; Sex & The City; and a role in the remake of The Women, which was directed by Murphy Brown creator/executive producer Diane English.

Also, she starred in T.R. Baskin, The Adventurers, Soldier Blue, The Magus, The Hunting Party, 11 Harrow House, The Wind And The Lion, Bite The Bullet, The Domino Principle, A Night Full Of Rain and Oliver's Story.

Her most recent films are Book Club, with Jane Fonda, Diane Keaton and Mary Steenburgen, and Home Again, opposite Reese Witherspoon.

Bergen made her Broadway debut as Darlene in the critically acclaimed Hurly Burly, which also starred William Hurt, Judith Ivey and Ron Silver and was directed by long-time friend Mike Nichols. After nearly 30 years, she returned to Broadway in 2012 in the lauded production of Gore Vidal's The Best Man, alongside John Larroquette, James Earl Jones and Angela Lansbury. Her most recent Broadway role was in 2014, opposite Alan Alda in Love Letters.

Bergen's television credits include a lead role as the smart, sexy and dignified lawyer Shirley Schmidt on the David E. Kelly dramedy Boston Legal, which garnered her two Emmy Award nominations and nominations for both a Golden Globe and a SAG Award. Later, she portrayed Dr. Lisa Cuddy's mother in a multi-episode arc on the popular series House.

Bergen was also seen in the highly rated mini-series Hollywood Wives, based on the bestselling novel by Jackie Collins, and she starred in the CBS television movies Mayflower Madam, Murder: By Reason Of Insanity and Mary & Tim.

In addition, she hosted two shows on the Oxygen Network: Exhale and Candice Checks It Out.

Over the years, Bergen has achieved great success in the worlds of photography and journalism. Her magazine articles and photographic essays are filled with intelligence and wit, observing the world with a keen eye for detail and humor. Her stories include a New York magazine piece about working with Lina Wertmüller on A Night Full Of Rain; articles about the Masia Tribe of Kenya and Emperor Haile Selassie of Ethiopia; and for Playboy an account of her four-week trip to China titled "Can A Cultural Worker From Beverly Hills Find Happiness In The People's Republic Of China?"

Additionally, she wrote the cover story on Charlie Chaplin's return to the United States for Life magazine. Her articles on her first film, The Group, the mayhem of roller derbies, a social history of Bel Air, and the presidential primaries in 1968, as well as profiles of Los Angeles Mayor Sam Yorty, Oscar Levant, Paul Newman and Lee Marvin, have appeared in publications such as Esquire, Vogue, Cosmopolitan and Ladies Home Journal.

Bergen's autobiography, Knock Wood, was released in 1984 to critical acclaim and became a New York Times bestseller. Its sequel, A Fine Romance, also a bestseller, was published in 2015.

The daughter of the late Frances and Edgar Bergen, she attended the Westlake School for Girls in Los Angeles, the Cathedral School in Washington, D.C., as well as school in Switzerland and at the University of Pennsylvania, where she majored in art history and creative writing. During her college years, Bergen commuted frequently to New York for modeling assignments and was still in college when she made her motion picture debut as Lakey in The Group.

In 2017, Bergen created Bergen Bags, a customization business for which she personally hand-paints renderings of people's beloved pets, monograms and an array of other requested images onto their favorite handbags. All proceeds are donated to the ASPCA and the NRDC (Natural Resources Defense Council).

Bergen, who has an adult daughter, Chloe Malle, resides in New York with her husband, Marshall Rose. Her birthday is May 9.

Follow her on Instagram @bergenbags.