​Veterans Continue To Serve—As Role Models On The Magnum P.I. Reboot
Peter Lenkov, the man behind Hawaii Five-0 and MacGyver, salutes heroes while packing fun and adventure into his newest CBS series.
Posted on Sep 27, 2018 | 12:00pm
The swashbuckling characters of
Magnum P.I.
always wanted to spend their days in a Hawaiian paradise. So it seems fitting that, as they live out their dreams on the new series—which airs Mondays at 9/8c on CBS and
CBS All Access
—Peter Lenkov gets to do the same in real life.
The show's Executive Producer goes to work in a place most people want to go on vacation... and he's come a long way to get there.
STREAM: The Series Premiere Of Magnum P.I.
Montreal was cold. And a young Lenkov couldn't just pack up and go to the tropics. First, he had to go to elementary school.
While the snow and chilling winds would keep most kids shut inside for eight months of the year, Lenkov would bundle up at the start of lunchtime and venture out, at least for 150 yards. It took just that short trudge and he'd be home, ready to plop down and escape into some afternoon cartoons.
As he grew, so did his love of television and soon he would discover his favorite show: the original
Magnum, P.I.
"I found [Magnum] very charming and different than most of the cliché heroes that were on TV," Lenkov fondly recalls of the show's lead, a maverick military veteran named Thomas Magnum. "He was somebody that looked like a hero but when he got punched it hurt, and I think that made him an everyman and it made him very likeable."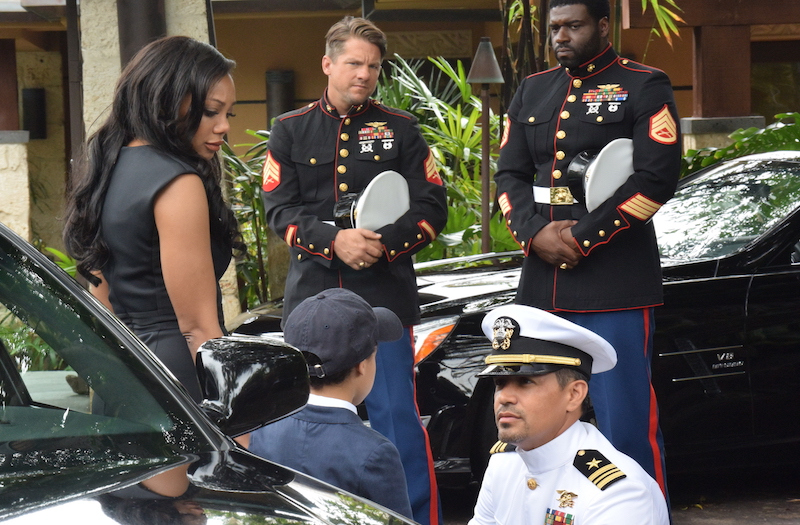 We see a bit of that vulnerability in the all-new Thomas Magnum, played by
Jay Hernandez
, in the reboot of
Magnum P.I
. As our hero zooms around Hawaii in all sorts of fast cars and plays with some expensive toys, don't be surprised to see him pick up a black eye—perhaps a subtle nod that you'd expect with Lenkov running the show.
A more obvious callback: How the new series continues to celebrate military veterans.
"What the original show had was the first positive portrayal of Vietnam vets," Lenkov reflects on the characters he always looked up to. "And I feel like here we have the same opportunity in 2018 to tell a very positive portrayal of veterans returning home from a war that we've been in for a very long time and show that these people are making valuable contributions."
READ: The New Magnum P.I. Delivers Big Action, Easter Eggs, And Crossovers—And Honors Veterans
While other series have tackled the rigors of war and challenges veterans face returning to civilian life, this show has an opportunity to salute their service while also illuminating another important dimension to these heroes: Sometimes they like to have fun!
That happens to be a hallmark of Lenkov's work, which you've probably seen before. He's the Executive Producer of two other successful and rollicking reboots:
Hawaii Five-0
and
MacGyver
.
(Coincidentally,
Hawaii Five-0
also focuses on a veteran character, and
they often cast real-life veterans in episodes
.)
(
L-R:
Hawaii Five-0'
s Alex O'Loughlin; Executive Producer Peter Lenkov; and
Magnum P.I.'
s Jay Hernandez.
)
"I want to do entertainment," says Lenkov. "I want people to sit back and I want them to laugh and I want them to be on the edge of their seats, and when we do our job right they'll get emotional at some point. Those are things that I feel like are part of our pre-flight checklist before we deliver a script. We make sure that these things have all those ingredients. But I think most of all fun."
Fast-paced action is another Lenkov hallmark, and it's another important element he brings to any successful reboot.
"The shows that I watched as a kid [compared to] the shows that we do today, that pacing could not hold up," he explained. "That's one of the biggest challenges, is trying to capture the magic but also know that pacing has to be quite different."
Plenty has changed on TV over the years and we're talking about more than just bigger effects and action scenes. In particular, shows tend to focus more on the characters and developing their relationship with the audience as the season advances.
"It's a big part of our storytelling.
The audience, they're along for the ride, they want these things to connect," says Lenkov.
He has plenty of great characters to work with.
READ: Magnum P.I. Stars Are Literally Living Out Their Dreams
Magnum's band of brothers includes Rick Wright (
Zachary Knighton
), a former Marine door gunner who now runs the island's top nightclub, and TC Calvin (
Stephen Hill
), a former Marine chopper pilot who now runs a helicopter tour business. In the first few episodes of
Magnum P.I.
, we'll see the boys in uniform during flashbacks to their military service, explaining how they formed the bond that now carries them through each week's adventure.
They'll be joined by Juliet Higgins (
Perdita Weeks
), who manages the estate where Magnum is crashing and whose name might be
a little
familiar to fans of the original series. Recast as a woman in the 2018 version, the character will still try to keep Magnum from making a mess of the property (and exotic cars) she oversees. Oh, and she's also got a past as an elite operative—in the British MI6.
Another counterweight to the anything-goes approach of these veterans will be Detective Gordon Katsumoto (
Tim Kang
), who fights crime by the book in Honolulu and would prefer that a certain private investigator stop poking his nose into HPD's cases.
Don't be surprised to see crossover with some characters in Lenkov's other shows, too, particularly
Hawaii Five-0.
Right from the premiere of
Magnum
, we see that the medical examiner in both series is Dr. Noelani Cunha.
Shoots brah! @HawaiiFive0CBS and @MagnumPICBS star @kimeeb sat down with her #H50 costars #AlexOLoughlin and #ScottCaan, and her #MagnumPI costar @jay_hernandez to talk all things Hawaiian before tonight's #MagnumPI premiere! ?? pic.twitter.com/mlna4vVT7v

— Magnum P.I. (@MagnumPICBS) September 24, 2018
Hawaii Five-0
is now going into its ninth season, following a law enforcement task force led by former Navy SEAL Steve McGarrett (
Alex O'Loughlin
).
"[For years,] I kept saying I want to introduce Magnum as a character on
5-0,
" acknowledges Lenkov.
What could be better than an episode where McGarrett meets up with a fellow Navy SEAL like Magnum?
It turns out the answer was Magnum getting an entire series of his own!
Watch all-new episodes of
Magnum P.I.
on Mondays at 9/8c on CBS and
CBS All Access
.