Magnum P.I. EP Peter Lenkov Revives The Original's Rollicking Spirit
Watch the series premiere of Magnum P.I. on Monday, Sept. 24 at 9/8c on CBS and CBS All Access.
Posted on Aug 5, 2018 | 06:00pm
You didn't have to grow up in the '80s to be familiar with
Magnum P.I.
The iconic CBS drama was a feel-good adventure that pop-culture junkies of every age can appreciate. But for everything there is a season, and the same is true of the brand-new
Magnum P.I.
, which Executive Producer Peter Lenkov is bringing to CBS and
CBS All Access
come Monday, Sept. 24 at 9/8c.
Hanging out at the 2018 Television Critics Association in Beverly Hills, Lenkov—plus Executive Producer Eric Guggenheim, stars
Jay Hernandez
("Thomas Magnum"),
Perdita Weeks
("Juliet Higgins"),
Stephen Hill
("Theodore 'TC' Calvin"), and
Zachary Knighton
("Orville 'Rick' Wright")—delved further into the updated
Magnum P.I.
, which he says aims to appeal to younger audiences and capture the spirit of the original.
Back To The Drawing Board
"This has been my white whale since I was about 14 years old," began Lenkov. "When I was a kid, I used to draw
Magnum, P.I.
cartoons. [And] I'm finally getting to do it with a great cast."
Commenting on the way he hopes to update the series, Lenkov continued: "We're trying to introduce the show to a new audience. I have four kids, and they don't know anything about the old
Magnum
. But they thought [the pilot] was really cool. The spirit of the show still exists, but we're just updating it."
Girl Power
For a new era, Lenkov was especially eager to imbue a bit of girl power in the cast. Enter: Perdita Weeks as Juliet Higgins.
"This Higgins is a 2018 Higgins," said Weeks. "That's the only thing that's really missing from the original—a strong, female character. It brings a new dynamic… There's a little will-they-won't-they."
"I thought it was a boys' club, the original show," added Lenkov. "You need a strong, female voice in 2018."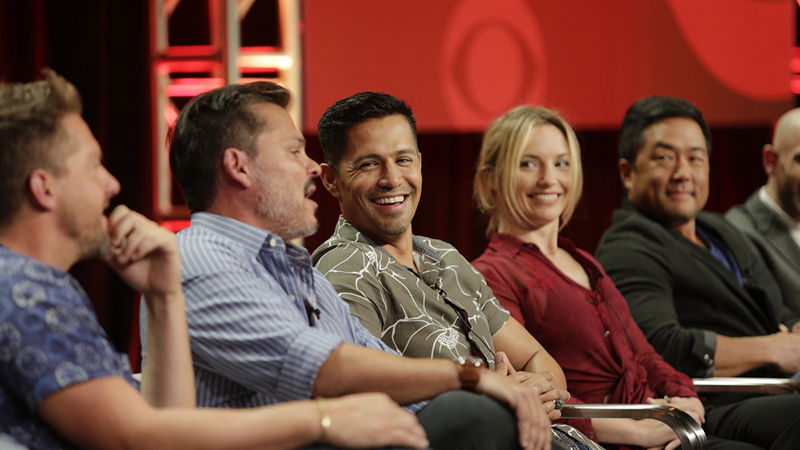 Look Out For Exploding Ferraris
Though Lenkov promised that the new
Magnum
is
not
a straight-up action show, there are still a lot of exploding Ferraris. Sounds expensive!
"It is a little sad to watch a Ferrari blow up," said Hernandez. "But to drive them… it's so much fun! They're so powerful, and there's also that mystique surrounding the red Ferrari."
Hernandez went on to point out how Ferraris may have enjoyed increased popularity in the '80s because of their placement on the original
Magnum
. "People of a certain age find that to be the height of the '80s. The red Ferrari is a big thing, and I feel like without
Magnum, P.I.
, Ferraris wouldn't be a thing."
Only thing is, said Lenkov, it gets rather pricey to blow up a Ferrari (as seen in the pilot). "You have to buy them. You can't rent them. Even used, they're $250,000 cars."
Feel-Good Veteran Stories
The one thing Lenkov especially hopes to achieve with the new
Magnum
is a positive portrayal of Army veteran brotherhood.
"The original
Magnum
was about Vietnam vets returning home," he reflected. "But they weren't all perceived as heroes. Any movie that portrays a Vietnam vet was really dark. But [the original]
Magnum
was a really positive portrayal. [And] If there was ever a time to bring Magnum back, it's now. We need positive portrayals of vets coming back home and making positive contributions."
Watch the series premiere of
Magnum P.I.
on Monday, Sept. 24 at 9/8c on CBS and
CBS All Access
.