Things We Learned From Rewatching The Hawaii Five-0 Pilot
The first episode of the reboot, which premiered in 2010, introduced us to McGarrett's task force, "book 'em Danno," ohana, carguments, and much more!
Posted on Mar 30, 2020 | 10:30am
There's a tense military drama on the Korean peninsula and Russian hackers are meddling in American interests. It's a scenario that's fresh for the current TV season.
Ready for a plot twist?
We're actually talking about the opening scene from the
Hawaii Five-0
pilot, which aired back in 2010.
Perhaps the writers had a crystal ball, which might explain how they set up the show for years of success—even before that iconic credit sequence began to roll. After ten seasons, the successful reboot is now approaching its series finale, slated to air Friday, April 3 at 9/8c on CBS and
CBS All Access
.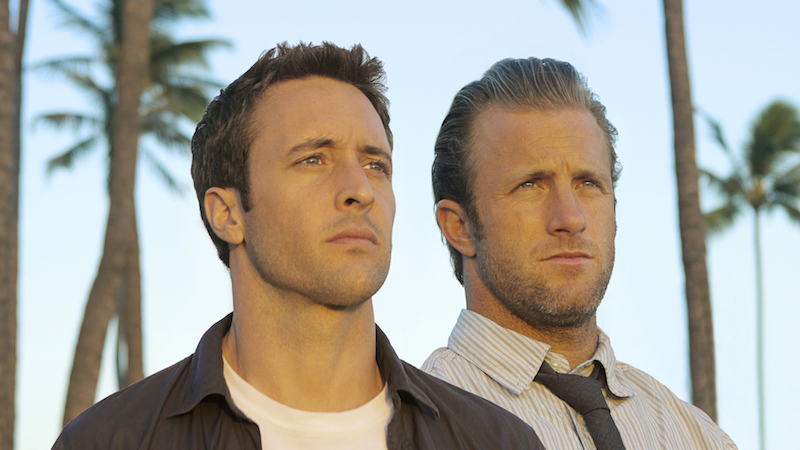 We also recently celebrated the 50th anniversary of the original
Hawaii Five-O
(the classic is spelled with the letter "O" while the new version uses the number "0"), which first debuted on Sept. 20, 1968.
The new
Hawaii Five-0
premiered on the exact same day—42 years later.
That pilot episode is worth revisiting
, whether you're a longtime fan or are just now hearing the buzz about all these big milestones (you'd be forgiven if you were, say, stranded on a tropical island).
STREAM: The Hawaii Five-0 Pilot Episode On CBS All Access
Fortunately, every episode of both series is available to stream on
CBS All Access
. So we put on our comfiest pair of board shorts, grabbed a frosty mug filled with the,
um...
aloha spirit, and took a fresh look at this great hour of television.
What did we learn?
Steve McGarrett earned command of his Hawaii Five-0 task force because of a terrible personal loss.
We first meet McGarrett (
Alex O'Loughlin
) as a man on a mission. He's working as an elite Navy commando who has spent years tracking a terrorist named Victor Hesse.
Getting tantalizingly close to his goal, everything goes sideways during a convoy attack that ends with McGarrett shooting Hesse's brother. In retaliation, Hesse kills McGarrett's dad at the family homestead in Honolulu.
Still reeling, McGarrett returns for the funeral and is immediately approached by the Governor of Hawaii with an exceptional offer. She could use a guy with his chops to rid the islands of the same kind of criminal element that killed McGarrett's dad. In order to entice him—and ensure he can accomplish the task—she's willing to give him total freedom in how he approaches the job: his team, his rules.
McGarrett
doesn't
accept. But he's not just going to sit around, either.
While visiting his dad's home and looking for evidence, he's stopped by the island's newest detective, Danny Williams (
Scott Caan
). Having never met before and standing in the middle of a crime scene, they end up in a standoff with guns drawn. Their unconventional "meet-cute" story is the perfect start for one of television's greatest (and most macho) partnerships.
Things only diffuse slightly in that scene as Danny refuses to let McGarrett leave with potential evidence. So with tension in the room still simmering, McGarrett calls the Governor, accepts her offer, and gets sworn in over the phone. In taking the job, he takes the case—and the evidence!
STREAM: Every Episode Of Hawaii Five-0 With CBS All Access
Later in the episode, McGarrett and Danny are interrogating Sang Min, a member of the local underworld who will reappear throughout the series. With McGarrett threatening tough tactics to get Sang to sing (notably, deporting his wife and kids), the gangster appears both scared and impressed when he asks, "What kind of cops are you?"
"The new kind," McGarrett replies.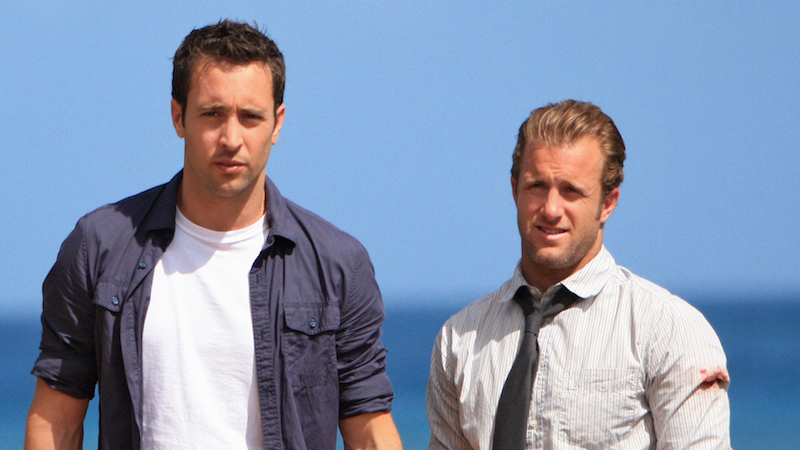 The catchphrase "Book 'em, Danno" has a really sweet backstory.
It takes a while to tease out this iconic line, which echoes the same words used in the classic series.
In the new
Hawaii Five-0
, we quickly learn that Danny has just moved from New Jersey—but not willingly.
His ex-wife has custody of their daughter Gracie, and she's now living with her new beau in Honolulu. Committed to his daughter, Danny has relocated and spends much of the pilot trying to sort out his new life. Of course, McGarrett has recruited (er, more like commandeered) Danny and that means they're both busy with the case.
While Danny's on the phone with his daughter, McGarrett overhears his new partner say "Danno loves you" before hanging up.
MCGARRETT:
Who's Danno?
DANNY:
Don't.
Looks like we've struck a nerve!
Fast forward a bit and the duo is racing through the streets of Honolulu toward a shipping port. Now Danny's talking to his ex and asks her to tell Gracie that "Danno loves her." After hanging up, he reveals that when Gracie was three she tried to say his name and "Danno" was what popped out.
Awwwwwww!
But don't get too caught up in the cuteness. A beat later, McGarrett sends their car flying into a shipping container amid a hail of gunfire. It's a heart swell followed by a heart stop.
This isn't much of a spoiler to say that the good guys come out on top. With Danny tying up one of the goons (pictured below), the camera turns to his new boss, who emerges from his moment of solemn revenge to finally feel a sense of relief—and then sport a wry grin.
MCGARRETT:
Book 'em, Danno!
Danny protests the nickname, but the partnership is now fully forged.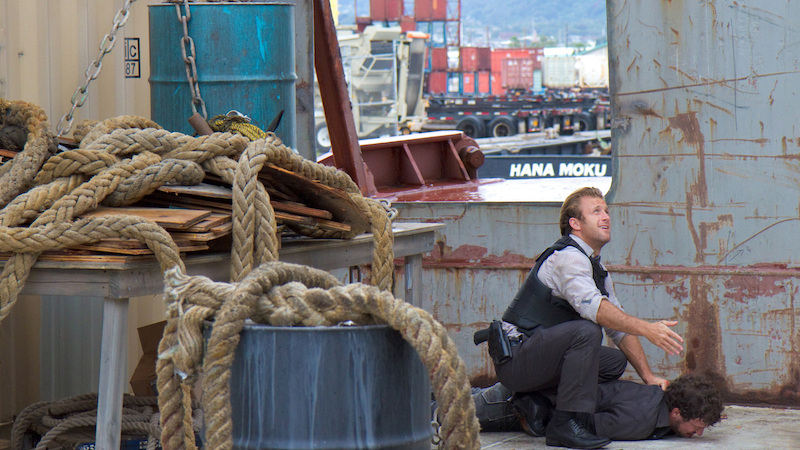 McGarrett recruited Chin Ho Kelly and Kono Kalakaua because of family ties—and trust.
McGarrett may have lost one of his closest family members in the
Hawaii Five-0
pilot, but he also gained a new family of sorts with his task force. It figures this would play a big role from the start, as "ohana," the Hawaiian concept for family, is an important touchstone throughout the entire series.
(In fact, the second episode is titled
"Ohana," and it's also available to stream with CBS All Access
.)
When he'd just returned to Honolulu, McGarrett bumped into Chin Ho Kelly (Daniel Dae Kim) at Pearl Harbor. They're already vaguely familiar with each other because Chin set a lot of records as a quarterback at Kukui High School—until McGarrett came along and broke them!
Chin's now working a civilian job because he'd been fired from Honolulu PD after accusations that he was taking payoffs. Coincidentally, Chin had been working on the force with McGarrett's father, and the two remained friends even after the scandal. This caused headaches for McGarrett's father, but it also sent a clear signal about whom he trusted.
McGarrett asks point-blank if Chin took the money, and Chin gives a firm "no." McGarrett decides to trust Chin like his own father had, giving him a shot at redemption—by joining the new task force.
Chin would turn into quite the recruiter, quickly bringing on board his cousin and fellow longtime show staple Kono Kalakaua (Grace Park).
Still a Honolulu PD cadet, we first see Kono while she's surfing—only to have a tourist drop in on her wave. If there was any question whether Kono could stand up for herself, she answered it by running up to the reckless kook and dropping
him
with a solid punch. She was hired.
Chin would also introduce the team—and us—to the ever-entrepreneurial Kamekona.
In exchange for a hot tip, Kamekona makes McGarrett buy a couple cones. And a couple T-shirts. And wear them in front of his stand. We won't spoil the scene, but you'll want to check out the episode to see McGarrett and Danny getting called out by the most unlikely of sources.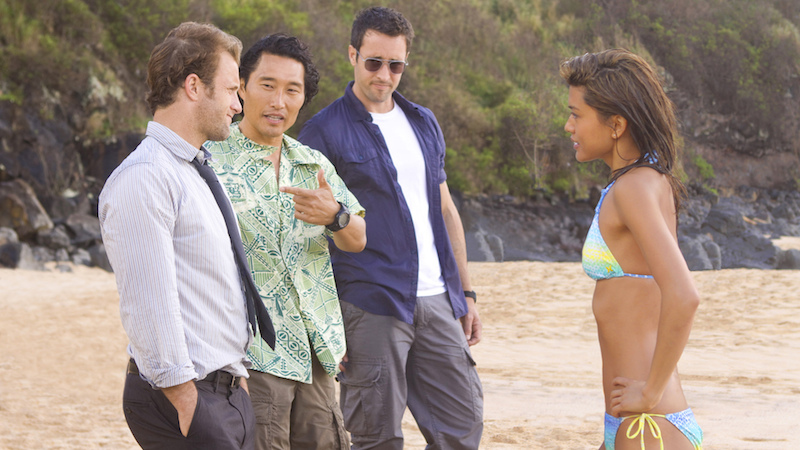 So where did the name "Five-0" come from?
We don't technically find out in the pilot episode.
The classic series uses the term as a reference to Hawaii being the 50th state in the union, having only officially gained statehood in 1959, less than a decade before the series premiered. That, in turn, is how the phrase has come to be used as a nickname for the police just about everywhere.
But we do get a hint in the
Hawaii Five-0
pilot, as the team gathers in their new offices at the end of the episode. Kono suggests they need a name, and Chin offers up a Hawaiian phrase that translates to "no task is too big when done together." Kono shoots back that "strike force" would be cooler.
McGarrett's suggestion? Keep thinking.
McGarrett and Danny's first cargument seemed to run through the entire episode.
While not technically
in
a car, let's not forget that McGarrett and Danny drew their guns on each other in a garage over a classic Mercury. That should count as their first meeting being a type of
car-gument
.
And just how classic is this car? The real-life vehicle was owned by Jack Lord, who played the classic
Hawaii Five-O
version of Steve McGarrett. And the previous owner of the car was Lord's stunt double, John Boley Nordlum, who gave it as a gift when the original series ended.
The two end up bickering throughout the episode, especially as they chase around Oahu in Danny's newer hotrod. Remember that McGarrett didn't offer this new job on the task force so much as assigned it, so Danny was still upset about how he was forced into his new role.
While not all that heated at first, the banter really picks up in their first ride together—with the twist that Danny is driving. Later, after Danny saves McGarrett's life in a shootout—only to immediately physically fight
each other
as personal tensions escalate—we see McGarrett in the driver's seat.
These two make the perfect pair, as they may be the only two guys on the islands with the confidence to push back on each other!
Remember, you can
stream the Hawaii Five-0 pilot episode
and
all
episodes of
Hawaii Five-0
on
CBS All Access
.
Watch the series finale of
Hawaii Five-0
on Friday, April 3 at 9/8c on CBS and
CBS All Access
.