Can You Spot The Easter Eggs In This Hawaii Five-0 Animated Cargument?
Find the hidden gems and discover more about this animated short featuring your favorite feuding Task Force members.
Posted on Sep 26, 2017 | 03:20pm
It's safe to say you've never seen a cargument like this before!
An animated version of Steve McGarrett (
Alex O'Loughlin
) and Danny Williams (
Scott Caan
) bickering behind the wheel has long been in the making. Conceptualized at the end of Season 7, the cartoon car feud took three months to complete.
WATCH: You've Never Seen A Cargument Like This Before
Are your eyes as sharp as a member of the Five-0 Task Force?
Watch the full video
and see how many Easter Eggs you can spot ... then read on to see if you caught them all!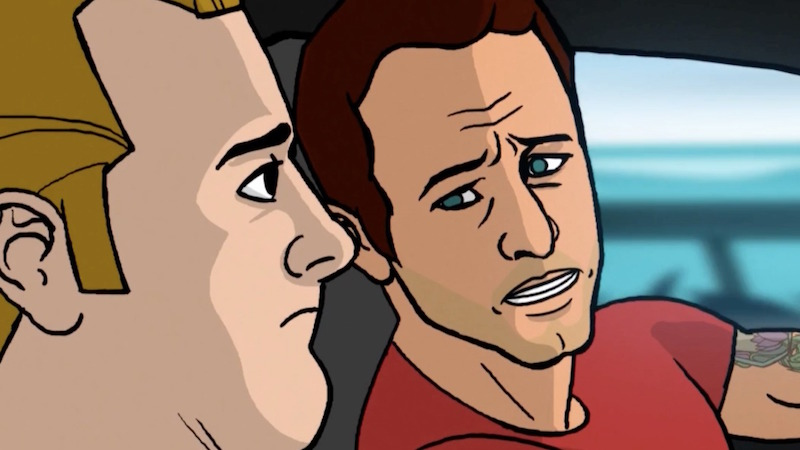 Keep your eyes peeled for:
- A surfing Catherine Rollins
- Kamekona's shave ice banner being pulled by an airplane
- Grace Williams and Will Grover on a date enjoying a shave ice
- A treasure-hunting Jerry Ortega (
Jorge Garcia
) with Kamekona's sail in the background
- Sgt. Duke Lukela flying a kite
- Grover (
Chi McBride
) eating Kamekona and Flippa's shrimp while Wo Fat lurks screen right behind the truck
- Sang Min accosting tourists outside the famed Wailana Coffee House as McGarrett's Mercury Marquis from the original
Hawaii Five-0
series drives by
Also, the animation begins with rowers on an outrigger, which is a call back to the original series. Their end credits featured the
Five-0
theme song over outrigger footage.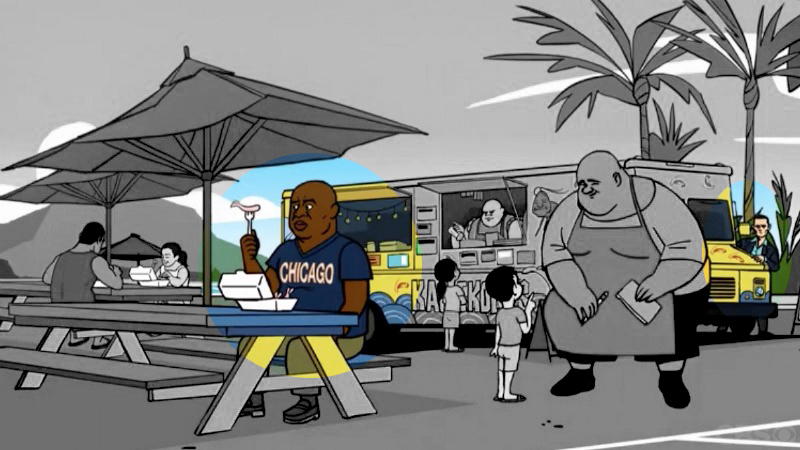 In the dialogue, Danny reminisces about going to see Madame Marie on the Asbury Park Boardwalk in New Jersey. She was a real psychic who is referenced by name in the Bruce Springsteen song
4th of July, Asbury Park (Sandy)
. Her son, Stephen, still runs their family's fortune telling business on the New Jersey boardwalk today.
So, did you spot them all?
If not, take another look!
Bonus fact: This animated cargument was brought to life with the help of animation company Six Point Harness, who has collaborated on various programs with Cartoon Network, Sony Animation Studios, and Nickelodeon.
Watch the Season 8 premiere of
Hawaii Five-0
on Friday, Sept. 29 at 9/8c on CBS and
CBS All Access.