Damon Wayans Jr. Is Gonna Have To Face It: He's Addicted To Laughs
Watch multi-talented funnyman on the new sitcom Happy Together, which airs Mondays at 8:30/7:30c on CBS.
Posted on Oct 1, 2018 | 09:30am
Damon Wayans Jr.
might come from a sprawling comedy family, but he's having no trouble carving out his own space in the entertainment sphere.
Instead of relying on his high-profile last name, he chose to start his comedy education behind the scenes, with a staff writer gig on his father's sitcom
My Wife And Kids
in the mid-aughts. From there, he transitioned to stand-up and nabbed some hilarious supporting roles in film (
Let's Be Cops
) and TV (
New Girl
,
Happy Endings
).
Now, after years of honing his skills, Damon is diving into
Happy Together
,
which an entirely different on-screen experience for the actor.
STREAM: Series Premiere Of Happy Together
While playing a
happily married 30-something accountant
who lets a famous pop star client (played by
Felix Mallard
) crash at his house,
Happy Together
has forced Damon to mold his brand of funny to allow for mid-show laughs. After all, the CBS sitcom is the first show he's done that's filmed in front of a live studio audience, as opposed to other TV comedies that don't feature off-screen giggles.
"I'm learning how to hold for laughs with live audiences," he says. "I didn't have to do that with
New Girl
or
Happy Endings
. [But] I like the instant gratification or judgment that lets you know what you are doing. It lets you know if what you are doing is good."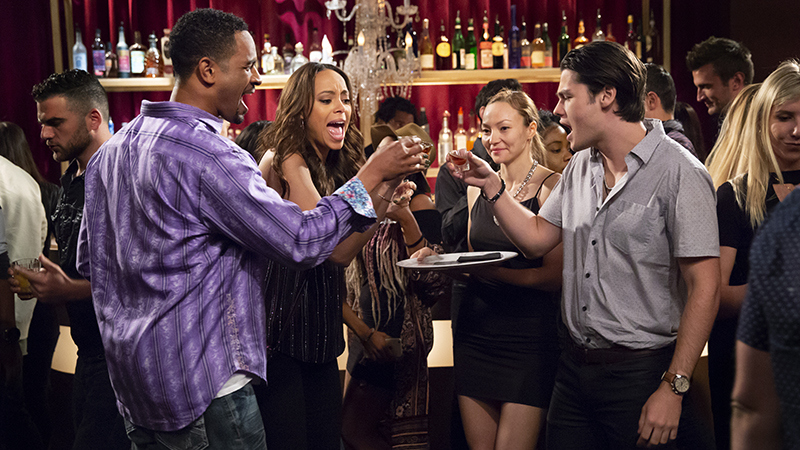 Luckily, Damon is always up for learning something new. The Vermont-born actor gleaned a great deal by writing for
My Wife And Kids
, saying, "You just sit on the sidelines, and in between takes you pitch different jokes; alternate jokes. So that kind of got me going, comedically. Just writing jokes over and over again."
When Damon, who cites influences in comedy legends like Eddie Murphy, Dave Chappelle, and Richard Pryor, initially tried his hand at stand-up, he was struck by how challenging it could be.
"Stand-up is the hardest job, hands down," he says. "It's one of those jobs where it's just you, a mic, and you are up on stage trying to get [audiences] to laugh at what you think is funny. And it's a different audience every time, so you never know. It's one of the most unpredictable jobs because you could go one [stage] and have an amazing set. [Then do a set at] another spot and not do well. I love that challenge."
Despite its obstacles, Damon says that stand-up has only ever helped his career, especially on
Happy Together
and in front of its aforementioned live studio audience.
For Damon, live laughter isn't the only new perk that comes with his role on
Happy Together
, which is loosely inspired by the real-life experience of Executive Producer Ben Winston living for a spell with former One Direction pop-superstar and Executive Producer Harry Styles.
"I really wanted to do a multi-cam [show]," he says. "And then I read the script and met with Ben Winston and when Ben told me that this was loosely based off of his actual life, I was like, 'Oh, that's great.' Not necessarily because of the star factor, but because when you have a little bit of truth in something, you can always tell a story."
Sure, Damon's busy making the audience laugh, but that doesn't mean he's immune to the comedic wiles of his
Happy Together
co-stars, like TV wife
Amber Stevens West
and former
Saturday Night Live
cast member
Chris Parnell
.
"He'll do some stuff, and I'm just like watching him like I'm in the audience," Damon says of his hysterical scenes opposite Chris. "And I'm just like, 'Oh wait, my line is next.' I learn when I act with certain comedians that I really respect."
Damon has also turned to his friends outside the
Happy Together
set for solid showbiz advice, such as actor
Wilmer Valderrama
, who currently stars on CBS drama
NCIS
but has tons of previous sitcom experience from his time spent as Fez on
That '70s Show
.
"My buddy Wilmer, we go back years," says Damon. "He told me recently that when you do multi-cam, you can kind of get addicted to the laughs in the audience, but always remember that you are performing for the people at home on the TV. That stuck with me."
READ: Happy Together Cast Discuss What It's Like To Live In Harmony With A Pop Star
Finally, as you might have expected, Damon's gotten some excellent professional advice from his family members.
"When it came to comedy, my cousin Craig was telling me, 'Write what is funny to you,'" says Damon. "If you were to see whatever you are thinking about writing or saying on TV or on a movie screen in front of you, would you laugh at that? If somebody else wrote this and I saw that, would I enjoy it?'"
Given the fact that
Happy Together
draws inspiration from a real-life situation, it's safe to say that Damon is following this comedic rule of thumb.
Laugh along with Damon Wayans Jr. and the rest of the cast on
Happy Together,
which airs all-new episodes every Monday at 8:30/7:30c on CBS and
CBS All Access
.