FBI Creator Dick Wolf Captures The Gritty Realities Of Fighting Crime In New CBS Drama
The new crime drama reflects Wolf's unique experience with law enforcement.
Posted on Aug 5, 2018 | 12:30pm
"I've probably spent more time with cops than anybody who doesn't have a badge," Dick Wolf mused to the crowd at the 2018 Television Critic Association in Beverly Hills.
The TV mega-producer brings a résumé brimming with successful law enforcement franchises to the new crime drama
FBI
, which premieres Tuesday, Sept. 25 at 9/8c on CBS and
CBS All Access
.
READ: How FBI Creator Dick Wolf Recruited Missy Peregrym And Zeeko Zaki For The New CBS Drama
But Wolf's exposure to real-life crime fighters goes beyond show consultants and actors. "My uncle was an FBI agent in the '50s and '60s," he explained. "I grew up not only idolizing my uncle, but having a really warm feeling about all the agents I met back there." He praised them as "great role models to have growing up."
FBI IS A CRIME DRAMA THAT REFLECTS REALITY
Wolf emphasized his commitment to the 1,300 agents of the Bureau's New York field office, where the show is set. "People are going to get a very realistic view of how that office operates and the stresses. It's a zero-tolerance FBI office. It's a good day when nothing happens. An enormous amount of their time is spent in preventative measures that none of us know about."
Jeremy Sisto
, who plays Assistant Special Agent in Charge Jubal Valentine, added that he was impressed by what he's learned in preparing for the role.
"What I'm most fascinated about is how the FBI is able to facilitate their network," he said. "They have at their disposal all these teams, and the environment is set up so that they can operate in cooperation, swiftly, and without any delay. It's something that gives me a lot of faith in them as a crime-fighting group."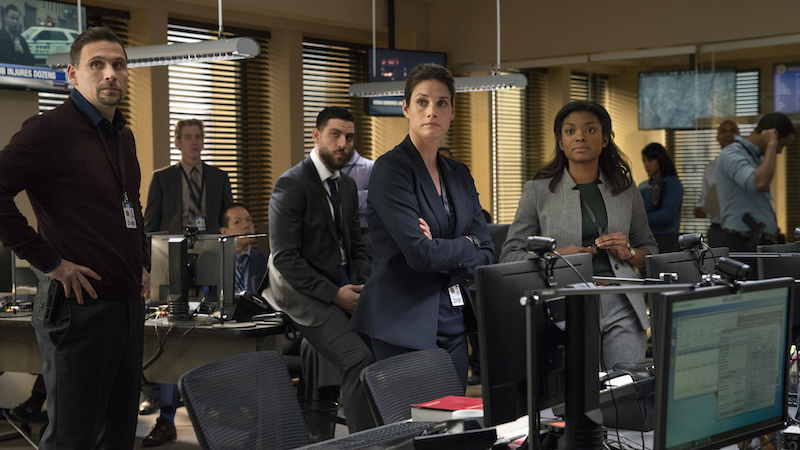 Wolf also underscored that his new series is far removed from politics, like the ones he's done before. Most real FBI agents are the same, he pointed out, adding, "these people are assiduously not political."
THE BLOCKBUSTER ACTION IN FBI'S PILOT HIT HOME
In one of the most memorable moments in the pilot episode for FBI, an apartment building explodes and collapses.
Zeeko Zaki
, who plays Special Agent Omar Adom 'OA' Zidan, will probably never forget filming that scene. "I was on my phone," he recalled, "And Dick said, 'You''e going to watch this.' It was crazy."
"They had people on wires that just got yanked out of there," noted
Missy Peregrym
, who plays Special Agent Maggie Bell, while describing the blending of live action, pyrotechnics, and computer generated images.
Yet for all that Hollywood magic, it was also a profoundly real reflection of New York.
Peregrym noticed that a woman was crying a lot that day. She was alone on set in a police uniform.
When Peregrym asked if the woman needed anything, she responded that the scene reminded her of 9/11. She asked, "Can cops cry on the show?"
"Yes," replied Peregrym. "Do what you need to do."
"It was a jarring moment for me when life meets the entertaining part of what we're doing," she reflected. "We have a responsibility ... we're picking topics where anybody can turn on the TV and see some of the scariest things that happen."
"The crew, everybody involved, has their story of 9/11 and that soot-filled, dust-covered situation," added Zaki. "It brought it home ... I know that in every episode we're going to have a goosebump moment."
Watch the series premiere of
FBI
on Tuesday, Sep. 25 at 9/8c on CBS and
CBS All Access
.