Back to Cast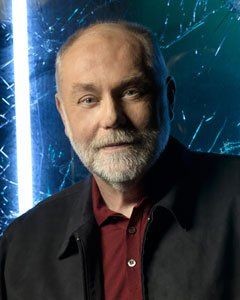 Albert Robbins
Robert David Hall
Biography
Hall's television credits include recurring roles in "The Practice" and "L.A. Law" and guest-starring roles in "The West Wing," and the CBS series "Touched by an Angel," "Brooklyn South" and "Promised Land." His feature film credits include "The Negotiator" and "Starship Troopers."

Hall can be heard on many national commercial spots and in the cartoons "Batman," "Superman," "Zeta Project" and "Static Shock." For more than four years, he was the daytime voice and music director of KNX-FM.

A double leg amputee and a devoted community activist, Hall proudly served on the Board of Directors of the National Organization on Disability. He completed his term as a National Board Member of the Screen Actors Guild and is National Chairman of the Performers with Disabilities Caucus for SAG, AFTRA and EQUITY. He is a consultant to the board of The Media Access Office. In demand as a public speaker, Hall spends time addressing a variety of organizations including The Youth Leadership Forum for Students with Disabilities, World Burn Congress and The Amputee Coalition of America. He also served as master of ceremonies at a talent showcase for performers with disabilities sponsored by CBS.

In 2007, he was honored with a Lifetime Achievement Award from the American Association of Community Colleges. He received the 2006 Ivy Bethune Diversity Trailblazers Award from Screen Actors Guild and The1998 Harold Russell Award from the Media Access Office. In Spring 2008, he presented New Zealand with the Franklin Delano Roosevelt International Disability Award at the United Nations and in 2005, he was honored to present the same award to King Abdullah II of Jordan.

A musician all his life, Hall recently recorded the album "Things They Don't Teach You in School," due out in August 2009. Born in East Orange, N.J., Hall lives in Los Angeles with his wife. His birth date is Nov. 9.