15 Times Derek Morgan Was Too Sexy To Handle
Just make sure your supervisor isn't walking by...
1. When he appeared fresh out of the shower.
And then we all needed a cold shower.
2. When he showed off his sports skills.
Sliding shorts never looked so good.
3. When you wished that you were his Valentine's date.
'Nuff said.
4. When he tried to go incognito.
You can't hide pearly whites that bright!
5. When he saved a little girl.
Nothing is hotter than a man who sticks by his word. Derek promised a dying detective that he would save his daughter. And save his daughter, he did.
6. When he saved an abused boy.
Everyone loves a hero. After solving a case, Social Services took two children back to their foster parents. Derek came back to the house, promising the child that he would never have to return.
7. When he saved everyone's lives by driving a live bomb out of the city.
Did I mention hero? Derek drove an ambulance laden with bombs out of a hospital, saving countless lives and risking his own.
8. When he held Henry for the first time.
Look at that twinkle in his eyes. Look!
9. When he took time to hang out with inner-city kids.
Whenever Derek visits his hometown of Chicago, he always takes time out to see how the kids in his old neighborhood are doing. Who doesn't love a role model?!
10. When he acted as Unit Chief but refused to take Hotchner's office.
Power doesn't go to this hottie's head. He refused to use Hotchner's office when he was serving as Unit Chief, so the rest of the team found him one of his very own.
11. When he admitted that he was afraid of the dark.
Okay, guys that are willing to admit their fears are adorable.
12. When we found out that he's been noble his entire life.
When he was just a kid, he found the body of a young boy in a vacant lot. He raised enough money to bury the victim and buy a headstone. It remains nameless, but Derek visits the grave whenever he can.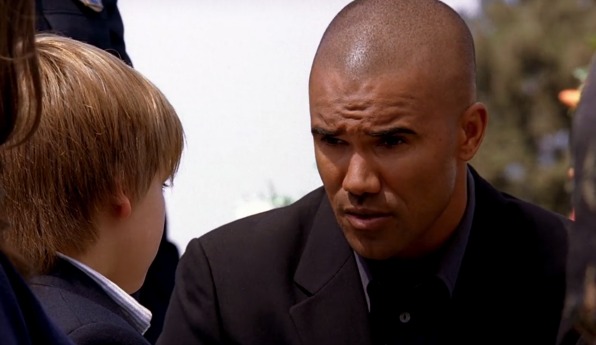 13. When he comforted a little boy that lost his father in the line of duty.
Derek hardly ever talks about his father, who also died in the line of duty. After the case, he stayed for the funeral to comfort the officer's widow and young son.
14. When he went off a killer on a moving train.
Do you know what else is "killer?" D. Morgan's abs!
15. When he spent time with his mom on her birthday.
On top of everything, he's a family man, too?! Perfection does exist.