Our Heart Skips A Beat Just Watching These Great Moments In Jamko History
Stream the Blue Bloods episodes that prove Eddie Janko and Jamie Reagan are the perfect partners—on and off the beat!
Posted on May 18, 2018 | 10:00am
SPOILER ALERT: We love seeing Eddie Janko and Jamie Reagan together!
Okay, there are a few other spoilers in this episode guide to "Jamko's"relationship—from their cute first meeting to their first smooch(es) to their big decision at the end of
Blue Bloods
Season 8. We won't spoil each plot, of course, but we will guide you to some of the big moments you won't want to miss—or that you will want to watch again! These episodes will make sure you're all caught up, and all of them are available to stream on
CBS All Access
.
"Unwritten Rules" (Episode 1, Season 4)
When Jamie met Eddie! That's right, just a week out of the academy Edit "Eddie" Janko was ready to partner with one of NYPD's finest. When they first introduce themselves in the opening moments of Season 4, Jamie learns how to pronounce her name—and that she won't hesitate to hop in the driver's seat.
Also in the episode, when an armed robbery ends with the death of a police officer, Frank makes it a mission for the NYPD to bring the suspect to justice. However, tensions run high in the Reagan household when Erin drops the charges and releases the suspect due to lack of evidence.
"To Protect and Serve" (Episode 3, Season 4)
Moments after learning a little about Eddie's dating life, Jamie disobeys his lieutenant's orders and comforts a young accident victim. While he winds up suspended, at least he has a little free time to grab a drink with his partner (turns out that dating prospect doesn't go so well).
Also in the episode, Danny becomes the lead hostage negotiator when a suspect who is a prime informant in a large drug case holds Erin at gunpoint inside the courtroom.
"Lost and Found" (Episode 5, Season 4)
Jamie and Eddie sure look good together as a couple, even if it is undercover! She even comes up with a cute little nickname for him while surrounded by wedding rings. Perhaps a taste of what's in store?
Also in the episode, when Danny and Baez suspect a little girl might be the victim of a kidnapping, the girl's mother denies it, but her story doesn't add up. Meanwhile, Frank pays a visit to a priest, a counselor to the NYPD, who was arrested on a DUI charge.
"Secret Arrangements" (Episode 19, Season 4)
Let's cut to the chase: First kiss. Enough said.
Oh, and they'll have to talk about it after sobering up in the morning.
Also in the episode, Danny and Baez investigate the murder of a respected college professor who was involved with a questionable scholarship program. Meanwhile, Danny discovers that his father didn't tell him that the District Attorney is investigating Danny for ethical and procedural violations.
"Partners" (Episode 1, Season 5)
It's Jamko's first anniversary as partners—which means she's off probation and it's time to celebrate. But when Jamie's emotions run high while trying to defend Eddie, other people on the force start to question his true feelings.
Also in this episode, as Danny and Baez escort confiscated drugs to a remote location for incineration, their convoy is attacked and Baez is seriously injured, leaving Danny to track down the drug cartel responsible. Meanwhile, Frank must carefully navigate personal and political waters when an exemplary lieutenant's actions cause controversy for the NYPD, on the fifth season premiere.
"Excessive Force" (Episode 4, Season 5)
Are we seeing those feelings coming the other way now? Jamie hits it off with a beautiful doctor after bringing a homeless man into the hospital, and Eddie can't hide her jealousy.
Also in the episode, when Danny is charged with using excessive force, Frank must decide whether to stand up for his son or for the reputation of his police force.
"Rush To Judgment" (Episode 6, Season 6)
Jamie is placed on restricted assignment after an incident during a street protest. Will Eddie have his back, or will she sell him out?
"Personal Business" (Episode 8, Season 7)
Eddie gets jealous when Jamie lets a young woman crash at his apartment. But some real feelings are going to be revealed when they're both willing to lay their cards on the table. Will they be able to kiss and make up? You already know the answer!
Also in the episode, after Emily Harrison (Danielle Savre) tells Danny and Baez she's concerned her abusive ex-boyfriend will repeat his behavior with his new girlfriend, Emily becomes the prime suspect when he's murdered. Also, Frank must decide how to discipline a sergeant after he fails to intercede during an armed robbery while off duty.
"Confessions" (Episode 9, Season 7)
Jamie and Eddie attend a wedding together—as friends? Let's just say Jamie seems a little jealous, and his actions lead to a night in County lockup! But all might end well, especially with a heartwarming dance they've got in store for us.
Also in the episode, Frank is left with minimal information to find a missing boy when a conflicted priest who could help won't break the seal of confession, and Danny and Baez investigate the death of a prominent New York City socialite with a secret life.
"A Deep Blue Goodbye" (Episode 18, Season 7)
In one of the funniest episodes of the series, Jamie and Eddie get into a prank war with another pair of partners!
Also in the episode, the 150th of the series, Danny investigates the circumstances of an ex-NYPD officer who goes missing the day after she revealed to him that she had planned to make amends to the woman she and her partner wrongfully convicted years ago. And Frank faces a dilemma when one of his peers, Chief Taylor Daniels (Isaiah Washington), refuses to retire, even though he's hit the mandatory age limit.
"Cutting Losses" (Episode 1, Season 8)
Jamie and Eddie are back in action—and go undercover as a couple again. It's a look we could get used to.
Also in the episode, Frank butts heads with the new mayor, Margaret Dutton (Lorraine Bracco), regarding the course of action following the death of a civilian by an off-duty police officer, on the eighth season premiere.
"Heavy is the Head" (Episode 10, Season 8)
Erin is conflicted when Jamie and Eddie ask her to help drop old charges against a Good Samaritan, Parker Mack (Spencer House), who just bravely rescued a woman from a local hostage situation.
Also in the episode, Danny and Baez work a case involving car thieves and discover the leader is Victor Lugo (Nick Cordero), a mobster they've dealt with before, and Baker receives a job offer.
"The Brave" (Episode 12, Season 8)
Jamie and Eddie are bantering like a cute couple throughout this episode—while talking about Eddie's dating life! Things also get heated in a different way when they get in the middle of a standoff between a police lieutenant and a developmentally disabled man posing as an officer.
Also in the episode, after Anthony is shot while interviewing a witness for an upcoming murder trial, Erin enlists Anthony's archenemy, Danny, to find out who was responsible. And Nicky prepares to take the police exam.
"Friendship, Love, and Loyalty" (Episode 18, Season 8)
Eddie is shot while on duty and Jamie comes running, literally. When Frank visits Eddie in the hospital, she declines his offer to take another assignment. But we also see her with Barry—and he's no Jamie.
Also in the episode, after a woman voices her outrage regarding the NYPD's inability to find her son's murderer, Danny reexamines the case, upsetting the original detective, Erin, and Anthony, who didn't pursue the case due to lack of evidence. Meanwhile, Erin and her ex-husband, Jack (Peter Hermann), face off in court, and Frank contends with an angry police force when Mayor Dutton (Lorraine Bracco) fails to defend them at a press conference.
"Risk Management" (Episode 19, Season 8)
Jamie and Eddie are on the wrong side of an investigation after engaging in a car chase. While not the most romantic episode, it's one that will test them like we've never seen as both of their badges are on the line.
Also in the episode, Danny and Baez race to find a missing girl who will die within 72 hours without her heart medication. Meanwhile, Frank, Garrett, and Gormley investigate the rise in the settlement of lawsuits against cops, and Sean wins an essay contest and receives a medal from former New York City Mayor David Dinkins.
"The Devil You Know" (Episode 21, Season 8)
After Jamie and Eddie try reunite a kidnapped newborn baby with its family, they have some words about what's really going on with Barry.
Also in the episode, Frank goes head-to-head with a data-tracking company when they refuse to unlock the phone of a terrorist that may hold information regarding upcoming targets. Also, when Erin obtains information about an impending murder from a shady source, she gets Danny and Baez involved, despite the questionable agenda of the informant.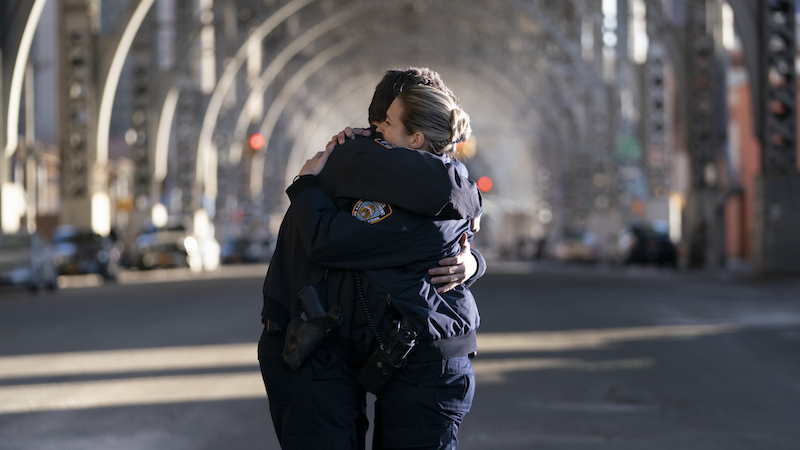 "My Aim is True" (Episode 22, Season 8)
On the heels of a terrifying, life-threatening situation, Jamie realizes just how much Eddie means to him.
THE BIG SPOILER
: Pull up a chair—at the Reagan family dinner table! Welcome to the family, Eddie.
Also in the episode, when a series of drive-by murders occur after six wrongly convicted men are released from prison, Danny and Baez wonder if they were orchestrated by the men as an act of revenge, and Frank combats the guilt he feels about these innocent men unfairly serving nine years in prison.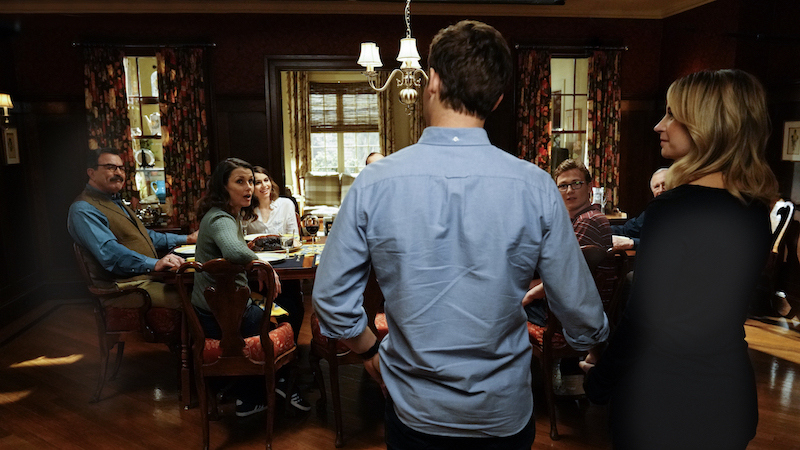 Watch every episode of
Blue Bloods
on
CBS All Access
.