Big Brother 21 Winner Jackson Michie Hopes He Made His Mama Proud
The long-time Big Brother fan discusses how his fierce competitiveness and showmance paved the way to victory.
Posted on Sep 26, 2019 | 02:00pm
Season 21 of
Big Brother
was one for the books with an often divided house, alliances on the fritz, and multiple last-minute eviction vote decisions.
So it's no surprise that this season's winner would need to be a fierce competitor, willing to do what it took to reach finale night. As it turned out,
Jackson Michie
was that Houseguest.
We caught up with the BB21 winner the morning after finale night to ask about his change of strategy from start to finish, the dramatic choices he made, and how on Earth this season's most prominent showmance became BB21's strongest alliance and Final Two.
STREAM: Watch Jackson Michie's Entire Big Brother 21 Game By Streaming Every Episode On CBS All Access
Congratulations, Jackson!
Jackson Michie:
Thank you so much! I appreciate it.
We've enjoyed watching you on the Live Feeds all summer.
Michie:
Oh goody [
laughs
]. I'm sure there's some good, some bad, some ugly, and in-between. But I'm glad ya'll enjoyed it. That was the goal. I wanted to play
Big Brother
and I did.
Did you get much sleep last night?
Michie:
I actually did. There's been a lot of nights this past week or two where I've woken up and could not sleep and sat in front of the Memory Wall, played solitaire by myself. So it was nice knowing the outcome, knowing that all my hard work paid off, and laying in a bed just getting some good shut-eye. I needed it.
I'm going back to Nashville as soon as I can to see some buddies and get some southern comfort in my life so that six-hour flight is going to be a snooze-fest too.
If you had to guesstimate, how many watermelons do you think you ate this summer?
Michie:
Oh man, how many weeks was I in the house? 14? And we started getting the bigger watermelons around Week 4. So about 10 weeks... maybe about 50 or 60, I'd say.
One summer in college, from mid-May to August when I was home, my mom logged that I ate 126 watermelons, roughly two to three watermelons—the big guys—a day, every day for three and a half months. So, I don't think CBS was able to keep in stock enough of those watermelons or else I would have done some damage.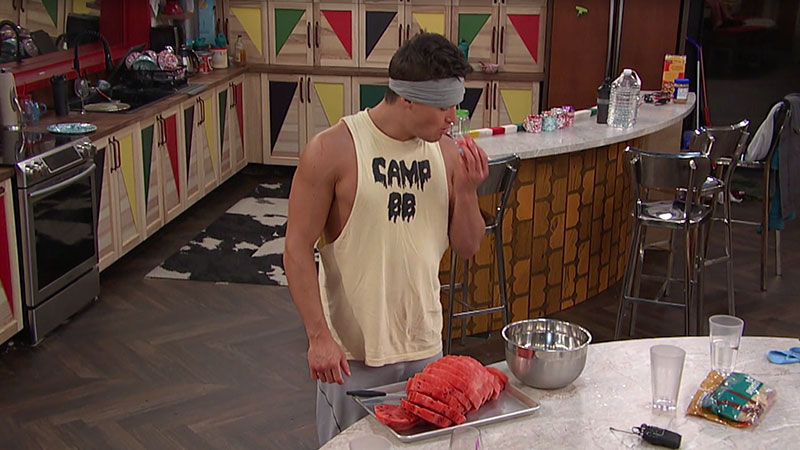 Talking game, before entering the BB House, we asked you about your strategy and you said you wanted to win competitions but not too many, and looking back at your record for the season you have quite a few wins, do you think you strayed a bit from that strategy and why?
Michie:
So, you have a strategy going into this game and the moment you walk through that door everything changes. My strategy was to never be the biggest target and when I saw
Jack
, I realized he would definitely be the biggest target. My goal at the beginning of it was to fuel his fire and build his ego so that I was always second on the totem pole. Same with
Christie
.
After Day 44 happened and I no longer had to be in an alliance that I didn't even really want to be in in the first place, I was able to play the game that I wanted to.
So yes, I love competing. And that was the most frustrating part at the beginning of this game. I wasn't allowing myself to compete because it would have shown my cards. But on Day 44, when I had no choice but to compete for my life, it was no holds barred. Let's do this thing and compete and win some competitions because without them I was more than likely going to be going home.
So from Day 52 to Day 99, the start of Jury to the end of this game, other than the Double Eviction, I had guaranteed safety every single week. Either with America's Field Trip, HOH, or Veto. I was impossible to evict because of my competition.
So, yes, that saved me but if it wasn't for my strategic and logical game all of those wins would have been for naught because I wouldn't have been able to utilize it to better my game and further myself and get myself into one of those two chairs.
It was fun. Stressful but fun.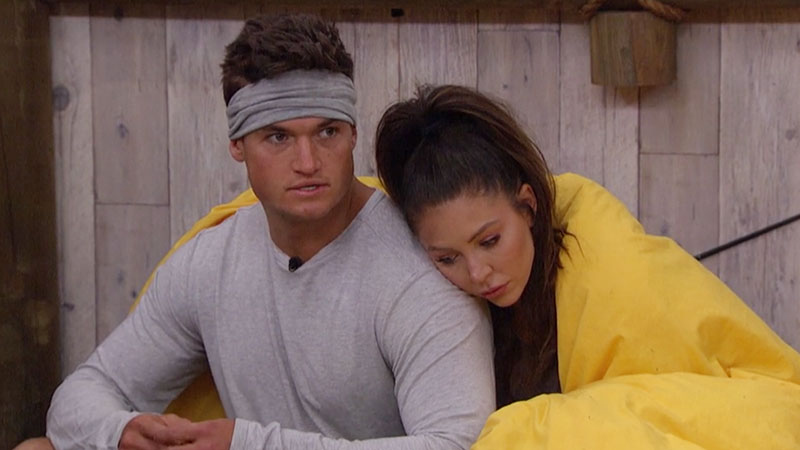 Another thing you said pre-season was "If I wanted fame, or wanted a relationship, there's a different show and a different network for that. I'm here for the $500,000." You ended up getting into the most prominent showmance of the season.
Michie:
I did.
Do you think you have a bit more understanding now of past players who have also gotten into relationships in the house?
Michie:
I do. When I said those things it was not necessarily that I was against being in a relationship of any kind, it was more that showmances have a tendency to be a death sentence in this game.
I think
All-Stars
was the last time that a showmance made it to Final Two and that situation was a little tricky. But for me, I tried my best to avoid it but Holly and I just connected on too many levels to turn away from it. Ultimately, she became my teammate, my partner in crime, and the best alliance member that I had—the only alliance member that I had for a while.
So I truly think that, yes, when I was walking in there, I thought that a showmance would be the death of my game, but without
Holly
I don't think I would have made it to finale night. I really don't.
Any idea what the future holds for the two of you?
Michie:
Disney World and Bora Bora. Those are our first two trips.
We have a deal in place that regardless of whether we're in a relationship or not, we have to take one trip every year and each location has to be the exact opposite of the one before. So we're starting out tropical and then the next year it will be someplace cold.
Whether we're together or not, in a relationship, or we're just best friends—regardless, we're sticking to that deal. I'm looking forward to it, but we're taking it one day at a time. I love her to death, she's always going to have a special place in my heart and we have two very separate lives and my ultimate goal—I've said it on the show—I want her to be happy more than anything. She deserves that. Whether it's with me or not, I just want her to be happy.
So if our lives are able to go and coincide together, be synergistic with each other, and we're able to be together, that's great. But if not, then I'm going to be her number one fan, her biggest cheerleader and supporter, every step of the way.
Sounds like you're going to spend some of that prize money on vacation, but have you thought about how else you'd like to spend it?
Michie:
I have. Savings, investing, and going to my family. That's the whole reason why I came here.
I do need to get a car. I totaled mine two weeks before moving in, so I gotta work on that. Then, I live in LA now and I live in Hollywood but I want to get closer to the water so a new apartment is the other expense.
Other than that, I'm not touching it. I don't want to burn through it. It's easy to let 500 grand turn into zero grand very quick. I have no intention of doing that.
Do you think that you'll watch the season back?
Michie:
Absolutely. It's sort of like a relationship when you get cheated on. Some people don't want to know, I want to know every detail. I want to hear everything, I want to see it for myself, and I want to know as quickly as possible. I'm going to binge-watch it.
I made my bed, I've got to lay in it. I want to see the good, the bad, the ugly, and everything in-between and get it over with. Rip it off quick, like a Band-Aid.
Do you think you'll watch the Feeds at all?
Michie:
Uh, that one is a different story. I don't know if I'm going to watch the Feeds. I don't think I will, to be completely honest. I lived in that house for 100 days, I don't want to rewatch it from a birds-eye view and see myself, being myself.
Whose Jury vote did you get that you did not expect to get?
Michie:
Sis
. Definitely. When she left she had some very interesting things to say about me on a personal level. I know she's an emotional player and I thought she was going to be bitter and vote based on those emotions.
I knew that
Christie
,
Tommy
, and
Cliff
were going to go one of two ways. Either gameplay or personal. But they are such gamers and fans of the show that I thought I would be able to get their votes, and luckily I did. But Sis's was a surprise.
Jess
, I knew I wasn't going to get her vote. She's a very emotional player.
Nicole
, living with Holly and I the last week, I knew that Nicole was going to vote for her Holly. But
Kat
[could have gone] either way. Both Holly and I had no idea who she was going to vote for. But
Jack
,
Nick
, Sis, Tommy, and Christie were votes that I could [possibly] count on. But Sis was the biggest surprise.
Do you regret what you had to do to Tommy to keep Holly in the house?
Michie:
I don't regret it because ultimately if I hadn't, and he had stayed, I may or may not have made it to Final Two. And I know Holly wouldn't have because if he had stayed she would have gotten fifth.
Tommy and I saw each other on stage and he immediately jumped into my arms. He's such a gamer, he respected the move.
Those tears you all saw, they were genuine. I can count on one hand the amount of situations in my life that have made me cry like that. Truly cry. And that was one of them. I don't like hurting people and I don't like making people upset. I love Tommy to death. He's one of the best men I've met in my life and having to do that was heartbreaking.
It was a decision that was either him or Holly. I will always have Holly's back and there's nothing I wouldn't do for her. In real life or in the game.
One last question, you talked about your Mama a lot this summer. How do you think she feels about how you played the game this summer?
Michie:
Well, she saw the Feeds. She's a night owl. We've got a couple of conversations we gotta have.
But she's my mom, she knows me, she knows the kind of man I am. I'm the product of her and my dad. She's seen a lot before this show and she saw a lot during the show, but I love her to death and I did this for her. This is something that she and I have always bonded over. So to be able to say that I've played
Big Brother
was a bucket list thing for me and I'm glad that she was here to see it.
To be able to say that I won
Big Brother
is something that she and I will always be able to smile about. She's my biggest fan and my biggest supporter and even though there have been times that I've disappointed her and I've upset her, she's always loved me and that's all I could ever ask for.
We hope you enjoy your win, it is well-earned and best of luck going forward!
Michie:
Thank you so much, I will take all the luck I can get!
Stream every single season of
Big Brother
—including every episode of Season 21—on
CBS All Access
.